QA Tutorials
HOW TO SELECT AN INSTITUTE TO ENROL FOR JOB-ORIENTED COURSE?
JOB-ORIENTED COURSE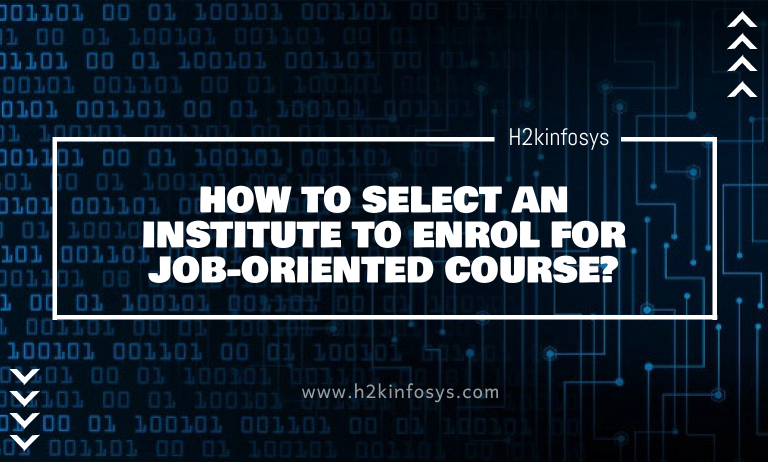 With the demand of many youngsters who are skilled with specialised skill sets, can get maximum advantages of job-oriented course also called professional course, if they choose the right one. Today many institutes are offering many job-oriented courses everywhere like in small or in metropolitan localities. These institutes cater students, who have recently graduated or even people who have taken professional break or want start the career many years after education. There are numerous computer courses like IT courses, hardware, software, BPO skills, small term courses and long term courses, many other courses which make students eligible to take up the courses and they can take up these courses to upgrade their skills to get a good employment. With many job-oriented courses available today, sometimes students face difficulty in selecting the course which makes up their career. After the students decide upon the IT course or job that they want to take up, the next important step is to choose a right institute. It is always important to choose the right institute which gives wings to your dreams.
The features of a good institute:
It is always important to know that the institute you are choosing is good one or not. There are main good qualities of the institute. They are:
Mentors or trainers: A well trained and experienced mentors or trainers with the practical knowledge, current updates in the field make a great difference. The trainers have to be accommodating, cater to individual student needs
Syllabus: Well structured and updated syllabus the suits the current job market scenarios.
Job-oriented course, with practical projects, hands on practice on documentation and tools.
Placement assistance
Retake of the course
Course materials that includes detailed materials and videos.
Attitude of the office staff: The front office environment should be welcoming to students. The office staff includes – front desk or training co ordinators, technical staff for tool installation. The training co ordinations should be helpful in providing the guidance for enrolment, sensitive towards student issues. The technical staff should be skilled enough to make installations of tools for learning and troubleshooting.
Student-Centered: The institute should provide what's best for the student and should have a theme of student-centered view of education.
Good infrastructure resource: the good institute should provide good infrastructure with well-equipped classrooms, course materials and good practical labs etc. Online courses are getting more popular for professional courses because, one can learn in their own comfortable environment, commutation cost & efforts are zero, save time and use efficiently for learning. Avoid student bias, need not come out of family chores to achieve dreams.
Placement-Assistance: Provide the proven steps to get the jobs. Resume preparation, mock interview sessions etc
ISO certified course content
Competitive & Affordable
What should we consider while choosing an institute?
Many factors combine to make institute unique. While none of them make it better or worse. What makes an institute right or good is exactly depends on what you really want from your qualification and study experience. You should always consider about its teaching quality which differs from institution to institution some will have a stronger teaching quality in some particular subjects. Feedback of any teaching is always subjective. It always important to consider. Next thing is student services, the institute should ensure good quality services which meets all the needs of the students, as they can make all the difference when you need their support. Atmosphere every institute has a different atmosphere always make sure the institute has the atmosphere that suits you. Finally cost, the fees is it affordable does it have any other facilities etc.