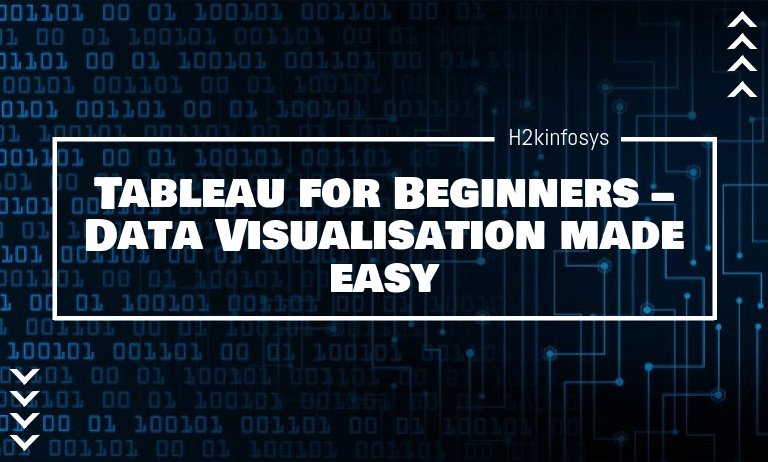 Tableau is, by far, one of the most popular data visualization tools that are available for deriving accurate business intelligence elements from the available numbers and information. Tableau goes much beyond these data visualization elements.
Tableau helps the analysts create charts and graphs like interactive worksheets or dashboards to help business users get a holistic insight into the information and what it represents. This feature rich technology can be learned easily by enrolling in various tableau training or tableau courses aimed at enabling beginners in this field.
How Does Data Visualization Work in Tableau?
All graphical representation in tableau is created using worksheets that are prebuilt within this tool.
The first and most important elements of a Tableau worksheet include 'dimensions' and 'measures'. Fields that cannot be aggregated are called dimensions. These can be discrete, or string values typically used as a row or column headings.
Fields that can be measured or educated are called measures and contain numerical values that can be plotted on the graphical representation.
Shelves are the third critical component of data visualization in tableau. Shelves can be rows, columns, filters, marks, or pages.

Columns and rows represent the y and the x-axis, respectively.
Filters allow you to get a better view of the data
Marks allow you to represent your data in different shapes, types, or sizes.

The Show me field in a tableau data visualization worksheet is the final element where tableau creates using graphs and other pictorial representations of the data that it has been fed. In short, it is the brain of tableau.
The need for Data Visualization
Studies have shown that our brain reacts faster and better to colorful graphical representations than audiotapes or numbers or plain data being presented in its raw format. As a data visualization tool, Tableau offers this Sense of Sight to the person analyzing or viewing the data.
It is common knowledge that any information put across simply is definitely easier to understand than a great deal of complex numbers and calculations.

The gardener has rated tableau as one of the best data visualization and business intelligence tools available in the market today. This powerful tool is capable of extracting data and presenting it in concerts and formats that are beneficial for the business to understand and act upon. These can pertain to improving employee efficiency, increasing sales revenues, or even defining the performance guidelines and predicting future trends.
Tableau and Easy Data Visualization
Tableau software is one of the few data visualization tools that are capable of handling even the most complex information extracted in the crudest form. It is excellent at handling difficult computations and data blending to arrive at easy representations and dashboard reports.
Data and information can be transformed into easy-to-read visuals in a matter of minutes with tableau's drag and drop features. Moreover, its interface is capable of handling multiple variations as well.
Tableau also offers different options of visualizations that help in enhancing the overall user experience. Tableau is also extremely easy to learn even if the user does not have a background or knowledge in coding.
Tableau can not only make live and concurrent connections to various data sources, but it can also handle millions of columns and rows of data conveniently. Through all this the dashboard performance remains clear and consistent.
Dashboard views in tableau can be easily customized to be viewed in various devices including mobile phones, tablets, and laptops. These adjustments are automated in tableau.
Final Thoughts
With increasing interest in concepts like data science, machine learning, and artificial intelligence, acquiring tableau skills is beneficial for anyone pursuing a career in data analysis or data visualization. Its drag and drop interface allow even the users with the most basic computing skills to take advantage of this tool and visualize data in a more accurate manner. Also, specific courses and tutorials are offered as 'Tableau for Beginners' by a number of institutions today, so there are plenty of opportunities to adopt this interesting skill easily.