BA Tutorials
Tips for Success as a New Lead Business Analyst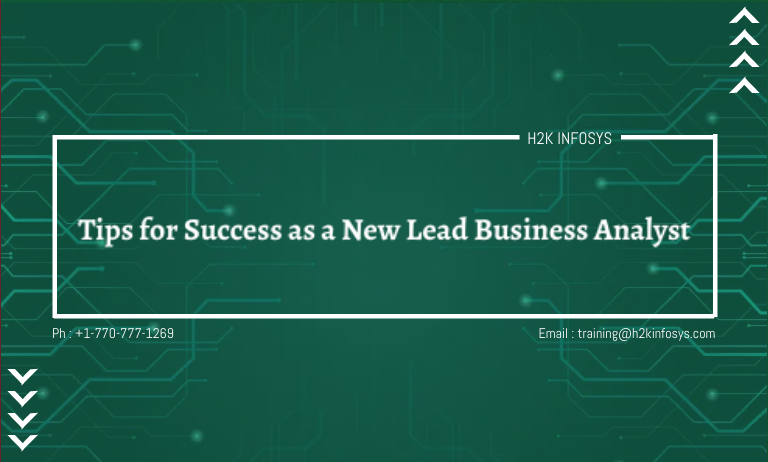 As a new lead business analyst, you will desire to be successful. In order to achieve success, there are certain measures you need to take. Business analyst online training will help you get certified as a business analyst. But you need to find ways to oversee a team of business analysts whenever you land the position of a team lead. This is because it's a new experience for you.
So, here are some tips for success as a new lead business analyst;
Tip #1: Identify the Roles of a Lead Business Analyst
The first step to success as a new lead business analyst involves identifying the roles of a lead business analyst. The purpose of this is to understand which business analyst roles match the project at hand. Avoid making assumptions about what's expected of you as a new lead BA.
It could be that your role is in line with leading a team of analysts on a given project or getting involved in the project management process. With BA training online, identifying your duties as a new lead BA shouldn't be difficult. Whatever BA roles you identify, ensure you work closely with the project manager to have a better understanding of the expectations and outcomes.

Tip #2: Set Expectations for Every Team Member
Once you identify your role as a team lead business analyst, you need to set expectations for your team members. Gather useful BA resources and assign tasks to each member of the team.
A mistake you'll make as a lead business analyst is to make your team members believe all they need to do is to contribute or participate in the project. You have to assign tasks that will make them responsible for eventual outcomes. Make this process a dialogue so your team members can have a better understanding of what is required of them on each project.
Learn how to set an expectation for team members through an online business analyst course.
Tip #3: Implement Effective Communication Across the Team
You will achieve success as a lead business analyst if you adopt and implement effective communication across the board. Effective communication will promote transparency during the project development process. Let your team members know they are free to share ideas.
Effective communication is a core practice of business analyst online training. It will show you that you need to communicate openly and transparently with your team members. Without effective communication, a business project is at risk of failing. When communication is open and clear across the board, it will encourage conversation and build trust in team members.
Tip #4: Take Responsibility for Your Actions
If there's one sure way to failure, it's blaming your team members for your misfortune. As a new lead business analyst, you have to lead by example and take responsibility for your actions.
Your role as a lead business analyst will not make you perfect. So, you need to show remorse wherever you go wrong. Accept that you're wrong and seek amendments. This will show that you can handle any shortcomings. The BA online training will instil this attitude in you.
Tip #5: Adopt Basic Business Analyst Skills
Don't forget who you are as a new lead business analyst. No matter your qualification, you should always remember there are a set of skills that you must possess to become successful as a new lead business analyst. Adopting the required skills will help you grow as a new lead BA.
From the online business analyst course, here are some basic skills required;
Analytical and critical thinking
Leading by example as a lead BA
Interpersonal and decision-making skills
Keeping silent and listening to your team
Practice empathy and acknowledge opinions
Set direction through persuasion and influence
Understanding the business or project objectives
Adopting these basic skills as a new lead business analyst will show you're prioritizing the growth of your team members and the success of the project. This will lead you to success.
Conclusion
It is possible to feel a level of anxiety when you get promoted to a lead business analyst. This is a position that will put you in charge of a team of business analysts. While it's a great position to hold, you need to understand you have a job on your hands. So, to be successful, you need to follow the tips explained in this guide. They will help you address any fears of meeting your goals and also prepare you for the challenges ahead.