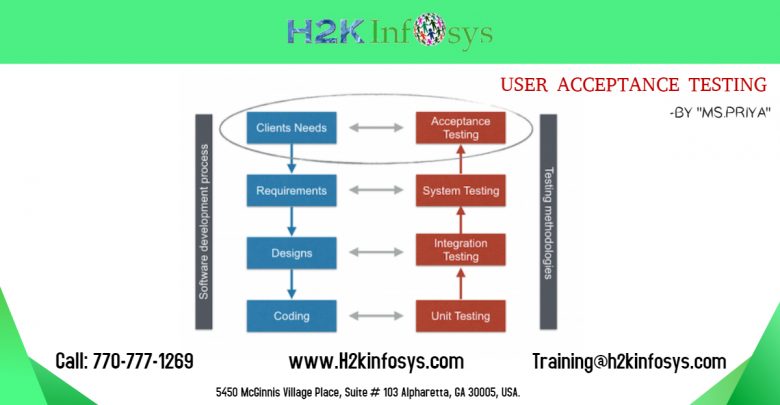 The user acceptance testing(UAT) is one among the different acceptance testing types performed on the the software application like: operational acceptance testing, business acceptance testing, contractual and regulatory acceptance testing.
User acceptance testing:
User acceptance testing is performed by the intended users of the software to check if the system meets their expectations. the user friendliness and completeness of the software application is tested. UAT can be either alpha testing or beta testing. It is also called as application testing or end-user testing.
The main purpose of the user acceptance testing is to verify end to end business flow. It does not give much importance to system errors or system testing. UAT works on the specific requirements of the user. If supplier agrees on the product then the software is developed legally, practically. In UAT testing the user should possess a good knowledge of the business requirements. User should be capable of thinking independently. It is classified as alpha and beta testing. UAT is performed after the system testing and major defect have been fixed. This type of testing is done at the last stage of SDLC.
To create efficient UAT process the acceptance testing should be based on user stories. UAT gives details about system layout and its reactions on user actions. UAT will not define need but behaviour. UAT should be contract between user and vendor. UAT tests a deliverable software. It should be signed off by the client. This is a good way for stake holders to ensure a good ROI on the projects.
It is a type of black box testing where two or more users will be involved. This type of testing is performed by
What is the need for user acceptance testing?
User acceptance testing is needed to build confidence in the quality of software, and ensure usability of the software before the software is released to production environment. The types of user acceptance testing is:
Alpha testing and
Beta testing
Alpha and beta testing
Alpha testing is done in the development area by the clients or customers.
Beta testing is done in the customer's environment by the customers and it is called as field testing. Customers who use the environment will do some extensive test and provide their feedback.
 Check your understanding:
What is the need of user acceptance testing?