BA Tutorials
What are Business Analyst Certification Requirements?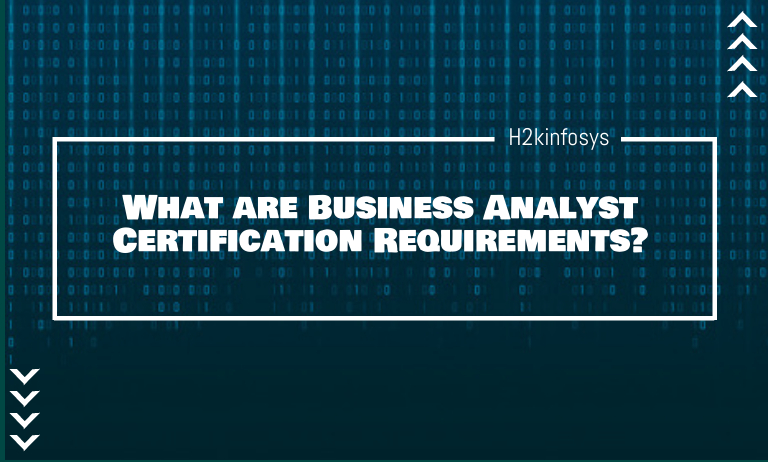 A business analyst's job isn't typically obvious. It is a job role that certainly plays a vital part in unraveling the future for quite some organizations. Until this point, the job has not been generally perceived as an actual profession in its own right – with other and different players, for example, software architects, project managers, and finance managers being viewed as the ones to lead the pack.
Thus, a Business Analyst certificate has reached a new degree of importance. That has led to online business analyst certification courses selling like hotcakes. Let's have a look at the best amongst many of these. 
ECBA (Entry Certificate Business Analysis)
The ECBA is the beginner level of accreditation with the IIBA (International Institute of Business Analysis). The course is intended for individuals who are less experienced and first-level business analysts. At a minimum, you should finish 21 hours of professional training credits, within the previous four years, before you will be qualified for the test. The application fee for this certification is $60. However, you don't need to renew your Entry Certificate Business Analysis certification, yet if it's accepted you'll proceed onward to the second or third degrees of accreditation.
AAC (Agile Analysis Certification) Training Course
A recently released IIBA accreditation, this (Agile Analysis certification) is granted to experts, who show their skill in Agile business analysis. This course has been created while keeping the experts in mind, who are new to Agile and its approaches. Along these lines, regardless of whether you have no comprehension of Agile, you can, in any case, join this course. The examination conducted to provide this certification is a 2-hour remote online proctored test that incorporates 85 multiple-choice and scenario-based questions.
CPRE (Certified Professional for Requirements Engineering)
In the event that you are in the designing field and managing requirement gathering for testing, development, or business plan then this certification will assist you to build up your expert abilities. There are three degrees of this accreditation, and every one of them has corresponded, which implies that you have to complete these levels consistently.

Foundation level certification
Advanced level certification
Expert level certification
IREB (International Requirements Engineering Board) conducts the whole certification program, and you have to take the substance and test from approved accreditation centers by both on the web and classroom mode.
Benefits of Taking Business Analysis Certification Courses
Now that we have gone through some of the top business analyst certification and the requirements associated with all of them, here are some reasons to solidify your decision to take up one or more of these courses, instead of merely searching for business analyst classes near me.
As an employment competitor, an accreditation (or various accreditations) shows you're willing to contribute more than your work insight and take an enthusiastic approach for your commitment to a firm.
These business analyst certifications can distinguish you from different experts in your field, indicating that you have a shown pledge to comprehension and excelling in your profession. This can give you a bit of leeway, which is especially significant in the present state of the market.
Gives you the certainty that you have gone through the seats. When you have focused on an objective, assembled an arrangement, buckle down, and you arrive at it, you gain certainty, which pours out over into all parts of your life.
Certifications are advantageous and benefiting investment as a result of the numerous points of interest they can give all through your career. As you push ahead and as your business advances, make certain to stay up with the latest so you can keep on understanding these advantages.