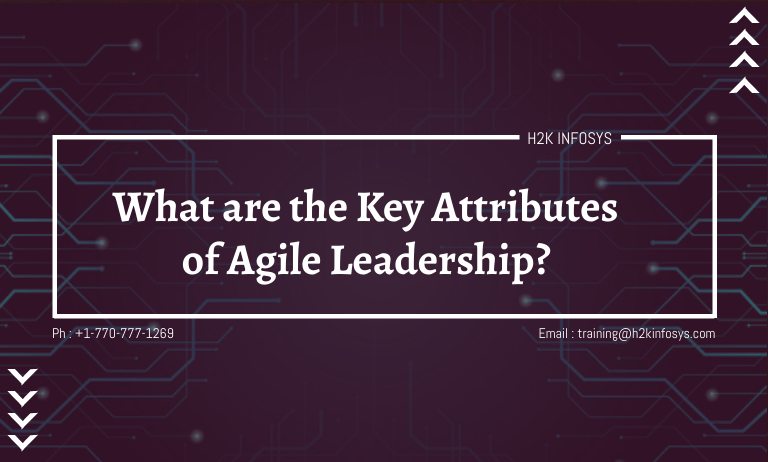 Agile leadership has essential attributes that promote business change in an organization. The culture of Agile leadership has been in play across several organizations around the world for some years. It is designed to implement three major Agile concepts which are Communication, Commitment, and Collaboration. These concepts from online agile certification are mainly known as "The 3C's of Agile Leadership". Over the years, these concepts have since developed into broader principles to help achieve the utmost Agile transformation in the business world.
When talking about the essential attributes of Agile leadership, we are talking about the major characteristics of Agile leaders and how they lead teams to perform tasks in organizations. Big companies and organizations around the world now focus on hiring Agile leaders that will take business operations to the next level. This is because Agile leaders are known to have the competencies and capabilities to guide the reasoning of Agile methodologies in user audiences in organizations. They offer improved leadership style and capacities to execute Agile methods.
Agile leadership is not just good leadership, it offers much more than that. So, in this guide, we will explain some of the essential attributes of Agile leadership and how they help companies.
Coaching
The basic attributes of leadership in any field include telling team members what needs to be done and giving instructions on necessary steps to carry out to meet targets. In Agile leadership, there's more to just leading a team, it involves applying your online agile certification knowledge to coach teams and not command them.
Agile leadership implements a coaching conversation technique known as the "GROW Model". This GROW model as described from agile certification online training involves taking into consideration four major factors that affect how a team executes tasks.

Goal – it involves asking teams to describe what they plan to achieve
Reality – it involves asking teams to describe realities attached to a problem
Options – it involves asking teams to explore all the options available to them
Will – it involves asking teams what they will do to find a pathway forward
As a certified Agile leader with Agile Scrum Certification, you can coach teams by asking questions that will make them understand the complexities of problems and how they intend to find solutions through available options. This will allow teams the space to find a path. So, coaching is one of the most essential attributes of agile leadership in any organization.
Flexibility
Every Agile leader must be flexible when it comes to the approach that teams choose to take. This is an essential attribute in Agile methodology implementations because it will help leaders commit to outcomes rather than actions. The benefit of this attribute lies in eliminating rigidity when it comes to Agile principles. Agile leadership gives room to adapt to the following;
Changing requirements during a software development lifecycle
Reacting quickly to current business situations and opportunities
Understanding that an old process might not work for a present project
Overall, flexibility is an essential attribute of Agile leadership that allows certified Agile leaders with agile certification online training to easily adjust their plan as the team executes tasks.
Actions
Agile leadership involves promoting and driving change in the business world through actions. There's more to being a leader than to just sit around and make orders, it involves leading by example. So, an essential attribute of Agile leadership lies in actively engaging in software process development and inspiring teams to achieve set out goals through actions.
A good way to lead is to be the change you want to see. Hence, an Agile leader with Agile Scrum Certification will develop themselves to be good examples for the team they are leading. 

Feedback
Receiving effective feedback across the board is a major factor that will help an organization improve and attain success. One of the things you will learn if you enroll in agile certification online is how to communicate effective feedback within a team of professionals. Agile leaders encourage individuals working in a team to give feedback and also ensure that they respond to the suggestions in order to close the feedback loop.
This attribute of Agile leadership cannot be overemphasized because suggestions made through feedback are carefully analyzed to make the most of any benefits they tend to offer. Agile leaders also ensure feedback is modeled to be open, honest, and highly respectful.
Collaboration
The art of collaboration in decision-making is an essential attribute of Agile leadership. Agile leaders implement collaboration into their decision-making process by arranging sessions to solve challenges. A professional agile leader builds communities based on trust and meaningful working relationships by encouraging learning and development. This is why they collaborate with other colleagues and members of teams to find effective solutions. Collaboration is carried out through participation in problem-solving sessions.
This is entirely different from a boss instructing the team on the strategies to adopt but a way of putting heads together to address the problem and find the right team strategy. Agile leaders with Agile Scrum Certification understand that a collaborative community will achieve more than individuals, so they collaborate with colleagues to find the best solutions.
Mentoring
Building a culture of understanding people you work with is an essential attribute that yields success in any team. Agile leaders act as mentors by establishing boundaries, setting core values, and identifying what needs to be done to attain success. They have conversations with their team members to understand them, stretch their expectations, and offer needed support. Agile leaders are great mentors because they know when to push their team to the limit and also understand when to drawback and offer needed support.
Humility
Finally, one of the most important attributes of agile leadership is humility. In fact, this is like the greatest attribute of them all. A leader who is not humble when leading a team can push the team to fail. Humility is an essential attribute of an Agile leader because it will allow them to embrace opportunities to learn new ideas and receive feedback from their colleagues.
Leaders should not allow ego to dictate how they operate, but instead should let humility take charge of their dealings. So, humble Agile leaders are always improving and they project the confidence the team needs to achieve set out goals. Humility also accelerates learning, and learning helps greatly in transforming from being a good leader to a great leader.
Conclusion
Businesses will grow and organizations will improve their operations if they employ Agile methodologies. But a good way to make this happen is to grow a team of Agile leaders. Therefore, if you want your business to grow, you need to develop the mindset of your leaders to become more agile in their practice. This will mean they are not just decision-makers but great coaches and mentors that will guide and lead their team to achieve overall success.