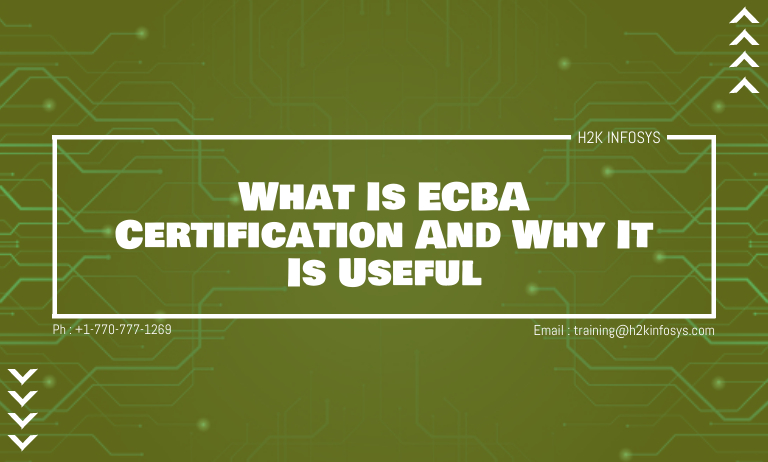 There are several certifications available for professionals in the business analysis field. These certifications will introduce you to business analysis skills and how to use them in offering business solutions. They are very valuable for career growth.
In this guide, I will introduce you to one of the fastest-growing certifications in business analysis which is the "Entry Certificate in Business Analysis" known as ECBA Certification. The ECBA Certification just like Scrum Certification or Agile Certification offers its own benefits. This certification will help you improve and advance your career in the business world because you will get introduced to the requirements, the key elements, and major business analysis techniques.
If you are passionate about business analysis and have plans to take your career to the next level, enrolling for an ECBA certification might be a good thing to consider. However, it is important to identify first if the certification is right for you as an individual before taking that step.
Now let's take a look at the meaning of ECBA Certification…
What is ECBA Certification?
Entry Certificate in Business Analysis (ECBA) Certification is a career-advancing certification that covers all the foundational skills and knowledge on the best ways to analyze and approach challenges associated with business analysis.

This entry-level BA certification was introduced in October 2016 by the International Institute of Business Analysis (IIBA) to recognize and approve the competency of entry-level business analysts and practicing business analysis professionals.
It is an examination designed to test the knowledge of basic concepts of business analysis and the understanding of the business analysis practice. It is important to become ECBA certified as a business analyst. This is because you are expected to constantly improve yourself in areas that will help you perform better in your role in any given organization. You will gain ideas on how to identify business analysis challenges and how to offer effective solutions.
Key Learning Paths of ECBA Certification
The key learning paths of ECBA certifications are;
Introduction to ECBA Certification courses
The overview of the ECBA process and requirements
Defining the value of ECBA Certification
What ECBA Certification means to your career
Introduction to International Institute of Business Analysis body
Steps in becoming a certified ECBA professional
Introduction to ECBA Certification study plan
How to prepare for the ECBA certification exam
It is important to identify the reason for enrolling for this certification. There must be a level of interest that could be from learning new aspects of business analysis or the need to expand your career knowledge and BA skills in the field.
Just like Scrum Master Certification, the ECBA certification will come with eligibility criteria such as training in professional development. The application fee is around $60.0 while the examination fee is around $110.0 to $240 depending on your IIBA membership status. You can sit for the exam from anywhere around the world because it is a web-based examination.
ECBA Certification Examination Blueprint
To get ECBA certified, you have to cover the entire knowledge areas of the ECBA Certification examination blueprint. These blueprints are as follows;
Solution Evaluation
Elicitation & Collaboration
Business Analysis Key Concepts
Business Analysis Planning & Monitoring
Requirements Life Cycle Management
Requirements Analysis & Design Definition
Wherever your interest lies, be it Scrum Certification, ECBA Certification or Agile Certification you are expected to show some level of dedication to its success.
The Major Reasons Why ECBA Certification is Useful
The ECBA certification is very useful because of the following reasons;
You will learn the international standards that guide BA practice.
You will acquire an advanced certification needed to apply for BA jobs.
It will introduce you to basic business analysis tools and techniques.
It will help you improve your BA skills so as to deliver valuable solutions.
You will learn the basic foundation of BA practice and concepts.
Conclusion
The Entry Certification in Business Analysis (ECBA) training will help entry-level business analysts to acquire all the necessary business analysis skills needed to compete in the industry. It is a very useful business analysis certification needed to be a successful professional in the field. Ensure you research more on it.