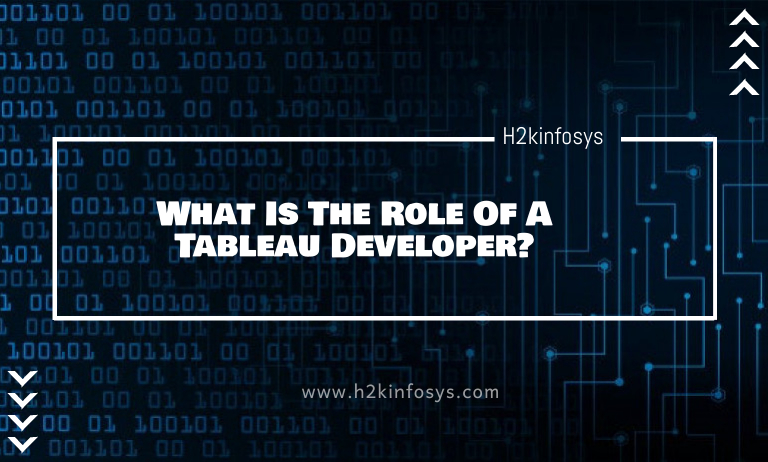 In modern days most businesses are dealing with zettabytes and yottabytes of data generated every day. That means there are many things included in these data, and it can't be simply dumped; companies use these insights to extract hidden patterns and meaningful insights to optimize the business. However, analyzing this much data and getting insights, hidden patterns are humanly impossible using traditional methods. That is where we require data visualizations and data analysis. These techniques are beneficial to get insights quickly and efficiently. When it comes to data visualization, Tableau is bound to get its place. So, let us understand everything related to Tableau, including the role of a tableau developer.
What is Tableau?
It is a widely used tool for performing data visualization. The main function of Tableau is converting the unstructured or structured data into an easily understandable format. It provides various worksheets and dashboards to make users understand the data easily, efficiently, and quickly. The significant advantage of Tableau is the data blending feature. Data blending is the process of gathering data from different sources and storing all these data in a data warehouse.  It also provides other important features such as real-time analysis, working with BI tools, and data cooperation. To make all these actions, users do not need to have technical expertise or knowledge of programming languages. All these user-friendly features are causing the huge demand for the best tableau course on all learning platforms. 
Types of Tableau Tools
Tableau comes with two types of tools, they are;
Developer Tools
As the name says, these tools are used for development purposes. These tools include tools for creating dashboards, charts, visualizations and provides BI reports to companies. Tableau developer tools are Tableau Public and Tableau Desktop.

Sharing Tools
These tools are used to share. Sharing tools include created charts, visualizations, reports, and dashboards. The products are Tableau online, Tableau reader, and tableau server.
Roles and Responsibilities of Tableau
The major roles and responsibilities of the Tableau developers are as follows.
Generating visualizations from the data extracted from various sources.
Identifying the hidden patterns and useful insights from big data sets after analyzing using Tableau.
Designing different dashboards.
Managing huge data sets.
Managing and monitoring Tableau server.
Improving SQL queries to improve the performance.
Identifying and examining glitches of the business process and timely resolving the same.
Finding out the improvement area and identifying automation opportunities to make operation efficient.
Developing reports and reference documents to get finalized reports.
These are the main responsibilities of a Tableau developer, and you can perform all these tasks once you complete tableau certification.
Tableau Products
Tableau comes with five different products to make data visualization tasks easier and effective. Let us look at those products one by one.
Tableau Desktop
It is the tool used to visualize data acquired through multiple sources of data. In this product, we can create visualization charts, Business Intelligence Reports and generate dashboards. It provides connectivity to the data warehouse to live data. Tableau Desktop comes in two types.
The first one is Tableau Desktop Personal. Under this, you can get private space for working, and the access is restricted here. And the work you created cannot be published online. In the second type, Tableau Desktop Professional, you can publish the work online, and it provides access to the entire data.
Tableau Public
Under this, as the name denotes, it is available to the public, and anyone can access it. Since it is available to everyone, there is no option for isolation. It is ideal for learning purposes to the general audience.
Tableau Server
It is used to share the visualizations created on Tableau Desktop. Once the work is uploaded, it is available only to authorized users. These users can access the files using their credentials.
Tableau Online
It is an online tool to share the work. This uses the worksheets that are yet to be created in Tableau Desktop.
Tableau Reader
It is a free tool to view the visualizations and worksheets. The receiver must need to have Tableau Reader to view the dashboards and other visualizations. These are the products of Tableau, and one can find the usage of all this in the best tableau training.