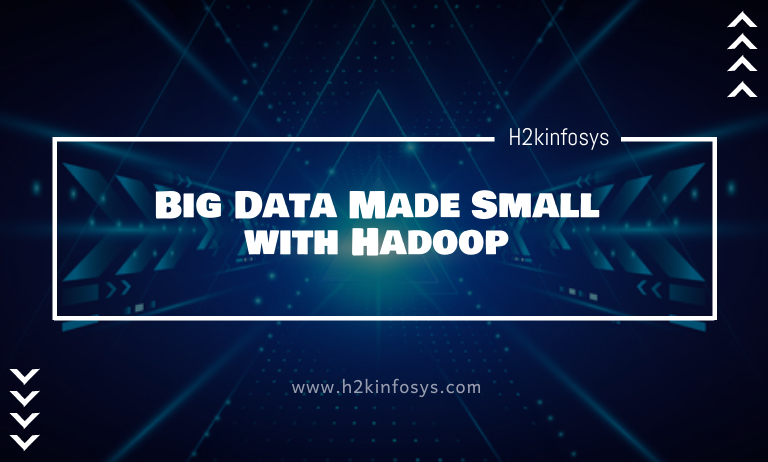 Hadoop is a powerful framework that incorporates fast data processing features to make big data look small. This helps businesses fill in a number of roles depending on the type of data that needs to be processed. When starting with Hadoop – Apache's open source computing framework – you may not know if you will really be able to leverage big data analytics with this framework. We will show you the most important factors to consider so you can know more about learn bigdata for beginners.
What is Big Data?
Or we might say, how big data has to be in order to be considered as "Big Data?" Well, there is no exact way to answer this question because the amount of data is growing continuously and what was "Big" a decade ago might not be the same today. However, as per today's standard, 1 terabyte of data or more than that could be considered big data.
There are also the variety, velocity, and veracity of data that are produced as well as consumed. To put it simply, data is created by your organization so quickly (velocity) from so many different sources and structures (variety) that you have to worry about how accurate and precise (veracity) the data is.
Hadoop for Analyzing Big Data
Ask yourself these questions before you consider Hadoop as a solution to leverage big data –
Does your business have a number of petabytes of data? Is the amount big enough for this framework?
Does your business really have big data problems where Hadoop could be helpful?
Will your business be having a regular influx of data?
Will Hadoop be good enough for your business's data processing needs?
How much data will your business be operating on?
Advantages of Hadoop
Although Hadoop is not the perfect option for all kinds of businesses and you may not find all Hadoop concepts for beginners useful, there are many reasons this framework is so popular today. The major reason is its capability of processing a huge amount of data that is gathered by mobile technology, the Internet of Things, social media, and other technologies.
Another great benefit is the distribution of computational capabilities without costing too much. If you are incurring large expenses for gathering and processing valuable data, you can surely try to install Hadoop clusters. You will also get to enjoy data diversity with this framework that involves matching and mixing various types of data e.g. transaction data, clickstream data, geo-location data, and social sentiment data.
These and other several benefits have made Hadoop the first choice by so many large data analytics companies as well as IT giants like Amazon, Facebook, Walmart, eBay, and Yahoo.
When Not to Adopt Hadoop?
If your business's analytics data sums up to a few GBs only then Hadoop might be too heavy of a framework for your needs. This open-source framework is designed to process and store only large volumes of data to solve data problems. Because of this framework's extraordinary usability, so many companies now think that Hadoop is an all-purpose data processing platform while, in reality, the use of Hadoop is more applicable when there is a need for big data processing only. For processing small sets of data, you can employ business intelligence (BI) tools like Microsoft Excel or Postgres.
Summing It Up
As you can see, it all boils down to your business data processing needs. Hadoop is a good investment only if your business generates enough data that you can consider "Big Data." Check it any good Hadoop for beginners tutorial to know more about the framework.