QA Tutorials
How can Quality assurance help you soar through the $ billion e-commerce market
QUALITY ASSURANCE & E-COMMERCE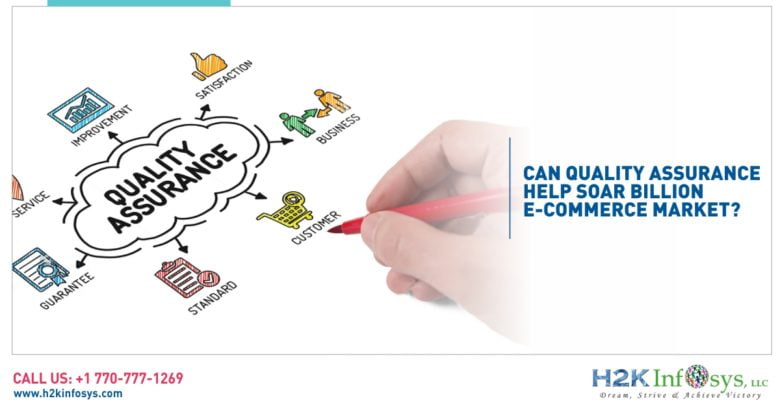 The E-commerce business means commercial transactions i.e. buying and selling of products and services over electronic channel – an internet. The different E-commerce models are B2B(Business to Business), B2C(Business to Customers), C2C(Customers to Customers), C2B(Customers to Business), Government administration E-commerce. The E-commerce business greatly depends on the user experience of the E-commerce software. This dependency poses a major challenge for the software engineers to develop the E-commerce site. A thorough testing of users experience from landing page to successful completion of the transaction on E-commerce site is highly rewarding for clients.
The e-commerce software banks on factors like search & filter feature, speed, usability,  payment options, quality, variety, ease, convenience and velocity with a spin of affordability. The online markets are growing with great popularity and opportunity, how these applications are indispensably maintained by assuring quality on time. It this software testing which is the reason to bring quality assurance and testing forefront of our e-c commerce strategy.
As a customer, when we order the products online we expect the product to be delivered on time, well packed, must allow us to return the product if we don't like it are some key requirements of any customer. But what if the application does not function the way you want! Technical uncertainty and digital chaos are the two major aspects which are dangling around this million dollar e-commerce market. The reports state that the popularity of the online platforms depend on, how the application is maintained by assuring quality of time. The idea is to build the application which adds value to the end customer and is synchronised with the upcoming trends. For example, an application for trading stocks cannot get irrelevant or may be it fails.
The quality assurance helps to ensure that the big data platforms function efficiently. The quality assurance also enables the app building process as a resourceful one on consistent basis. Compatibility across the devices and various platforms, configurations cannot be taken into granted. The E-commerce applications which have promoted mobile apps had to ensure compatibility across diverse platforms. If a website is developed for the mobile device and then it has to be tested for all other devices as well. E-commerce plays a vital role in digital marketing. It further enables the e-commerce users to engage in their digital marketing activities to reach their target base and to expand the business. The software application developed must load fast, respond to different keywords, perform smoothly and stay compatible for all new browsers and search engines.

The retail sector and e-commerce sector are widely open for experimentation and growth opportunities. The quality validation remains as a core to the sector to accept any consumer related or digital challenges.
Questions:
1. What is q]Quality Assurance? What is the importance of Quality assurance over the E-commerce market?
2. Identify the challenges for a tester to test  E-commerce software?