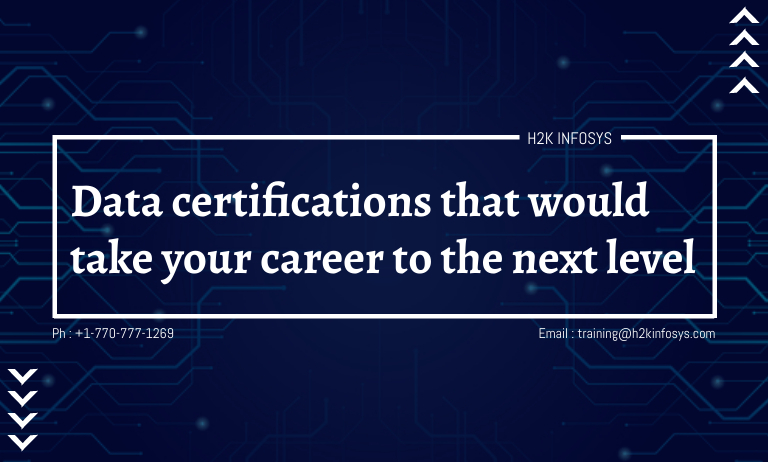 The data industry is growing, and so are the jobs associated with it. There are many opportunities for data analysts and data scientists in it. If you want to be a part of this lucrative market, obtaining certifications in it is a great way to consolidate your foothold there. Here, we will shed light on some top big data certifications that will take your career to the next level.
SAS Certified Data Scientist
This certification offers different layers of information. It pertains to big data skills, big data analytical skills, and a combination of these skills. You will learn about all the different data science tools. There are no formal prerequisites to join this class. The certificate, once obtained, will have a lifetime validation.
Big data Hadoop certification
This certification will familiarize you with the Hadoop ecosystem. You will get your big data Hadoop training during this program. Various institutes are offering this course which is also recommended if you want to learn more complex data processing applications.
Microsoft Azure Data Scientist
Microsoft offers this certification, and you can join this course by having relevant industry experience. To get this certification, you need to pass one exam only. The fee for this exam varies from country to country. The certificate will test your data preparation skills for developing models, preparing features, launching your model within the domain of Azure, and helping it reach its full potential. It is a lifetime certification, and Microsoft provides online learning and training materials for it.
Certified Analytics Professional
Also known by its acronym, CAP, the best thing about this certification is vendor-neutral. While it equips you with all the insight and the knowledge you need in big data analytics, it is not biased for or against any software. You will be able to break down complex data into easy-to-understand metrics and make decisions accordingly. For acquiring a broad-based set of information, this data analytics certification is beneficial. It, however, has a life span, as it expires after three years.
Cloudera Certified Associate
Cloudera has developed various certifications that effectively cover different areas of Cloudera enterprise software. This one is the most basic and entry-level certification. It gives assurance to your employer that you know how to handle basic applications within Cloudera. You can aim for higher certifications if you want to learn further on the topic. This certification is valid for two years.
IBM Data Science Professional certificate
It is the entry-level certificate by IBM in the field of data science. It imparts comprehensive knowledge to the learner regarding various aspects of data sciences, such as SQL, data visualization, Python, Machine learning, etc. It is almost a three-month-long program, and besides academic knowledge, practical assignments also form a core part of the program.
Google Professional Data Engineer Certification
A data engineer can read and interpret data, create models, and change them to maximize their potential. This program will test all your skills to make a data engineer out of you. It will also teach you basic knowledge about machine learning and AI. You will be able to design effective data pathways and analytics after completing this course. You can take this course by directly applying on Google's website, or you can also join any of its affiliate institutes to study it.
Conclusion
Data scientists do not require formal training and education as much as engineers and doctors do. You can come across many professional data scientists with no relevant background whatsoever before entering this field. But in this age of specialization and professional excellence having a formal education in your profession helps. It helps both before you get hired for the job and during it.