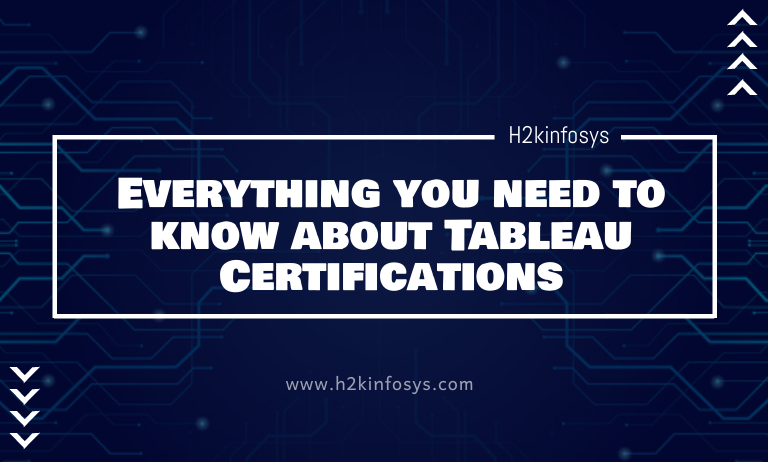 The completion of Tableau certification courses brings many career opportunities with a lucrative pay scale. The great thing is your time and money won't go waste since there is a huge gap between the demand and supply of qualified Tableau experts. So, let us look at everything you must be aware of Tableau.
Certification courses offered by Tableau
At present, Tableau provides three levels of certifications. The Tableau Specialist (the beginner level), Tableau Certified Professional (advanced level certification), and Tableau Certified Associate.
All these three certifications are available to Tableau Desktop & for Tableau Server; only two certified Tableau exams are available from these three. All these certificates have a validity of three years. So, you have ample time to master all the new unique features of Tableau between your next exams.
Are Tableau courses worth it?

Yes, one can enroll in the best tableau online training course and obtain the certificates from Tableau. But the primary question we will get is whether getting the certificate adds any value to your career. Ok, let us find out the answer in this article.
The Tableau Desktop Certification exam costs you $100. The certified associate exam costs you $250 per sitting, along with a server certified professional with a fee of $800 and a desktop certified professional with a fee of $600. If you compare the prices of other such software certification fees, these fees aren't nasty. It is about the cost. If you are looking at the worth, there are plenty of benefits it gives to a professional. This certificate provides confidence to the employer to hire, and it acts as an added edge for you. There is no doubt that it proves every certified person's technical superiority and makes it easier to scale your organization's higher positions. Considering the demand we see in Tableau's current world, the investment of your money and time will become a worthy one.
What is the difference one can see?
As we already went through, three different types of certification are available in Tableau, and you can choose any one of the tableau certification courses or complete all of them. The difference between these three is pretty straightforward. In Desktop, your specialist certification provides an excellent understanding of the fundamentals of Tableau. This provides a three-month practical experience with the platform. For Tableau Server and Tableau Desktop, Certified Associate offers a comprehensive knowledge of all functionalities. It gives the tool's complete experience for approximately five months before sitting for the Tableau Desktop exam.
If you want to complete the certification courses with ease and a complete understanding of key things, we recommend taking the best tableau online course to know the Tableau platform's nitty-gritty of relevant terminologies. All these exams are not easy to complete, and you will get only two hours time limit.
The second level of Tableau's certification course is Tableau Certified Professional. This exam provides you three hours to showcase your expertise by handling a wide variety of questions. You need to be pretty quick and aware of time management to complete the exam within the timeline. This exam mainly tests your in-depth knowledge of the best practices & timelines. One could find very few people who have completed the Tableau Desktop Certified Professional exams in the current world. If you want to join that elite group, it takes some dedication and hardship. However, it is not an impossible task to achieve the right preparation, and time-management will do the work for you.
The third level of the certification exam is of an entirely different level. The examination tasks more time than traditional exams. It will take up to 7 hours to demonstrate your skills regarding the Tableau server's architecture and administration. The exam tests your skill regarding configuring high extract usage and using single node & multi-node deployment for higher availability. The seven-hour exam seems excessive time to spend, but it tests everything to decide whether you belong to that elite group or not. Without a doubt, to complete this certification course, you need to learn from the best-advanced tableau online training course.
You can get many recommendations for completing all these certification courses; however, you need to have only one prerequisite. Certified Associate certification is a must.