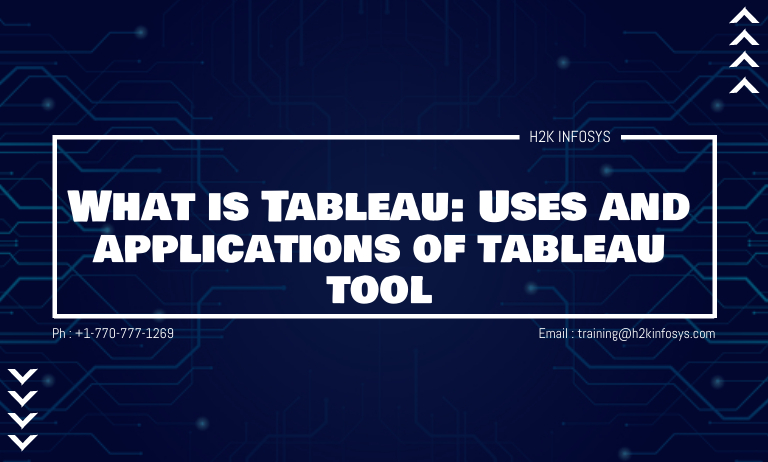 Tableau is a powerful visualization tool that is used in the business intelligence industry. It helps to break big raw data into small data and small data into insightful data. It simplifies the data and presents it in an easily understandable manner. It uses visual tools for this purpose. These can be tables, charts, graphs, symbols, etc. Tableau tool makes the data accessible to everyone, no matter if the user has a technical background or not. Anybody can interpret it quickly and make decisions. In a way, it is a data analysis tool as well, and for this, it uses dashboards and worksheets.
Features of Tableau:
Tableau is easy to understand and learn. You can quickly obtain a tableau certification, be it online or offline. It is an interactive and visual platform that provides several options to present data. You can start your tableau training by installing it on your computer right away as it does not require special hardware requirements.
Uses and applications of tableau tool
There can be several uses and applications of Tableau in an organization. We list below the important ones here;
For different organizational needs:
Data is used in every organization on different levels. Sometimes it is used from the client's perspective, sometimes for the organization's internal use, and sometimes for applying a product or a program. For all such diverse needs, Tableau is used to present data meaningfully.
For better understanding and analysis of data:
Tableau is a practical data analysis and interpretation tool. It can collect data from multiple sources and present it in the form of a single report. It can process, transform, load, and extract data using various methods to understand the end-user better.

Easy generation of visual dashboards:
Tableau can extract the meaningful characteristic of the data and visually present it in a summarized form. It can do so instantly in the form of bar charts, pie charts, tabular or graphical representations, etc.
Supports many database sources:
There are various types of data sources as well as different types of data. Tableau is compatible with all of them, be it structured or unstructured data or semi-structured data. Data generated from multiple sources like Oracle, MS SQL, My SQL, Cassandra, Mongo SB, etc., all work in Tableau.
It also supports various types of database features like RDBMS, object-oriented database, No SQL, etc.
For visual analysis:
Anyone can understand data presented in the form of colorful visuals. Tableau creates such visual representations of data for decision-making purposes.
Customized reports:
Tableau can generate reports based on the requirements of the user or client. You can manipulate the data as per the requirement and develop a visual representation of it as you need it.
Keeping track of the company's goals:
By having a visual representation of the day, you can easily monitor and measure it against the company's goals and assess performance. It is always easier to understand visuals as opposed to hardcore numbers. So, Tableau helps you to keep track of the company's progress.
Interactive dashboards:
With Tableau, you can create fully interactive dashboards. The viewers can insert comments, post questions, filter, highlight, and link across many views. This way, it becomes an interactive visual presentation.
Easy sharing:
You can easily embed and present Tableau's results on various platforms. You can also publish your visual reports using the Tableau server. Anyone can view those who have proper access and permission to use the server. They can tag favorites or even make comments.
That was all about Tableau training and everything related to the program. You can acquire your tableau certification training right away and start using this program.