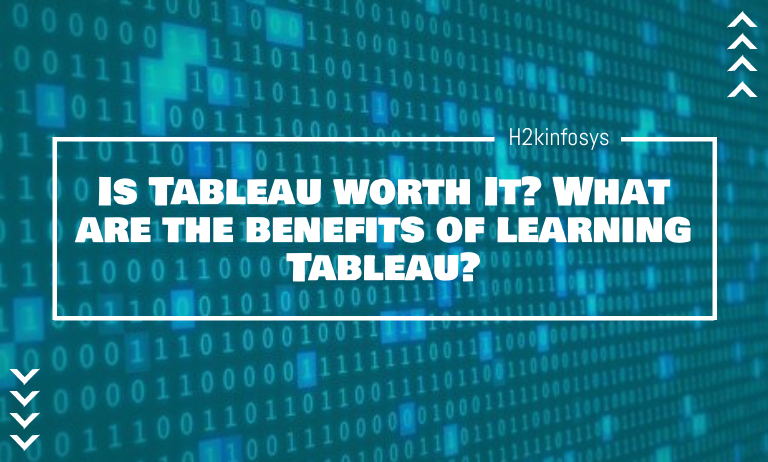 Tableau is one of the sensations when it comes to data visualization. There are plenty of opportunities available for a Tableau professional. It was only a data visualization suite till recently, and now in its new version, you can see the data management add-on. So, the demand for the Tableau expert is growing strongly. If you are still skeptical about the benefits it brings into your arsenal; this is the post, you must go through.
Benefits of completing Tableau certification
If coding is not your thing, but you want to work in an exciting job, becoming a Tableau expert is the perfect option for you. Additionally, you can become a qualified professional with zero knowledge of technical skills. And another good news is it is even available for free of cost. So, all you need to do is select the free tableau training certification and laying the strong foundation for your career. So, here are some points that will help decide whether to learn Tableau or not.
High Demand
Everyone knows the magic and impact visualization creates, and it cannot be replaced with any other modes of presentation. Also, the human mind grasps visual things quickly than letters and sounds. When it comes to the business field, now we are witnessing the drastic changes in the businesses' approaches, and they are focusing more on data visualization than ever.
There is a lot of scope and demand for Tableau professionals. It is one of the emerging sectors, including Business Intelligence, Big Data Management, and other sectors. It is the hot sector, and many companies are looking for talented persons with data visualization techniques. And additionally, in the new version of Tableau, it brings the data management aspects as well. So, it has a lot to offer to the users, and you can benefit from it. Even if you are a beginner in the data visualization field, you can start learning Tableau with free Tableau training for beginners courses.
Data Visualization
Data visualization is one of the booming industries, and when it comes to data visualization, there is no other tool that can beat Tableau. It brings a lot of features from which business can gain useful insights. If you are looking to make your presentation more powerful or eye-catching with modern elements, you need to learn Tableau.

Provides the best feature for data management
In the latest update of Tableau, you can see data management tools. Data visualization and data management are becoming one of the booming sectors, and many companies need talents to have both skills. The amount of data businesses is generating is enormous, and it needs to be managed and maintained with utmost care. It is not only the requirement of companies, but also authorities are introduced numerous regulations and compliance to manage and keep the user data securely.
Job roles availability
With the increasing demand for Tableau professionals, companies offer more positions, and anyone can learn this skill and exploit the opportunity. The below list contains some of the job roles available for a Tableau professional, and it varies as per the company norms and structure. So, the most common job roles available are;
Business Analyst
Data Analyst
Business intelligence developer
Tableau consultant
Business intelligence analyst
Business intelligence manager
Data Manager etc.
High pay scale
At the end of the day, if you are not super-rich, money matters a lot. Many people are selecting a course or career path only because of the salary it brings at the end of the month. Hence, with an enormous amount of demand, it also brings tremendous rewards to qualified people. Indeed, this advantage excites a lot of people and makes them choose this career path. The best thing is you can learn Tableau without spending a penny and get an attractive salary. The pandemic made us stay inside the home, and it is the best time to search for free tableau training online and enrolling any one of them. The average salary of Tableau developers is $56.65 as per the Indeed. This is the average salary, and with experience and more skill, you can expect even bigger rewards. So, why are you waiting still? Enroll yourself for free tableau training certification and grow your career.