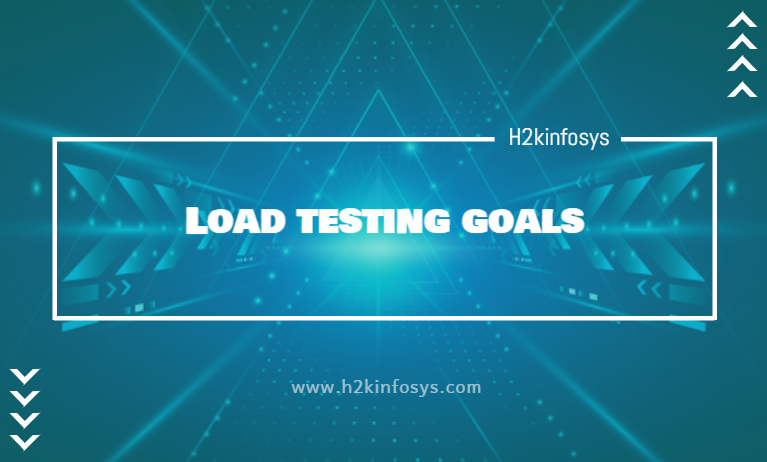 Load testing goals are:
Response time for each and every transaction
Performance of the system components under different loads
Performance of database components and their behaviour with different volumes of data
The network delay between client and server
Software application design issues affecting the performance
Server configuration like web server, application server issues
The load testing specifies whether the software needs a fine tuning or modified for hardware and software to improve the performance.
The advantages of load testing are
Reduces the cost of failure
Improves scalability
Increase customer satisfaction
Challenges of load testing:
Need of programming knowledge to use load testing tools
Tools can be expensive
Load testing is carried out with the varying users to assess ability of the system to work properly. The performance of the software beyond the expected maximum workload can be tested. The load testing tools like HP Loadrunner can be used for testing the different load scenarios by gradually increasing and decreasing the user load on the system.
For eg:
– test the system performance with 50 concurrent users
Ramp up(gradual increase in number of users) : 5 users every 2 min
Ramp down(gradual decrease in the number of users) : 5 users every 3 mins
duration: peak load: 10 mins
pacing between iterations: 5 seconds
This kind of scenarios cannot be tested manually because arrangement of resources, controlling many number of users at a time is impractical
The load testing can be done in many testing cycles with different number of user loads.
For eg:
10 users, 30 users, 40 users, 50 users(peak load)
The main metrics used for load testing:
The time taken by the system to respond to users request
The bytes per run
Questions
What are the Load testing goals?
Explain difference between stress testing and load testing?