BA Tutorials
Tips for getting a Business Analytics job in 2022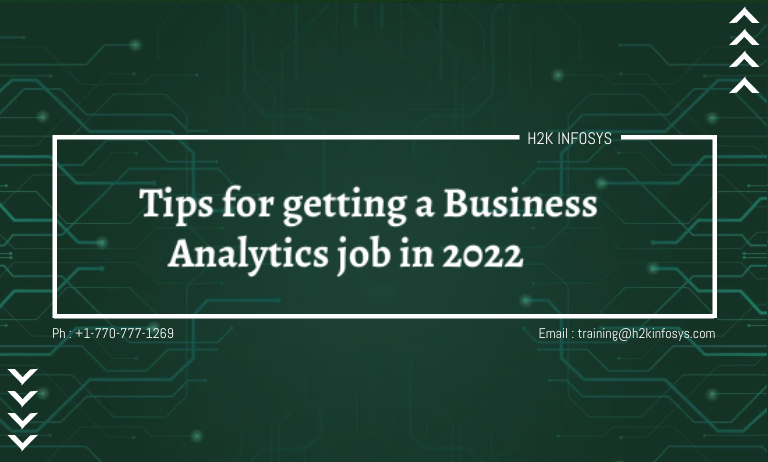 Are you interested in organizations and how they work? Do you have an eye for detail and are always looking to improve internal processes? Do you want your business to reach its full potential? If the answer to these questions is yes, then working as a business analyst may be the right career for you. That being said, you need to fulfill the requirements to get the business analytics job in 2022. Even as we can see during this current COVID-19 pandemic, the demand for business analysts is set to grow dramatically as organizations innovate their business strategies with their algorithmic, analytical, and encryption tools is becoming increasingly important in the business context. There are many paths you can take to get the job of Business Analyst in the next year 2022. If you are wondering how you can get in the door of an organization as a business analyst in your career, here are a few tips that you should consider.
Have a Relevant Bachelor's Degree
First, solid business background or solid knowledge of information technology is a good way to start. Ideally, you will study quantification-related degrees, such as computer science and business management, and develop the basics of business and information technology while honing your knowledge of statistics and technology, analysis, and data science. However, if you do not have this training, you can still become a skilled Business Analyst through a business process analysis training course. In fact, it could be a faster route to becoming a Business Analyst as it cuts to the chase and teaches you practical things you would be applying in your career.
Get a Master's Degree in Business Analytics
As data expands and more data begins to be stored in cloud-based software, faster access and more importantly, better decision-making will be critical to success, especially during this pandemic. In recent times, upskilling or retraining has been a big deal for employers and workers in many professions in the face of digital and technological advancements. (According to a report by the World Economic Forum in 2018).
Yes, now may be the perfect time to upgrade your skills and acquire those increasingly sought-after transferable skills. Earning a master's degree in business analytics is a great way to get started and fill in these critical gaps. You can get it from any online school. The interdisciplinary curriculum of the Master of Business Analytics at Zicklin School of Business is great if you are looking for a course that will guide you on your journey between business strategy and practice, IT, innovation and management, as well as business analytical skills will help.
Again, this is not mandatory but it helps you stand out of the pack. Alternatively, you can get a renowned Certified Business Analyst Professional (CBAP) certification. With this certification, your portfolio becomes unique and attractive to prospective employers. So yea, you should seriously consider getting this business analysis certification as we brace up for 2022. 

Gain real-world experience by offering industry-specific training such as internships
Business analytics is a multidisciplinary field of activity that requires you to work comfortably as an intermediary, connector, and facilitator between your business and IT. Internships and other forms of work experience are a great opportunity to gain insight into digital transformation trends and industries. From health care to education, insurance to telecommunications, the size of your business determines whether you work in the company or focus on a particular department. Therefore, if you want to work as a business analyst in 2022, you need to gain practical experiences, such as apprenticeship training in the technology and IT industries.
Learn to Master the Art of Agility, Flexibility, Leadership, Communication, and Teamwork.
Today's business environment can be dependent on digital technology, which allows you to communicate well, lead your team effectively, lead your team, and more. Players are made and are quick and creative under pressure. This does not mean that you leave without knowing your ability to think.
Business analysts believe in driving and challenging change in terms of improving operations and business strategies and predicting the viability of proposed reforms. Keeping this in mind, you are one step away from securing the dream business analytics job in 2022.
You can learn more about these skills by enrolling in Business Analysis Training.
Don't avoid industry events and conferences. This is where your networking skills are important.
Events such as workshops, conferences, and forums can provide exciting opportunities for you when you meet professionals and industry experts while expanding your knowledge of the industry and related fields.
Business Analytics graduate students at the Zicklin School of Business will have access to the Graduate Career Management Center, which serves as a guide to the career and professional development to get started with your target dream job. It provides tools, resources, and connections for your career in the coming year of 2022.
Conclusion
With the information given above about the tips, you need to know in order to get your dream business analytics job in 2022. You should be able to stay atop your game in the job hunt and of a surety, these tips will land you that dream job. Just stay consistent, be committed to continuous learning, and put yourself out there