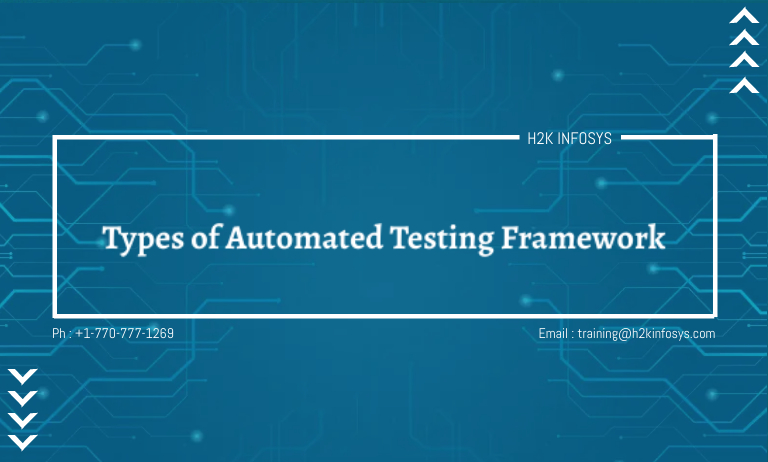 It may be the framework that will structure the testing process and give the exact shape and form. Components are the elements we need to tell to build the overall system. The architecture is how about placing those components together within the framework to produce a working system.
The main objective of this framework is to provide quicker and refresher results.
The advantages of Framework are:
When we don't work within the Framework, we find a code that is quite unorganized, very difficult to know, duplicate codes very time consuming to work on limited in its ability to scale, and in brief nearly impossible to update. If we use the right type of Frameworks it is easy to use data-driven tests and easier to build keyword-driven tests which will be changed by non-coders. Maintenance involves adding new tests, modifying old tests, and fixing issues in our tests. The team using the automation code will grow to the success of the automation project improves and more people will be involved in it the non-coders who especially make the leap into automation and developers who see the value of automated testing and assist with the scaling.
Test automation framework may be considered a set of guidelines for forming or building and also designing the test cases. An automation testing framework is a base or interface that's developed by joining much hardware, software resources together with the use of many tools for automaton testing and also web service automation framework which will rely upon the great quality set of assumptions.
Main Framework Types are
Linear –
In linear setup, a list of automation steps are simply run in sequence from top to bottom. This system won't be uneven with its component that runs from start to end, one command at a time. There aren't separate components, there's no architecture worth mentioning either. There's no logic to deal with different scenarios that the script might encounter. Here Linear record and playback scripts get bad press. For example, if we record a little script, add some error handling package it up as a module, that module is added to the modular testing Framework.
Modular-
Framing a Modular setup contains, calling it quits with the system which is under test and therefore automation code into contained units. We have to spot the parts of the system that may be run in isolation and so code dedicated automation scripts for every other of these parts. A modular framework stays to keep the architecture simple. We can create a one-controlling script that ensures calls to run the individual units of the code. If we break up controlling script as sections intelligently.
Library based Framework-
This framework stretches the modular framework as small or no further by building it in order that each module will relate to a specific part of functionality within the application under test. The library will contain a variety of functions that relates to a selected feature within the application. Libraries of functions will go even in different ways into multiple libraries, where each library contains related functions. Both library and modular approaches touch on the concept of abstraction.
Data driven Framework-
With this data-driven framework with two important enhancements. We need to get the dataset stored as a computertext file, CSV file, excel file or database. So it must enhance our scripts so that this data is passed to the modules/functions at run time. This approach wants significantly more planning and style physical exercise front if it is going to work well. Consideration needs which is to be given to data values are hard-coded and should be stored in file.