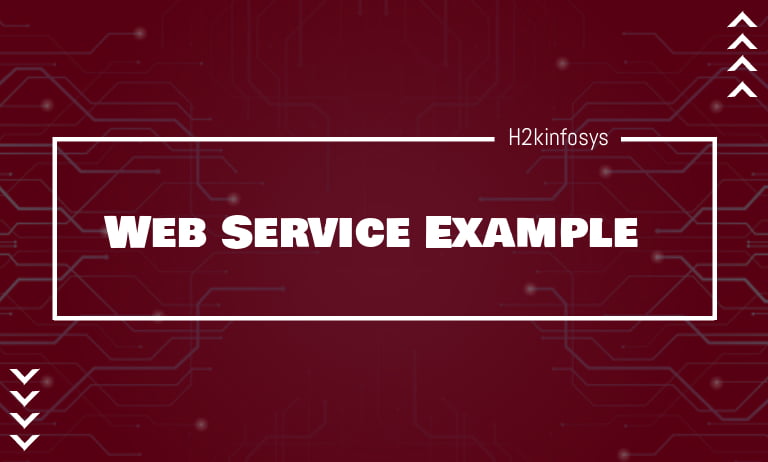 In this article, we will see the configuration of a simple web service Example.
For this, we annotate a class with @WebService and @Stateless.
Step 1: No external xml files are needed. The below class will be placed in a jar or war and deployed into a compliant Java EE server like TomEE.
import javax.ejb.Stateless;
import javax.jws.WebService;
@Stateless
@WebService(
        portName = "CalculatorPort",
        serviceName = "CalculatorService",
        targetNamespace = "https://superbiz.org/wsdl",
        endpointInterface = "org.superbiz.calculator.ws.CalculatorWs")
public class Calculator implements CalculatorWs {
    public int sum(int add1, int add2) {
        return add1 + add2;
    }
    public int multiply(int mul1, int mul2) {
        return mul1 * mul2;
    }
}
Step 2: @WebService Endpoint Interface
import javax.jws.WebService;
@WebService(targetNamespace = "https://superbiz.org/wsdl")
public interface CalculatorWs {
    public int sum(int add1, int add2);
    public int multiply(int mul1, int mul2);
}
Step 3: Calculator WSDL
<?xml version="1.0" encoding="UTF-8"?>
<wsdl:definitions xmlns:wsdl="https://schemas.xmlsoap.org/wsdl/" name="CalculatorService"
                  targetNamespace="https://superbiz.org/wsdl"
                  xmlns:soap="https://schemas.xmlsoap.org/wsdl/soap/"
                  xmlns:tns="https://superbiz.org/wsdl" xmlns:xsd="https://www.w3.org/2001/XMLSchema">
  <wsdl:types>
    <xsd:schema attributeFormDefault="unqualified" elementFormDefault="unqualified"
                targetNamespace="https://superbiz.org/wsdl" xmlns:tns="https://superbiz.org/wsdl"
                xmlns:xsd="https://www.w3.org/2001/XMLSchema">
      <xsd:element name="multiply" type="tns:multiply"/>
      <xsd:complexType name="multiply">
        <xsd:sequence>
          <xsd:element name="arg0" type="xsd:int"/>
          <xsd:element name="arg1" type="xsd:int"/>
        </xsd:sequence>
      </xsd:complexType>
      <xsd:element name="multiplyResponse" type="tns:multiplyResponse"/>
      <xsd:complexType name="multiplyResponse">
        <xsd:sequence>
          <xsd:element name="return" type="xsd:int"/>
        </xsd:sequence>
      </xsd:complexType>
      <xsd:element name="sum" type="tns:sum"/>
      <xsd:complexType name="sum">
        <xsd:sequence>
          <xsd:element name="arg0" type="xsd:int"/>
          <xsd:element name="arg1" type="xsd:int"/>
        </xsd:sequence>
      </xsd:complexType>
      <xsd:element name="sumResponse" type="tns:sumResponse"/>
      <xsd:complexType name="sumResponse">
        <xsd:sequence>
          <xsd:element name="return" type="xsd:int"/>
        </xsd:sequence>
      </xsd:complexType>
    </xsd:schema>
  </wsdl:types>
  <wsdl:message name="multiplyResponse">
    <wsdl:part element="tns:multiplyResponse" name="parameters"/>
  </wsdl:message>
  <wsdl:message name="sumResponse">
    <wsdl:part element="tns:sumResponse" name="parameters"/>
  </wsdl:message>
  <wsdl:message name="sum">
    <wsdl:part element="tns:sum" name="parameters"/>
  </wsdl:message>
  <wsdl:message name="multiply">
    <wsdl:part element="tns:multiply" name="parameters"/>
  </wsdl:message>
  <wsdl:portType name="CalculatorWs">
    <wsdl:operation name="multiply">
      <wsdl:input message="tns:multiply" name="multiply"/>
      <wsdl:output message="tns:multiplyResponse" name="multiplyResponse"/>
    </wsdl:operation>
    <wsdl:operation name="sum">
      <wsdl:input message="tns:sum" name="sum"/>
      <wsdl:output message="tns:sumResponse" name="sumResponse"/>
    </wsdl:operation>
  </wsdl:portType>
  <wsdl:binding name="CalculatorServiceSoapBinding" type="tns:CalculatorWs">
    <soap:binding style="document" transport="https://schemas.xmlsoap.org/soap/http"/>
    <wsdl:operation name="multiply">
      <soap:operation soapAction="" style="document"/>
      <wsdl:input name="multiply">
        <soap:body use="literal"/>
      </wsdl:input>
      <wsdl:output name="multiplyResponse">
        <soap:body use="literal"/>
      </wsdl:output>
    </wsdl:operation>
    <wsdl:operation name="sum">
      <soap:operation soapAction="" style="document"/>
      <wsdl:input name="sum">
        <soap:body use="literal"/>
      </wsdl:input>
      <wsdl:output name="sumResponse">
        <soap:body use="literal"/>
      </wsdl:output>
    </wsdl:operation>
  </wsdl:binding>
  <wsdl:service name="CalculatorService">
    <wsdl:port binding="tns:CalculatorServiceSoapBinding" name="CalculatorPort">
      <soap:address location="https://127.0.0.1:4204/Calculator?wsdl"/>
    </wsdl:port>
  </wsdl:service>
</wsdl:definitions>
Step 4: Accessing the @WebService with javax.xml.ws.Service
import org.junit.BeforeClass;
import org.junit.Test;
import javax.ejb.embeddable.EJBContainer;
import javax.xml.namespace.QName;
import javax.xml.ws.Service;
import java.net.URL;
import java.util.Properties;
import static org.junit.Assert.assertEquals;
import static org.junit.Assert.assertNotNull;
public class CalculatorTest {
    @BeforeClass
    public static void setUp() throws Exception {
        Properties properties = new Properties();
        properties.setProperty("openejb.embedded.remotable", "true");
        //properties.setProperty("httpejbd.print", "true");
        //properties.setProperty("httpejbd.indent.xml", "true");
        EJBContainer.createEJBContainer(properties);
    }
    @Test
    public void test() throws Exception {
        Service calculatorService = Service.create(
                new URL("https://127.0.0.1:4204/Calculator?wsdl"),
                new QName("https://superbiz.org/wsdl", "CalculatorService"));
        assertNotNull(calculatorService);
        CalculatorWs calculator = calculatorService.getPort(CalculatorWs.class);
        assertEquals(10, calculator.sum(4, 6));
        assertEquals(12, calculator.multiply(3, 4));
    }
}
Inspecting the messages in Web Service Example
sum(int, int)
Request SOAP message:
<?xml version="1.0" encoding="UTF-8"?>
<soap:Envelope xmlns:soap="https://schemas.xmlsoap.org/soap/envelope/">
  <soap:Body>
    <ns1:sum xmlns:ns1="https://superbiz.org/wsdl">
      <arg0>4</arg0>
      <arg1>6</arg1>
    </ns1:sum>
  </soap:Body>
</soap:Envelope>
Response SOAP message:
<?xml version="1.0" encoding="UTF-8"?>
<soap:Envelope xmlns:soap="https://schemas.xmlsoap.org/soap/envelope/">
  <soap:Body>
    <ns1:sumResponse xmlns:ns1="https://superbiz.org/wsdl">
      <return>10</return>
    </ns1:sumResponse>
  </soap:Body>
</soap:Envelope>
multiply(int, int)
Request SOAP message:
<?xml version="1.0" encoding="UTF-8"?>
<soap:Envelope xmlns:soap="https://schemas.xmlsoap.org/soap/envelope/">
  <soap:Body>
    <ns1:multiply xmlns:ns1="https://superbiz.org/wsdl">
      <arg0>3</arg0>
      <arg1>4</arg1>
    </ns1:multiply>
  </soap:Body>
</soap:Envelope>
Response SOAP message:
<?xml version="1.0" encoding="UTF-8"?>
<soap:Envelope xmlns:soap="https://schemas.xmlsoap.org/soap/envelope/">
  <soap:Body>
    <ns1:multiplyResponse xmlns:ns1="https://superbiz.org/wsdl">
      <return>12</return>
    </ns1:multiplyResponse>
  </soap:Body>
</soap:Envelope>