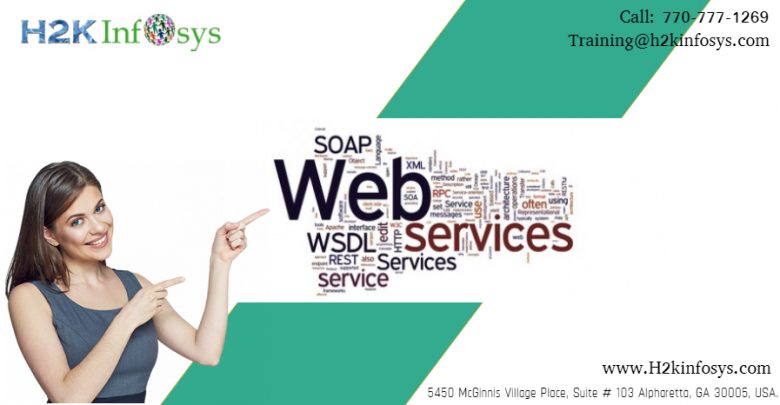 Web services testing with SOAP:
Web services testing is a way to access the web services using XML messages that include WSDL catalog listing web services with their name, input and output field parameter details which serve as an ideal testing road map. It is well suited for performing transactions that have multiple calls need to enforce the strict client server contract and works well with the distributed enterprise environments. It is highly structured with error handling security built-in is designed for expansion for expansion and can use transport protocols besides HTTP.
For example:
A simple account management and order processing system. The accounting personnel will use a client application system which is built in Visual Basic. The processing logic of this system is developed in java and has a database which interacts to store information.
The following steps to do the web services testing are:
The client collects and feeds the information of account registration into the SOAP message.
This SOAP message is sent to the web service in HTTP post request.
The web service will convert the SOAP request message to the command that the application will understand.
The information is processed by the application as required and responds with new unique account number of any customer.
The next process is the web service response another SOAP message Which sends to the client message in response to the HTTP request.
The web service testing tools are :

SOAP UI:
SOAP UI is one of the tools to test the web services which are used to design web services test of SOAP and REST architectures. SOAP UI allows the creation and execution of different types of software testing like: Functional test, regression tests, Mocking, load and performance tests and security evaluation.
2. JMeter:
Apache JMeter is an open-source application which is designed for the execution of load tests performance measurements in applications. JMeter has capabilities to perform load testing and performance testing in different application servers and protocols including
Web (HTTP,HTTPS)
SOAP /REST web services
FTP services
Database  through JDBC
LDAP directory services
Message-oriented middleware, through JMS
EMAIL-SMTP,POP(3) and IMAP(S)
Questions:
What are Web services?
What is Web service Testing?
What are the goals of Web services Testing?