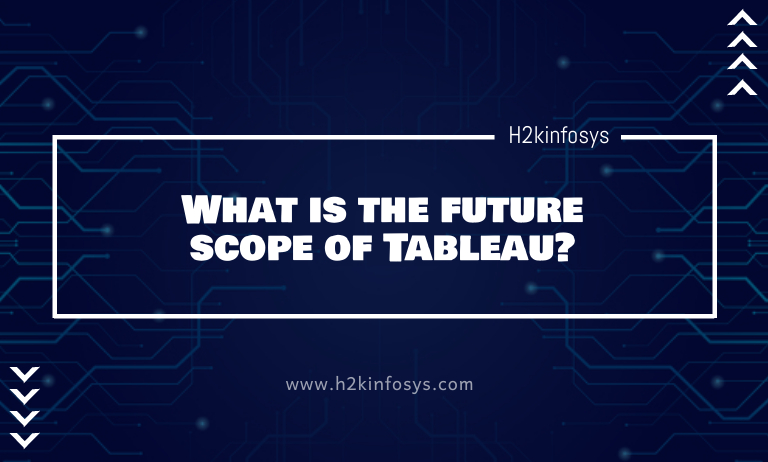 A picture says more than a thousand words. But a graph and an interactive dashboard communicate more than a hundred graphs. Yes, we all know how the pictorial representation of data is much easier to understand and remember. These days data visualizations are gaining more demand. The demand for data visualization is increasing rapidly, and businesses are gaining a huge advantage since it allows them to get actionable insights in very little time. So, when it comes to data visualization, you cannot rule out Tableau's effectiveness and widespread usage. Many people are looking for the best tableau course and grab the advantages it brings. So, let us look at the vital information of Tableau. 
What is Tableau?
Tableau is the most used software for data visualization. This software provides rapid visualizations, and as a result, it helps businesses to make decisions quickly. Tableau Desktop is a famous new generation BI (Business Intelligence) tool, which is also known as self-service data discovery and visualization tool. The reason for getting this name is anyone without the knowledge of IT terminology. In short, anyone can use the dashboards of Tableau or get the data without any assistance from IT staff. This software provides graphs, interactive dashboards, or other visualizations very quickly than other traditional approaches.
The future of Tableau
If a tool provides interactive dashboards and reports less time backed by accurate data, who wouldn't try that tool? Thus, all businesses are adopting this tool and gaining actionable insights in quick time and making informed decisions. Big enterprises are already integrating Tableau and getting the benefits out of it. Gradually now, every business is implementing this tool and taking advantage of it. Consequently, the demand for Tableau experts is increasing with each passing day. Now we can see numerous coaching institutions producing several Tableau courses, including tableau courses for beginners. Even if you don't know Tableau, you can select and enroll in the best tableau course for beginners and learn all the required skills to become a master of tableau platform. 
Is there actually a demand for tableau professionals?
In short, the answer is a big yes. The data generated from every business is multiplying exceptionally in recent years. The data is everything for a business. Using the data effectively helps to provide all the vital information of the business. These massive amounts of data include valuable information the businesses, and careful study helps organizations make the most reliable decisions. However, to handle the current day's massive Big Data and represent it in an actionable and easy-to-understand way, organizations need effective data visualization tools. Hence the demand for tableau professionals is increasing, and so the number of opportunities is growing worldwide.
What can you expect if you become a qualified Tableau professional?
In recent days, hundreds of online courses are being introduced to learners worldwide, and coaching institutions and instructors provide more attention to the tableau course syllabus. The courses which are including all core concepts of Tableau is getting more enrollments. So, if you become a qualified Tableau expert, you can expect the below advantages.

Ocean of opportunities
The data generation is increasing, and it is expected to grow even bigger in the next few years. It is predicted that the data that is going to generate in the next five years is 50 times more than the data generated in the last five years. As a result, companies are looking to get a competitive advantage over others.
Rewarding career
Tableau experts' pay scale is more rewarding due to the demand that exists in the current market. Knowing Tableau is a hot skill, and there is a huge gap between the demand and supply of Tableau experts. This gap paved the way for getting more salary.
Job in top companies
The established companies are well aware of the usefulness of Tableau, and they are using this tool. As a result, if you can become an expert at Tableau, you can place yourself in the best companies.
Varieties of job roles
The great news for Tableau experts is that it covers almost all sectors, and consequently, the job roles are increasing. We are providing some of the roles available at the current juncture, but they are always flexible.
Data Analyst.
Business Intelligence Developer
Tableau Consultant
Business Analyst
Data Analyst
BI Analyst.