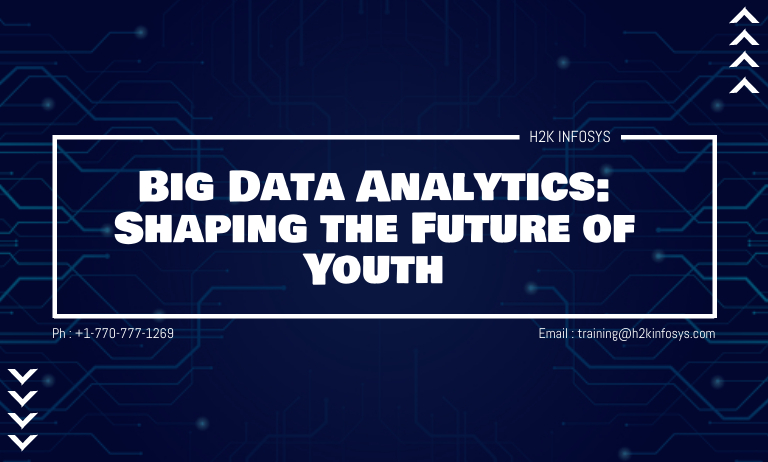 Big Data is changing the approach of many businesses in the last few years. The application and implementation of Big Data from organizations are increasing day by day. This generally created the way for more career opportunities for the youth. Hence, data analytics courses are in huge demand, and people from IT backgrounds learn Big Data Analytics to create a wealthy career. So, let us understand what Big Data is and how it helps you to shape your bright future in this article.
What is Big Data?
Data generation is huge these days, and it is experienced by every organization. Big data means a massive amount of data, which is complex, generating quickly, and it is impossible to analyze and process with traditional approaches. The concept of accessing and storing a huge amount of data for analytical purposes is there for a long time. But this unique concept of Big Data became popular and gained momentum in the early 21st century. The Big data is easily explained with the help of three V's.
Volume
Every organization collects data from various sources, including smart devices, videos, industrial equipment, social media, business transactions, and many other platforms. Big data consists of all these data, and its volume is enormous and unable to store using traditional methods. Big data handles a large amount of data easily.
Velocity
The speed at which data generates is unimaginable. With every millisecond, there will be a huge generation of data. With the growth of the Internet On Things (IoT), the data generates very quickly, and it needs to be handled accurately and on time. To handle these data coming at high velocity, sensors, RFID tags, & smart meters are used in the Big Data analysis.
Variety
The biggest problem with the traditional method of data analysis is that they cannot analyze different types of data. Nowadays, the data is coming in different formats; they are unstructured, semi-structured, and structured. The formats are also different, including videos, emails, audios, text documents, stock ticker data, business transactions, etc.
Big Data handles all these three V's effectively and produces useful information using the Hadoop ecosystem. That is the reason Hadoop online training classes are getting more popular.
What are the benefits of learning big data analytics?
Data speaks more accurately than anything. Hence, we can see the huge importance given to data by many companies recently. It helps to determine the current market trends, customer behavior, and other hidden patterns and insights. Using these details in the day-to-day operations and for making the decisions gives a competitive edge to the businesses. But to understand the hidden pattern, one must have great skills and knowledge of Big Data and the tools used in that. So, many career advisors advise young talents to learn Hadoop online and use the opportunities. The demand for Big data analysts is huge, and the supply is less. Hence it is a more rewarding job, and also, the future is bright.
Scope and career opportunities
Every organization is witnessing a huge generation of data. The pandemic has pushed even small companies to go digital, and the usage of the internet has increased significantly. As a result, every company is gathering data in massive quantities every day. This trend is expected to increase for the next few decades. Hence, the organizations are looking for the right talents to analyze these data and make a useful conclusion. However, there is a huge gap between the demand and supply of big data analysts and experts in the current situation. This is why big data analysts have many job opportunities. Great news is that it is still growing exceptionally. This development paves the way for lucrative career options and various job roles for certified big data analysts. The below job roles are commonly seen in many organizations at the current juncture, but it is expected to create even more opportunities in the next few years.
Analytics Associate
Analyst
Engineer
Business Intelligence & Analyst Consultant
Analytics Architect
Metric & Analytics Specialist
Solution Architect
Without a doubt, Big Data is the future, and in the next ten to fifteen years, it is no wonder if you see even small companies use Big Data techniques and hire the right talent.