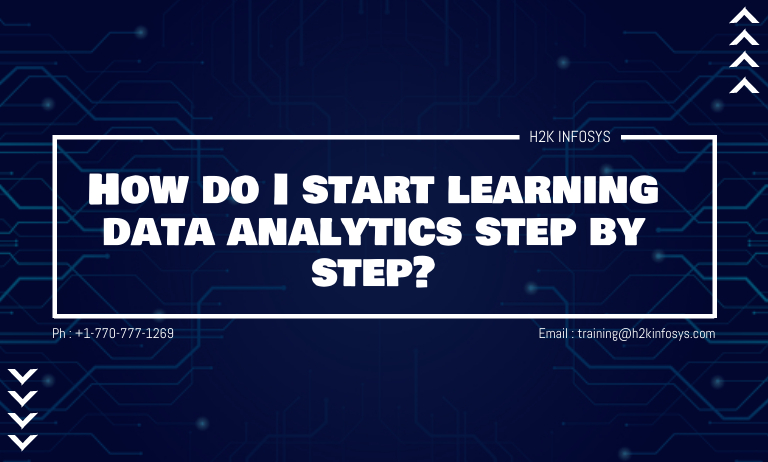 It is evident that data analytics are in huge demand, and as of 2020, the average salary of data scientists in the United States was over $113,000 per annum. The data scientists in San Francisco made over $140,000 yearly. That means learning data analytics gives excellent career opportunities and great rewards. Even if you are not looking to become a data scientist or data analyst, learning data skills helps you get a more rewarding career. If an employee can make data-driven decisions, the company can benefit immensely. Hence the candidate with data analytical skills are in demand. Let us look at the step-by-step method of becoming a data analyst in 2021, apart from enrolling in the best data analytics courses for beginners.
Make a habit of loving data.
If you start loving data, then you would happily learn data analytics and the data analyst job ahead of you. Data analysts' primary job is working with an endless amount of data and providing your findings effectively. To learn data analytics and get a placement, you can try data analytics courses with placement courses. The first thing to note is data analytics is a rewarding job, but that reward comes at huge complexity. Data analysis is not an easy thing to learn and master quickly. So, only if you love playing with data, then only can you successfully learn this skill and advance in your career. 
Learn by doing
For practical knowledge, there is no replacement. Hence, you must learn Machine Learning, Image recognition, neural networks, and many more cutting edge tools and techniques. Only if you start practicing these things, your learning becomes stronger. You can enroll in the data analytics courses online and learn how to work with different tools and best practices. So, working on projects is the best way to learn this skill. Once you start working on any project, try to apply your learnings practically. 
Learn to convey the insights
The primary job of a data analyst is to communicate the insights and results gained from the analysis. This is what differentiates the average data analyst from the excellent data analyst. Data analysts become more valuable only if they effectively communicate with other teams and management. Without a doubt, learning to share effectively with others is hard for some people. To make that habit, here are a few tips.
Start your blog and publish the results of your data analysis.
Teach other less tech-savvy people; it makes your learning stronger.
If possible, speak in the meetups.
Take advantage of GitHub to share your analysis.
Participate in the active communities and share your learnings.
Learn from peers
The best way is to learn from others. In data analysis, you often need to work with multiple persons, and hence teamwork is necessary. In larger enterprises, data analysts need to work with other data scientists and data analysts. If you get the opportunity to work in small companies, you need to work with other teams. Hence, collaboration is required for becoming a successful data analyst. You can try the below ideas to learn from others.

Find fellow minded data analyst learners and share ideas.
Contribute to the community.
Message blog writers in data analytics and ready to collaborate.
Try Kaggle to find a suitable teammate.
Gradually increase the level of difficulty.
Once you are comfortable with the project you are working on, the next step is jumping to the next level of difficulty. If you are using the same concepts for more than a week, that indicates you ready to move to the new one. Of course, it is like a giant game consisting of numerous levels. Once you are qualified to move to the next one, take new challenges. It is easy to stop when things become challenging, but it will destroy your learning process too.
Once you feel comfortable with the current difficulty level, add one or more of the below challenges to make your learning exciting.
Work with extended data sets. Start using spark.
Try to reduce the time in preparing the algorithm.
Find out whether you can scale the algorithm to multiple processors.
Teach the things you are doing to the novice.
With every level of progression, try to make your algorithms difficult.