QA Tutorials
SYSTEM TESTING AND SYSTEM INTEGRATION TESTING
SOFTWARE TESTING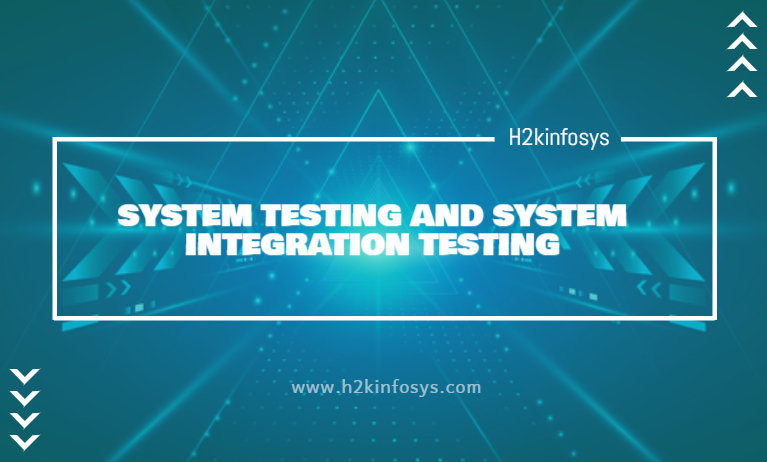 In this article, the system testing and system integration testing are described. The system testing is performed by the QA team to identify the defects and verify the software compliance with client requirements without involving the programming concepts. The system integration testing tests the interaction of the software with other software.
SYSTEM TESTING:
System testing means testing the whole system with respect to the software requirements. It involves testing the functional and non functional requirements. This testing is done before the system is handed over to the user for acceptance testing. The sole purpose of system testing is to conduct the series of tests for all integrated modules along with external  components to check how these components interact with one another along with the  system software as a whole. It is tested for  all possible inputs in order to get the desired output. There are more than 50 types of System testing. It works on user's point of view. To do this testing one need not have the internal knowledge of code, design of the system. It is black box testing technique, that means we are not worried about the internal structure of the application and design. We are concerned about its quick output. Consider an example that an application has to be checked for gmail software for composing the mail. It should be validated for clicking the compose button then enter the recipient mail id then click on send button. It should be validated with the message in outbox then in the sent mail of the same system. This type of testing which is related to single system is called as system testing.
SYSTEM INTEGRATION TESTING:
System Integration testing is testing type carried in integrated hardware and software environment to validate the behaviour of the whole system. In this type of testing the modules are tested individually then integrated then tested for the complete system.
The main goal of system integration testing is, it fixes the defect earlier and improves data flow and enables proper timing and flexibility of a system application. For example consider a commercial bank where it has large system like mainframe system, online banking system, credit card access system. These different software applications need to be tested together in order to check their interactions. Suppose many different modules are tested we call it as System testing and all the modules are connected with the components of the external system to study the interactions we call it as System integration testing.

Check your understanding: 
1. Write the examples of the scenarios/ software for each of above different types of testing.