Uncategorized
Things mobile app testers must do differently for your business to succeed 
Mobile Application testing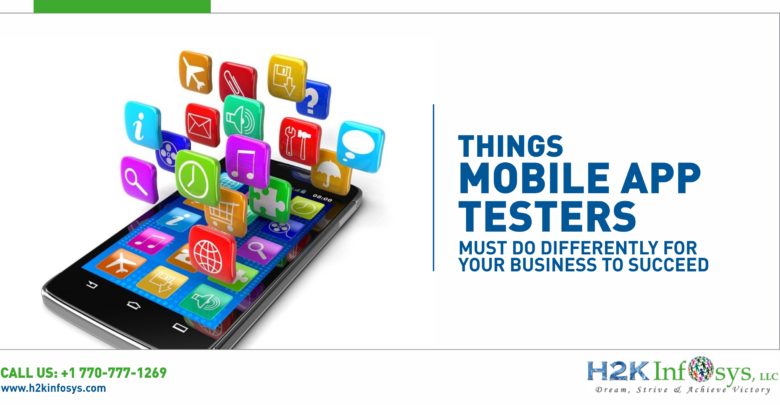 For most industries, using mobile is not an option but a requirement. Mobile app is now an exponentially  growing market and smart phones are outselling the computers threefold. Responsive and engaging environment through mobile strategy is now considered as essential for fostering a positive customer experience. Today applications can make or break the brand. If the application works and serves the required purpose of that moment, it can becomes a sensation without much promotional budget allocation.
Ways to boost the testing process for mobile apps
Below are some of the ways that boost the testing process.
User experience: We can connect better, with the users of the application. Developers and testers hold the responsibility to know the usage patterns for an application by the end users. By the experience, that the user is expected to get by using the application the user might use, is the best possible scenario that the software tester can create.
Test positive and negative scenarios: When the application is tested, if the results have positive response, it is a happy moment but it is recommended to look at the negative results also, to make the testing.
Take the agile route: applications need more testing, as scenario and environment condition which have to be considered when measuring the applications efficiency.
Vulnerability assessment cannot be missed: Vulnerability assessment helps to find the gaps within the application.
Use test automation: An automation tool brings more efficiency to the testing activity along with saving time and testing efforts.
An effective mobile strategy involves more mobile friendly website. There are many reasons why business should embrace the mobile application. They are:
Customer engagement: mobile apps offer more user friendly features than websites which make them to accept these mobile apps. A mobile application ecosystem is expanding businesses, which are creating more mobile apps for capturing the connected consumer and reach more wider market before.
Customer service and support: the mobile application offers simple and more efficient channel for the customers to engage and get in touch with the brand. Having a help desk feature within the mobile app can make difference in the way to communicate with your customers.
Personalised channel: one advantage of mobile app is, it provides businesses with the opportunity to personalise their communications by referring user profile information to engage their customers in real time.
Add new value: the more interesting and pleased people will support your business, the greater would be consumer demand growth.
The testing and reporting bugs to developers need confidence, self-assurance and ability to think creatively every time. QA testers are contentious and seem irritating to developers, but they keep coders honest. QA based testing is important because it provides a support role for development teams or as an independent entity. A balanced approach is best for development teams to produce and release code. Speed is the game and to market, is important for business to succeed.
Questions 
What are the ways which makes your business successful by app testing?