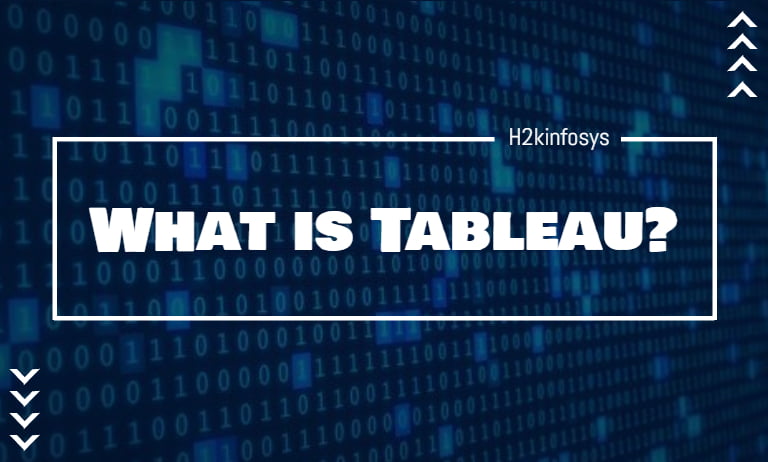 Tableau is a powerful, secure, fastest-growing visualization tool that is mainly used in BI (Business Intelligence) Industry. It transforms the raw data into an easily understandable format that does not require any coding or technical knowledge. It helps to understand data better.
Data analysis becomes fast with Tableau, and visualizations are created in the form of dashboards and worksheets. A non-technical user can also create a customized dashboard.
The main features of Tableau are:
Data Blending
Real-time analysis
Collaboration of data
Organizations such as Amazon, Accenture, and Walmart also use Tableau.
Given below is a template of the Tableau Dashboard:

Tableau is used because it can analyze the data quickly. With the help of Tableau, you can create dashboards that contain actionable insights and drive the business forward. It can explore data with limitless visual analytics. It can also operate in virtual environments when they are configured with proper hardware and operating system.
Features of Tableau:
Reliable: It does not require complex software setup. Mostly used is the Desktop version.
Visual Discovery: You can explore and analyze the data using various parameters such as charts, graphs, colors, etc.
Blending Diverse Data Sets: You can blend various data sets such as relational, non-relational, structured data sets.
Device agnostic: Tableau works with the entire device, so no need to worry about hardware and software configurations.
Real-time collaboration: Tableau can filter and sort the data and embed a live dashboard like Salesforce.
Centralized Data: It provides a centralized location to manage all the data sources. You can add tags, delete and manage schedules at one location.
How does Tableau work?
The main objective of Tableau software is to connect and extract the data that is stored in various places. Tableau can pull data from any platform. It can pull data from any simple database such as pdf, excel to a complex database such as Oracle, Google Cloud SQL, etc.
As soon as Tableau is launched, the ready data connectors that are available allow you to connect to the database. The number of data connectors supported depends on the version of Tableau.
The data that is pulled can either be connected live or extracted to the Tableau's data engine, Tableau Desktop. The Data Analyst, the data engineer, takes data from here and develops visualizations. The created dashboard is then shared with the users through a static file. The users view this file using Tableau Reader.
The data is then published to the Tableau Server. Tableau Server is an enterprise platform where features such as collaboration, distribution, governance, security model, automation features are supported. The end-user can access the files from any location using Tableau Server. It can be either a desktop, email, or mobile phone.
There are two ways in which Data Analytics of Tableau can be described:
Developer Tools: Tools that are used in the development, such as charts, dashboards. Ex. Tableau Public and Tableau Desktop.
Sharing Tools: Tools used for sharing reports, visualizations. Ex. Tableau Reader, Tableau Server, and Tableau Online.
Advantages of Tableau:
Fantastic Visualizations: You can create a range of visualizations. You can also switch between different visualizations.
In-depth Insights: You can look at the same data from different angles. You can also dynamically add components for comparison and analysis.
User-Friendly approach: People not having any technical skills or coding knowledge can also use Tableau. This means that no prior skill set is required. It is self-depicting as most of the features are in drag and drop format.
Working with disparate Data sources:You can work by connecting to various data sources, data warehouses, and files stored in the cloud.
Adding Datasets: Tableau allows the easy addition of new datasets, which automatically blends with the Tableau.
Switching between Visualizations: You can switch between different visualizations.
Excel Vs. Tableau:
| | |
| --- | --- |
| Excel | Tableau |
| A spreadsheet application is used for the analysis of data. | A perfect Visualization tool that is used to analyze the data. |
| It is mostly suitable for structured data. | It is suitable for big data. |
| It has moderate speed and has no option to enhance progress. | It also has moderate speed, but it has the option to enhance progress. |
| Knowledge of macro and visual basic scripting is required. | No prior knowledge is required. |
| It is best to work with small data. | It is best to work with big data. |
| It is bundled with MS Office Tools. | It is bundled with Tableau server, cloud, and desktop. |
| It can integrate with around 60 applications. | It can integrate with over 250 applications. |
| It works with columns and rows in spreadsheets. | It works with the help of drag and drop features. |
| In Excel, you have no idea where the data takes you. | In Tableau, you are free to explore the data. |