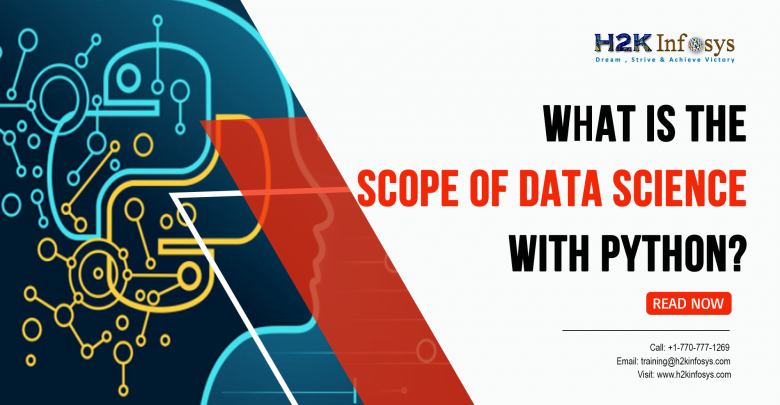 Data Science is the latest buzzword in the IT field. Inarguably, a career in Data Science technologies is the most trending topic in the job market. A lot of beginners, IT/non-IT professionals are aspiring to foray into the Data Science niche. First off, the career prospects in Data Science are immense with a lot of demand for Data Scientists, Data Analysts, Data Architect, and so on. Coupled with this are its high-paying salary structure and a promise of a rising career graph. At H2K Infosys, we offer the best online data science courses along with Python training. All our IT courses are live sessions led by industry experts with years of training experience.
What is Data Science?
Data Science is an amalgamation of Mathematics, Statistics, and programming techniques topped with a liberal dose of industry expertise. The Data Science concepts are broadly classified into organizing data, packaging of data and delivering results.
Scope of Data Science
Newly emerging technologies like Artificial Intelligence, Deep Learning, Machine Learning, IoT are all part and parcel of Data Science. The future scope of Data Science seems to be crucial for every business today due to the following reasons:
Businesses' effort to handle data
A colossal amount of data is being dumped into storage every minute collected from online transactions, in-person purchases, social media, and website interactions. However, organizing and analyzing this collected data is a challenge for many companies. This is where the Data Science technologies come in to picture where the structured and unstructured data is studied to draw meaningful interpretations and aid in business growth.
Improved Marketing Strategies
Customer service and product marketing fields have undergone a major shift in terms of approach. The chatbots, Virtual Reality (VR) and Augmented Reality (AR) are taking precedence over the traditional practices.
Adoption of Blockchain technology
Blockchain technology is on the rise where all the ledgers and transactions are recorded leaving no scope for tampering. The stream which is limited to the finance sector today is likely to get exploited in healthcare, banking and insurance sectors.
Changing face of Data Science
Intelligent Digital Mesh is not further from reality anymore. Going forward, all the apps, devices, and people will come together to work as a unit
How can Python be used with Data Science?
The open-source, free, easy to learn Python is undeniably the most exploited programming language in Data Science. There are others like R, Scala, Java, C++, SQL which are also utilized for data-driven calculations, but none of these seem to be in near competition. The availability of massive Machine Learning libraries, being expressive, and better manipulating techniques are Python's forte.
Careers in Data Science using Python
According to a Kaggle study in 2018, 83% of the data professionals have resorted to Python for data analysis. Data Scientists who are ideally the jack of all trades with the knowledge of Mathematics/Statistics, programming skills, and industry knowledge are the highest-paid professionals. They are the ones who are highly educated with masters or degree in Ph.D. The other career opportunities in Data Science are:
Data Analyst
Machine Learning Scientist
Data Engineer
Machine Learning Engineer
Statistician
Data Architect
These professionals are in demand in almost every field including government organizations.
Hence, we can say that Data Science using is Python is unbeatable!
To pursue data analytics courses online, check out our courses section at www.h2kinfosys.com.