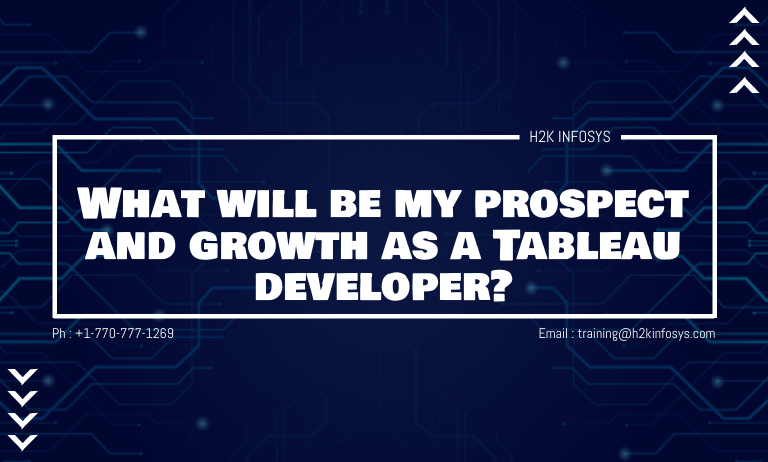 Technology is taking new twists and turns with every passing day. The rapid growth of technology opens plenty of opportunities in the new fields, and people are ready to take those opportunities and grow their careers. Ing Data is becoming popular in recent years, and every organization is looking to adopt and reap its benefits. Already many big companies have implemented and gained competitive advantages over others. With the booming demand for Big Data, the need for data visualizations also increased. When it comes to data visualizations and converting the massive set of data into interactive and informative dashboards with plenty of options, there is no other tool that is superior to Tableau. As a result, people are looking to learn tableau and grab the ocean of available opportunities in the current BI sector. 
If you are also looking to learn and go with the flow but have doubts about its future? Then you have arrived at the right place. Now, let us look at the key things that help you understand the importance of Tableau and how it can help secure the great future.
What is Tableau?
A tableau is a powerful tool that helps to visualize the data. It can quickly gather the data from different sources and derive useful insight. Many corporate organizations, business professionals, government organizations, researchers, and many other professionals use Tableau to create amazing visuals. Since it can deal with varieties of data and from various sources, it is becoming popular. Consequently, the demand for the best tableau course is also rapidly increasing.
What is the future of tableau professionals?
Several new software solutions have stormed into the market, but the fame they created in the earlier days vanished quickly. Hence, several people are skeptical about tableau and its relevance in the coming years. Tableau experts' demand is increasing day by day, and it is offering huge rewards. As per the recent job searches, many established and top companies like Facebook, Sony, University of California, Bank of America, Dell, Applied Systems, General Motors, NetJets, Sunguard, and many others are looking for skilled Tableau professionals. And many industry experts are predicting that Tableau is here to stay and rule the data visualization sector.
Why is the future of a Tableau expert secured?
Many things make Tableau unique and far better than other tools. Let us look at the points which describe why Tableau offers an excellent future.
One of the main reasons why a tableau professional's future is excellent is that the demand for skilled tableau professionals increases in the data visualization field since Tableau provides more options than its competitors.
Currently, Tableau is an excellent tool for descriptive analysis, but it is evolving rapidly and becoming a predictive tool.
It is a fast way to produce analytical reports and dashboards for everyone.
Tableau can create insights from massive data sources. That is the reason it is used in the field of Big Data.
The best thing is to operate and understand the dashboards or work with Tableau; excellent technical skills are not required. Even the users can easily understand and interact with the data.
It is a simple and extremely straightforward tool, and integration is effortless.
Job trends of Tableau
The number of vacancies for tableau experts increases since many companies understands its benefits. The good news is many companies are yet to adopt this tool. Hence, the demand we see in the current stage is expected to continue for the next few years. Since Tableau experts' demand is increasing and skilled experts' supply is less, many people are looking to learn Tableau and get the certification. Now, many free tableau training courses are also available. The rising trend in the learning and increasing job trend can be found in Google Trends.
Gartner Analysis has named Tableau as the "leader" in the data visualization field for consecutive years. Tableau has attractive features and user-friendly interaction, and most importantly, the ability to work with Big Data. Hence, the demand is expected to grow exceptionally since it is hard to find a tough competitor for Tableau.