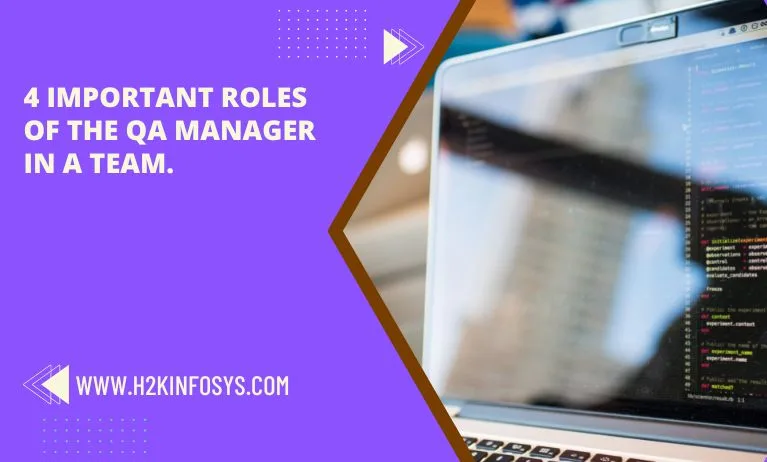 The duties of a QA Manager extend beyond managing test plans. Setting up quality standards, monitoring the effectiveness of QA efforts, connecting departments, etc. are all necessary for ensuring quality within teams. Yes, it no longer implies creating test cases and working closely with software. However, working closely with people is necessary, which can be difficult. A quality assurance manager must be strategic and have a broad perspective.
Between a Product Owner, Tech Lead, Developers, and a QA team/engineers, the QA Managers serve as a sounding board. They set measurements, plan test plans, and coordinate team members. They regularly engage in software quality management. QA Managers pay close attention to the technical facets of quality assurance, such as methodology, documentation, and tools, in addition to software testers. However, they also frequently pay attention to the demands of the business, integration, and clients. Check out the online QA certification course to learn about software testers and QA managers.
Skills to look for in a QA Manager.
The QA Manager must have excellent mental presence and sound decision-making skills to help the entire team overcome testing issues. A specialist in this field should, above all, possess a blend of technical and non-technical qualities. More specifically, they include effective time management, quick problem-solving, clever analytical prioritisation, and deliberate cross-team synchronisation. The duties of the QA Manager are dependent on the particular industry one is employed in. You may see a list of typical tasks carried out by an experienced QA Manager below.
1.To build a high-value QA team.
It involves more than just leading a group of software testers. It also involves developing a group of QA engineers that collaborate as an integral part of a multidisciplinary software team. Every project may call for QA experts with varied skill sets. It relies on the project's requirements, the business needs, and the stage of development. Therefore, one of your main jobs as a QA Manager is to choose the ideal mixture of QA roles and responsibilities for a particular project (or when the project starts scaling). In this manner, a complete team with the necessary knowledge can be assembled.
2.To set up Quality Standards.
A QA Manager must create quality standards since they have experience, domain knowledge, and technical skill. Which ones specifically? What testing techniques to use for a specific software? Which frameworks and tools to utilise? what tactics to employ. What professional standards should I follow?

3.To determine proper metrics.
We discussed having the capacity to perceive a wider picture at the outset. Metrics used in software testing can help you with that. In essence, it's one of the duties of a QA Manager and the best technique to monitor the effectiveness of QA efforts.
Establishing the main performance KPIs at the planning stage will allow you to compare performance to them during the quality assurance phase. We suggest paying attention to absolute and derivative software QA measures (number of test cases, bugs, test hours, etc.). The initial ones are as follows:
Test effort: Compare the number of tests performed in a certain time period, bugs per test, etc.
Test effectiveness: Use the next formula: (bugs detected in one test / total number of bugs found in tests + after release) x 100. The higher the percentage, the better.
Test coverage: To measure its percentage, follow the formula: (number of tests runs / number of tests to be run) x 100.
4.To connect Departments.
All of the teams provide information to the QA Manager. It gives one the chance and the duty to keep track of cross-team activity and spot bottlenecks. Additionally, it guarantees that all aspects operate in harmony with one another.
What Makes a Good QA Manager?
The workload pressure of the QA Manager position is sometimes underrated. The QA Manager must ensure that the abilities of the many personnel with varying levels of experience and the needs of the project are aligned. Not to mention the deadlines and competitive climate.
What therefore distinguishes a truly excellent QA Manager? Is it technical expertise, years of software testing experience, certificates, or staying up to date with testing trends? Well, that combines all of the aforementioned points. Additionally, you should have strong interpersonal and communication skills, attention to detail, a thorough understanding of the software, patience, and a genuine passion for testing.
Conclusion
Deep domain knowledge is only one aspect of the QA Manager position. Additionally, a wide range of soft skills is needed to enable effective QA management and maintain team morale. Depending on the project, the QA Manager's job description may change. But one thing is certain: efficient software quality management enables emphasising quality issues rather than product flaws. You will learn everything you need to know about QA testing via our online QA training platform.