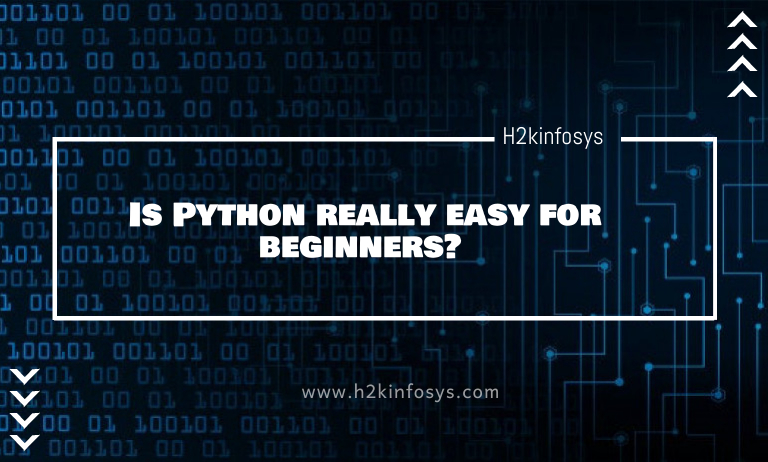 In the digital world, there are numerous programming languages available to develop software. But all programming languages are not easy and master. The debugging process, syntax, and other things become the deciding factor in selecting the best programming language for developing your software. Python is one of those programming languages with everything that suits even the beginners in this field in the current market. But is Python really easy for beginners? Let us find the answer to this primary question of many beginners who have less to no knowledge of programming languages.
Is Python is easy to master even if I don't have an IT background?
The answer is yes. Python is preferred by millions of people worldwide, and python for beginners courses is getting more popular these days. Even this programming language is preferred by the new learners, including kids. However, it is also one of the powerful programming languages used by Netflix, Instagram, Google, and many more big companies. 
The reason why beginners prefer it is that it is easy to learn. If you wonder why this programming language is easy to learn and master, here are the reasons.
Simple and easy to learn
The primary reason why python is the easiest language to learn is that its syntax and fundamental ideas behind this is to enable writing code with ease by using readable and clean code. Another main thing is that the syntax of python resembles normal English. Hence, the beginners can easily type their code and focus on building the logic rather than paying attention to their nitty-gritty. Also, the code of python looks cleaner and structured because of the proper and forced indentation. This makes the coding structure look absolutely clean and easy to read. This is why beginners are looking to find and enroll in the best python for beginners online course and know every basic thing of python.
The structured and easy to read code makes the error handling process simpler. If the code becomes too lengthy and complex it is hard to spot the error and fix it. Hence, if your code is causing problems somewhere, you can easily spot the exact line of code causing the issue and work on fixing the same.
Versatility
Python is one of the versatile programming languages, and due to this, python for beginners online courses are getting more demand.  It is a general-purpose language, and developers use it for numerous different projects. It is used in Machine learning, data science, game development, web development, and many more. For beginners selecting the versatile language is necessary because usually, they will not be a hundred percent sure about what they will develop in the future. But as they move forward in their learning path, they will figure out the most intriguing thing and decide. 
A large number of resources
Without any doubt, even people from non-technical backgrounds would have heard about Python. The reason is Python is one of the most famous programming languages. As a result, there are plenty of resources available to learn and master this skill. The best way to learn python is through online courses, but several alternatives, such as YouTube videos, books, tutorials, blogs, free courses, etc. Most of the basic knowledge of python is available to you free of cost.
Quick Progression
If you start your journey in learning the python programming language, you eventually start coding for small programs by yourself. The easiest and simple syntax won't make you stuck in figuring out the Python language's basic dynamics. The English like syntax becomes extremely useful for newbies in the programming world. If you are looking to solve the problems, you can start writing a few "pseudo code" in the beginning. Then proceeding with listing procedures required to attain the goal and overcome the problem. After a few days of pseudo-code practice, it magically begins to resemble real python code. In short, the simple and clear syntax of python focuses on creating solutions for every problem quickly.
Supportive community
The great strength of a python is active and strong community support. It is essential for beginners because they will get stuck in some stages when they are learning. To help those people, there are plenty of experts, leaners, and professionals available to answer your queries.