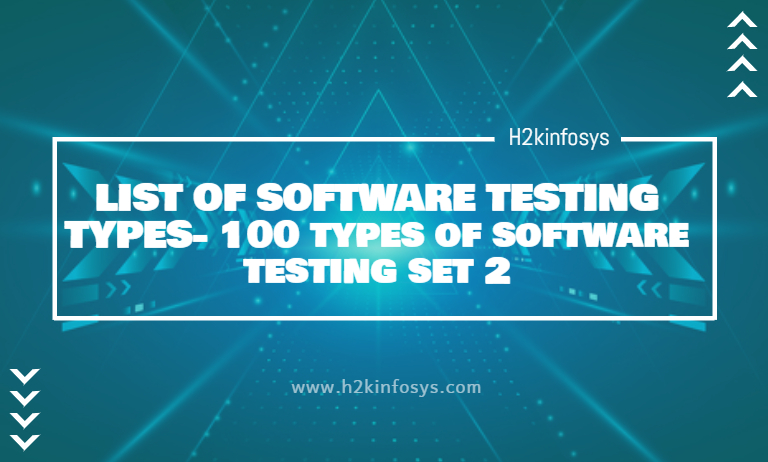 The list of software testing types is vast. This is second list of 100 types of software testing. The software project scenarios are different, hence there is need of many scenario based testing types to be performed. Below is the list of software testing types that are performed in most of the software projects in common. The first list of software testing types can be viewed by clicking here.
List of Software Testing Types: 100 types of software testing – List 2
Portability testing
External interface testing or intersystem testing
High availability testing
Interoperability testing or compatibility testing
Negative testing
Happy path testing
Grey box testing
Key word driven testing
Hybrid testing
End to end testing
Load testing
Volume testing
Stress testing or Spike testing
Soak testing or endurance testing
Maintainability testing
Monkey testing
Random testing
Mutation testing
Penetration testing
Usability testing
Risk based testing
Web services testing
ETL testing
Mobile testing
Use case testing
Back end testing
Browser compatibility testing
Cross browser testing
Recovery testing
Risk based testing
Failover testing
Scalability testing
Compatibility testing
Operational testing
Pair testing
Equivalence partition testing
Boundary value testing
Mainframe testing
SAP testing
JUnit testing
unix/linux testing
Security testing
Reliability testing
Robustness testing
Retesting
Regression testing
Fuzzy testing
GUI Testing
Heuristic testing
The software testing type to be performed is decided by test leader and specified in the software test plan. The different software testing type can be assigned to the different software testers in the software testing team. The software testing can be either manual or automation testing.
Check your understanding: 
List FIVE more different software testing types NOT mentioned in the above list
Pick any TWO types of testing from the above list of software testing types and describe in two sentences