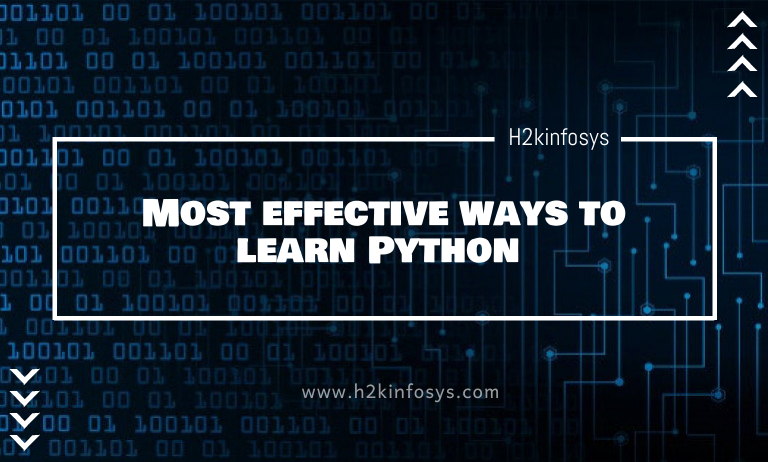 In today's modern, technology-infested world, Python no longer means just a poisonous snake. It is the name of a powerful programming language. It is widely used in a variety of web applications, apps, and coding for various purposes. Its versatility, ease-of-use, and variety of functions have made it a top programming language, if not the top programming language our times.
As we mentioned, Python is easy to understand and anyone can master it regardless of its background in the field of programming. If you already know a programming language or two learning Python would be a piece of cake for you. But for novices too, it is not that hard to comprehend. Let's discuss some of the most effective ways to learn this amazing language. But before that, you need to ask yourself some questions. You must know the answer to these questions as they will help you find the best way to learn this language.
Why do you want to learn Python? Do you want to learn it as a side hustle? Are you looking for a career switch or do you want to develop an application on your own? Be clear in your mind about your objectives and then decide on a learning way that best meets your objective.
Your learning style: Are you comfortable learning about new things by reading about them? Or do you want a visual medium for learning? or you can learn when you have peers with you like in a regular classroom? Know the style that is closest to your heart and then hunt about that learning method.
Now let's discuss some popular and effective ways to learn python.
The learn-as-you-go-method
Just get python installed on your laptop and start using it. You will learn new things about it every day. It will take time and you might feel frustrated but it is also the most economical and hassle-free method. You should have a lot of time at your disposal to use this method though.
Books:
The second method could be good old books. It is a classical approach and we need to emphasize the importance of books. They are the repository of knowledge and wisdom. Go to the nearest bookstore and ask for books that teach python language. You will find a lot of books. You may choose the one that you find the best. You can also ask your friends or family who are into programming about what book to buy or conduct online research yourself about the best titles and best authors on this subject.
Online courses:
The second effective method to learn python could be online courses. You just have to google search like "best site to learn python online". Tons of resources will open giving you variety and choices. You can choose the online program that suits your budget and other requirements and start learning python without going anywhere.
Regular courses:
If you like the feel of a classroom with a board, classmates and a teacher then go for it. There are many institutes that offer this course. Choose the one that has a good reputation and is closer to your home. They may be offering many Python-related courses, you can select the learn python online depending on your prior knowledge of the subject, specific needs, budget, etc.
YouTube tutorials/videos:
YouTube is a great learning resource. Many people would vouch that the best way to learn python online is through YouTube videos. And the best part is; it is all free. You can get information on a specific topic or learn more about different topics. In the comments section, you can discuss your issues and problems with fellow viewers as well.
Community forums:
Online community forums have also gained popularity as a learning resource. These are special-interest groups that you can join for gaining information. They are hosted on social media platforms and are generally free. You need to get approval from the admin for admittance. You can find many online forums related to learning the python language and gain knowledge on the subject.
Conclusion:
These were some of the most effective methods of learning the python language. We hope one of them will tickle your fancy and help your learning pursuits.