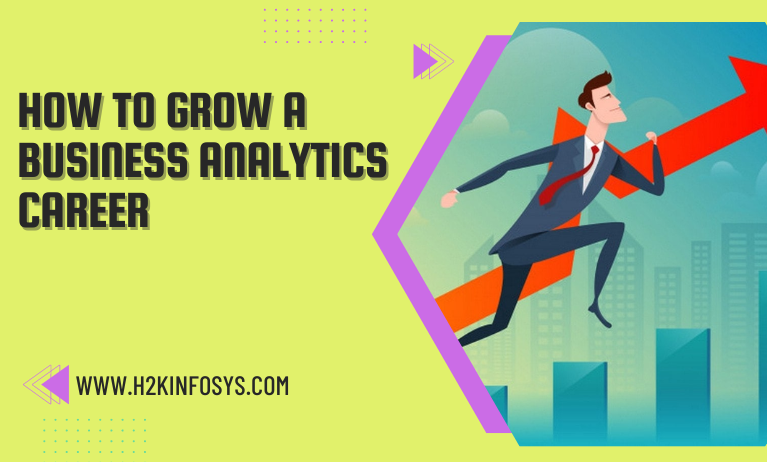 How to grow a Business Analytics Career
The field of business analytics is growing with an opportunity for everyone interested to explore. Today, it's one of the most important roles a company fills up to improve its performance and understand the trends in the market. If you want to become a business analyst, then it all starts by taking a course in the field or by enrolling in free business analyst training and placement. Thereafter, there are tips to help you advance rapidly in the field and this is what we'll be discussing today. So, read on to the tips on growing your business analytics career from the scratch. Enjoy your reading.
How relevant is the Business Analysis Career?
Before getting started, it's often advisable to do enough research on the prospects of a career to ensure they have the potential to remain functioning after many years. If you're considering one in business analytics, then, it's the right path because heavy reliance is made on the use of data for anything and everything. This seems to be a summary of the major role of business analysts because they are trained professionals that work with large sets of data for the evaluation of trends. With the results of this data, business analysts make projections to the stakeholders and SMEs on the best way to introduce their products and how to solve the market needs.
The truth is, data use will not come to an end especially now that technology is playing a major role in most companies. So, venturing to be a business analyst is one good choice for you. Now, how do you get started on the journey to becoming an expert in the field?
Earn a degree
It all starts with the right certifications. Earning a good degree in an admin-related field from the university. Well, you can also venture into the field without this relevant degree initially. However, you'd have to enroll in the relevant business analysis training course for a perfect understanding of the role and its responsibilities. Likewise, you need to develop some technical and programming skills. It includes programs like data crunching, data scraping, evaluation and presentation of technical results, diagramming, and lots more. This will make you a better fit for the job.
Professional Certifications
The business analyst role requires some certifications as well. The three stages of the certified business analysis professional course will help you gain more feats in your career. This teaches and tests knowledge on project management, data analytics, predictive analytics, and operations research. With this as well, you'll get to discover the right aspect of the field to explore.
Communication Skills
One of the most important soft skills you need to develop is effective communication. As a business analyst, the role requires a good display of teamwork for completion of tasks, explaining results in jargon-free language, meeting with stakeholders for discussion, and lots more. With this role, you'd discover that you need to sharpen your oral and written communication skills to grow as an expert.
Work on Junior roles
The path to reaching the top is gradual and you have to begin somewhere. After a business analyst training and placement program, you need to start with a beginner role to practice your skills and the lessons taught. As a junior worker, you'll be assisting experts and learning as well. This is a good start to get going smoothly in the business analytics career path.
Earn a Master's Degree
Another way to grow in business analytics is by earning a master's degree. With this, you're sharpening your skills and expanding your knowledge scope for a higher role. You can either enroll for an MBA, masters' in business analytics or master's in data science. All this helps you hone your skills and make you perfect for career advancement.
Develop analytical thinking and problem-solving skill
In the same vein, you need to develop your problem-solving skills to advance as a business analyst. This will come in handy when you have to evaluate data sets and interpret them for the development of methods to meet the market needs which includes creating visual models, and understanding data specifications, amongst others. No doubt, good business analysts are experts in solving problems and critical thinking.
Conclusion
With these tips discussed in this article practiced well, you're on the path to advancing in your career. You can always begin right away with a business training course. With that and these tips in place, you're about to be considered for the next higher role in your organization.