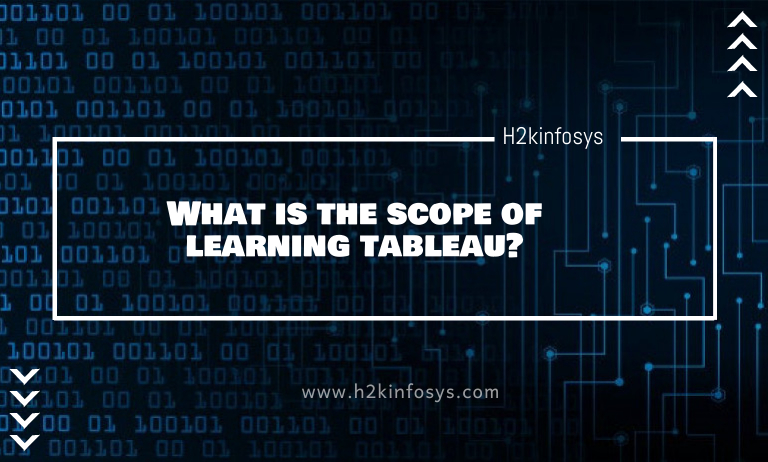 Tableau has become the hottest tool in the field of business intelligence. This is a simple tool that is able to create interactive visual analytics from simple raw data. The tool creates dashboards from which non-technical users can also benefit easily. Many organizations have adopted Tableau due to its flexible and easy-to-use versions. 
The scope of learning Tableau online is immense. Tableau is such an interesting and powerful tool. The future is all about business analytics and Tableau is one of the finest tools used in this field. Below are some reasons as to why learn Tableau online
Tableau professionals in demand
The demand for professionals who can operate and understand Tableau is on the rise. If you are aiming to have a career in data analytics then Tableau must be on your checklist. Tableau online classes are widely available and popular. Since the demand for Tableau skills is increasing exponentially many professionals opt to learn Tableau online.
Tableau is of great help for those who are aiming to become a software developer, IT administrator, and especially a data scientist. However, business organizations all over the world need interactive and productive data analytic tools. Business analytics has become the core of a booming business. Tableau online classes give you a head start in your job applications for these big giant companies.
Tableau Career is rewarding
Tableau online training and placement is going to pay you back very well. Those who have opted for a career in the Tableau are earning very well. Since there are not many who have this skill organizations are willing to pay frantically to those who have aced this tool. Companies have tons of data in their warehouses and require proper individuals who know how to deal with data visualization. A career with Tableau certification is certainly going to boost your prospects.

A Tableau is a powerful tool
Tableau is no doubt a powerful tool. It is the fastest-growing data visualization tool in the business analytics industry. The tool is user-friendly. You do not need to have a proper technical background or deep knowledge of coding. You can easily create and further customize the dashboards. Tableau training near me has to on your search engine if you want to improve your job prospects.
Tableau has basic analytics functionality. Although it may not ever be able to replace python or R, the Tableau is still widely popular due to its simple functionality. When compared to excel Tableau is able to create similar pivot table graphs but it can handle much more data than excel and represent it in a better way.
Many Jobs offered to Tableau users
The most lucrative thing about Tableau online classes is that once you have gained experience you are bound to get many job offers. In fact, you have a variety of job roles to choose from. You may be thinking a Tableau consultant is the main job offer you may get but many other positions require Tableau certification. These include a data analyst, business analyst, IT administrator, Software Developer, and Business Intelligence Manager. All these professionals gain much more career-wise when they have a Tableau certification.
Tableau has a bright future
Tableau has been marked as the leader in business visualization many times in the past year. When you compare this with other tools you will find that it is the market leader with respect to its competitors. Tableaus' ability to execute is absolutely amazing. One thing is for sure the future of Tableau is bright and secure. Learn Tableau online to make your career prospect better and brighter.