QA Tutorials
How to write software testing resume
Software testing resume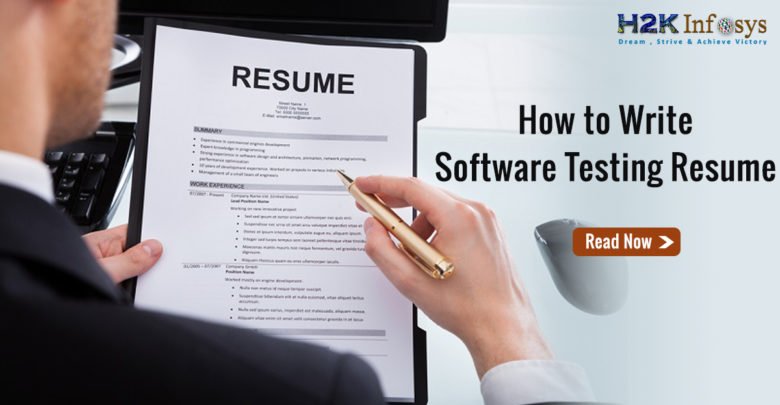 IT jobs are in abundance in USA. At same time, there are many aspirants who want to apply for IT jobs. Most of them from non IT background, gap in the carrier want to apply for IT jobs. The software testing and Business analyst jobs are most suited for them. The steps to apply for software testing jobs are mentioned in one of our article. You can read it by clicking on the link below. After the preparations for software testing job, the next step would be to prepare the software testing resume.
Steps to apply for software testing jobs
Resume preparation is not just few hours task. It might take a week or more to prepare a good software testing resume. Before you start with the resume preparation, make sure your ready with below pre requisites.
Pre requisites to prepare software testing resume:
Visit many job portals(at least 3 to 4), read the job descriptions for software testing jobs.
Understand the current job market scenario, the type of skills, tools and versions, testing tasks, technologies that the employers are currently looking for. Make note of keywords that are being used in these job descriptions.
Make detailed list of the skills, testing tasks, tools that you have acquired. For e.g.: types of OS, browsers, MS office, testing tools, databases, HR skills, etc.
You do not get a tailor made job with 100% match to your software testing resume, even if job requirement matches 60% to 70% to the skills in your resume, you are likely to get an interview call.
In some of the job websites, they also ask for cover page, have the sample cover page ready and it can be customised while you are applying for the job.
Software testing resume tips are:

Always keep your resume brief but comprehensive in expression. An ideal resume can be about 2 pages, with around 2 to 4 projects in it for 2 to 7 years experience.
Don't make spelling mistakes single error in spelling is enough to reject your resume.
Make a clear objective
Highlight relevant skills
Focus on what exactly employer's needs and prepare resume on that basis
Don't write resume 3 pages unnecessarily unless you possess some team lead or managerial positions .
Do not use word 'I' while describing the project. For example, instead of 'I wrote test cases' just write 'wrote test cases'.
Make sure you write your name, email-id, phone number on the top .
While writing education start with recent most education. Same applies to the projects, recent project first.
Write all the certifications you possess clearly.
Write relevant skills on job accomplishments on the first page of your resume.
Be ready to explain everything what you have written in the resume properly.
A resume should include in the same sequence as below:
name, email-id, phone number, objective, profile description, project experience(project name, client name, project timeline, project description, your role in project, project environment for each project), skill set in table format, education(if you have IT related), certifications, declaration. Note: references(can be provided when requested)
14. Do not make your resume colourful. Let the font be black, size 10 or 11, 1.2 line spacing, properly aligned and uniformly formatted. Do not use fancy font type. Name, email id and phone number should appear on all pages.