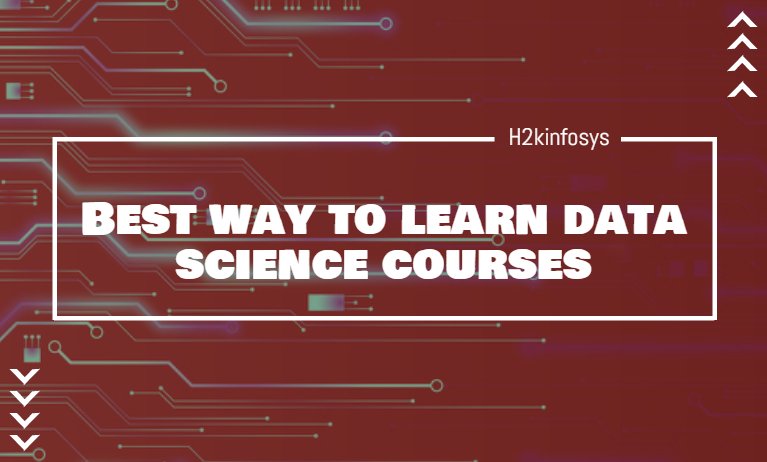 The ideal way to learn data science totally depends on where you are coming from. Absolute beginners and professionals with no programming knowledge have no other option but to learn data science courses. Self-study is slightly far-fetched for these learners. Now, it boils down to choosing between online interactive training classes or traditional classroom set up.
Online training classes are popular these days for not one but many reasons. For one, the interactive classes are way cheaper than the traditional classroom courses. We will discuss this further in the blog, but let's first see why Data Science is trending these days.
What is Data Science? How did it evolve?
Agreed, that Data Science is the most desired course of 2020, but Data Science did not evolve overnight. It is fraught with statistical concepts and practices; it is the science of dealing with data.
Data has always been a cause of fascination since the beginning of time. As far as history goes, the ancient Egyptians collected the data concerning the rise in the Nile River each year and used it to predict its behavior beforehand. What's more, they used the census data for tax collection.
Now, data science has shifted from mere statistical applications to emerge as a branch of computer science.

Here's a table of important years and major events that took place in the world of Data Science
| | |
| --- | --- |
| Year | Significant Beginnings |
| 1962 | A mathematician Tukey predicted the way Data Science is going to evolve as a combination of modern-day computing and data analysis. |
| 1977 | John Tukey argued the importance of Exploratory Data Analysis and how crucial it is for confirmatory data analysis. |
| 1989-2000 | In between was the time when the media made a substantial coverage on database marketing, then the need for special data mining tools was pointed out, and SaaS emerged. |
| 2001 | The American computer scientist, William Cleveland recognized the importance of Data Scientists and carried out plans to them. |
| 2002 | Data Science started catching up and Data Science Journal took shape. |
| 2006 | Then a sensation happened as Hadoop emerged and changed the future of Data Science. |
| 2008 | The term Data Scientist became a buzzword. |
| 2011 | The demand for Data Scientists grew by a whopping 1500%. |
| 2013 | A realization struck that 90% of the word's data was created in the past two years |
| 2015 | Deep Learning techniques got recognition with Google's speech recognition and the Data Science field saw a jump of 49%. The Artificial Intelligence (AI) projects within Google itself increased to 2700 a year. |
In the past decade, the field of Data Science has grown in leaps and bounds. Now, Data Science is ubiquitous – Government organizations, retail, healthcare, transport, media, banking, insurance, etc.
Who should pursue Data Science?
Did you know, the data scientists make a whopping $120,000+ a year? No wonder the data science certificate programs are on a rising spree, of late. Statistics and coding skills are integral to becoming a part of the Data Science niche.
Data Scientist is one of the highest-paid careers for a reason. Although there are many other career options within the data science field, typical data scientists are often PhDs or Masters Degree holders.
So anyone with the following pre-requisites can take up Data Science as their career. Although, these skills are mandatory for a Data Scientist, while for others, relevant skills should suffice.
Mathematics or Statistics background
Programming skills (Java/Python)
SQL – as relational databases are still relevant in 99% of the firms.
Appetite to learn and keep learning the latest technologies such as deep learning, AI, Big Data tools like Hadoop, R, Pig, Hive, Kafka, Spark, MapR, Mahout, HBase, YARN, etc.
Data visualization tools like Tableau
Domain Knowledge.
Why is it ideal to learn data science courses online?
As mentioned, learning data science through courses is more or less mandatory for starters and non-It professionals who aspire to venture into data science. This is more because they might lack the information about what it takes to become a part of the data science niche.
However, listed below are the reasons why we think data science online training is the way forward for anyone who hopes to pursue it:
As already mentioned, the fee is 10-15 % lower as compared to the classroom courses.
Comprehensive coverage of the concepts in a much shorter duration due to the flexibility of timings.
Interactive class recordings are available 24×7 in case of absence.
Amplifies networking opportunities as it is easier to connect with fellow students and instructors during interactive online classes than in other modes of learning.
Not only there are more online data science course options, but some of the best and top courses are also online certification programs planned for diverse learners.
Last, but most importantly, you can be a remote learner from any part of the world if you find the online course interesting and in your best interest.