Devops
Top 6 DevOps Certifications to Earn in 2023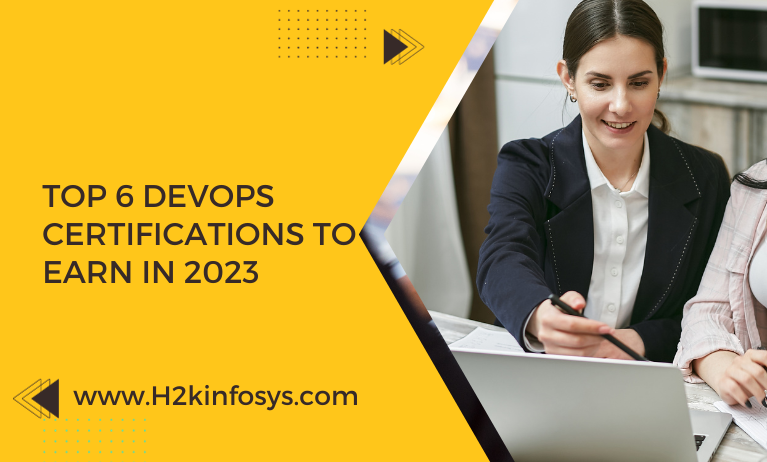 The six top DevOps certifications that you should think about obtaining in 2023 to launch or advance your DevOps career in the computer industry are listed below in this article. You can check out the online DevOps training to learn more about DevOps.
1.Docker Certified Associate (DCA) Certification
Without a doubt, Docker has grown to be one of the most well-known platforms for DevOps professionals. In a similar vein, earning the Docker Certified Associate (DCA) Certification is a valuable way for people, particularly recent graduates, to validate their Docker expertise and open up exciting career opportunities in the DevOps field. Before taking this certification test, it is advised that you have six to twelve months of experience with Docker and a solid understanding of the Linux kernel, namespaces, control groups, configuration management tools, etc. You might choose to investigate the free official materials offered by Docker in order to get ready for this certification test. Additionally, you have access to a number of trustworthy and conventional outside training courses.
Furthermore, we would like to inform you that the exam will be multiple-choice and have 55 questions. It should be finished in 90 minutes. The Docker Certified Associate Certification exam costs approximately $195. Additionally, as soon as the exam is over, you receive the results of the certification exam.
2.Certified Kubernetes Administrator (CKA)
The Certified Kubernetes Administrator (CKA) credential attests to a person's ability to carry out Kubernetes administrator duties by demonstrating their knowledge, abilities, and proficiency. The Cloud Native Computing Foundation and The Linux Foundation created it in order to develop and extend the Kubernetes ecosystem. To establish their reputation in the job market, Kubernetes administrators, cloud administrators, and other IT professionals who oversee Kubernetes instances are strongly encouraged to obtain the certification. To pass this specific certification test, you must study for the following subjects: Installation and configuration, Cluster Architecture, Storage, Workloads and scheduling, Troubleshooting, and Services and networking. Additionally, you can verify the official website for the specific weighting of each domain, such as Troubleshooting (30%), Services and networking (20%), etc.
You will take an online, proctored, performance-based test in which you have two hours to complete a number of exercises. The Certified Kubernetes Administrator exam costs $300, and you will receive your results over email 36 hours after passing it.

3.Certified Jenkins Engineer (CJE)
The Certified Jenkins Engineer (CJE) credential attests to the certificate holder's proficiency with Jenkins and the necessary practical experience. When searching for Jenkins professionals, recruiters worldwide are highly interested in this qualification. The three main topics covered in the certification test are Jenkins Administration Fundamentals, Jenkins Pipeline Fundamentals, and Jenkins Fundamentals. Any Kryterion test centre that you select throughout the registration process is a valid place for you to take the exam. The Certified Jenkins Engineer credential comes at a price of about USD 150. You should be aware that Kryterion testing sites are temporarily closed owing to the global coronavirus outbreak, and for the convenience of candidates, the CJE certification exam is currently being offered online and is now available to be taken from home with an exam cost of around USD 99.
For expertise with both CloudBees Core and Jenkins, in addition to the Certified Jenkins Engineer, you may choose to work with the corresponding Certified CloudBees Jenkins Engineer.
4.AWS Certified DevOps Engineer
Another valuable DevOps certification test for IT professionals with two years or more of experience in the field of providing and managing AWS infrastructure is the AWS Certified DevOps Engineer. This specific certification attests to your proficiency in setting up and maintaining continuous delivery systems on AWS, designing and implementing monitoring, metrics, and logging systems on AWS, and implementing and managing security controls and governance procedures, among other relevant duties. However, you should be aware that obtaining the AWS Certified DevOps Engineer certification requires you to first hold the AWS Certified Developer – Associate or AWS Certified SysOps Administrator – Associate certification.
There will be approximately 75 multiple-choice and multiple-response questions on the test. Exam completion is required within the allotted 180 minutes. Aside from that, the exam costs $300, and the practice exam costs USD 40.
5.Microsoft Certified DevOps Engineer Expert
It is highly advised to obtain the Microsoft Certified DevOps Engineer Expert certification in order to pursue a career as a DevOps Engineer. To sit for this certification exam, you must be proficient in Azure development and administration in addition to any of the following areas: infrastructure, source control, continuous integration & delivery, security, compliance, and designing & implementing DevOps strategies. You must already hold the Microsoft Certified Azure Administrator Associate or Microsoft Certified Azure Developer Associate certifications, as this is an expert-level certification test.
This test will consist of approximately 40–60 questions that you must answer in the allotted time. In terms of exam cost, it is approximately INR 4800 in India. Let us inform you that the learning materials available on Microsoft's official website will help you with your complete exam preparation.
6.Google Professional Cloud DevOps Engineer
The Google Professional Cloud DevOps Engineer certification test verifies your proficiency in developing and executing continuous integration and delivery (CI/CD) pipelines, managing service incidents, enhancing service performance, and other relevant duties. While there aren't any strict requirements to take the exam, it's highly advised that you have about three years of industry experience, at least one of which should be spent managing solutions on the Google Cloud Platform. The best thing is that Google offers you a variety of valuable study tools to make it easier for you to be ready for this certification test.
Multiple-choice and multiple-select questions will be on the exam, and you have two hours to complete them. The certification exam registration fee is around USD 200, VAT included. Additionally, you have the choice of taking the test from the testing centre or a remote location.
Conclusion To learn more about DevOps, check out our DevOps online course.