QA Tutorials
QA as a Service: Accelerating Software Quality with Outsourced Expertise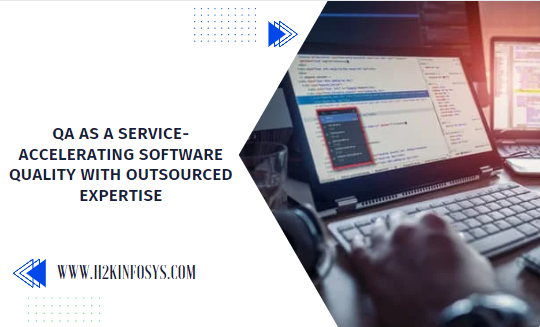 The secondary notion of QA is what companies should concentrate on. Let's elaborate. 
The first definition of quality is the standard by which anything is measured against other similar entities.
The second definition of quality is a special quality displayed by someone or something.
You can see from these ideas that quality might be typical or outstanding quality. And which choice would ensure your company's long-term success in the contemporary IT market? 
Organisations should aim to go above the constraints the traditional definition of quality places on them if they want to stand out and become industry leaders. And carrying it out isn't as difficult as you may imagine. You simply need professional QA services. Check out the QA analyst training to learn more about QAaaS

Understanding Quality Assurance as a Service
Providing quality control services (QAaaS) is a form of software quality assurance in which businesses contract with outside service providers to handle their testing and QA needs. So rather than dealing with the possible difficulties of choosing and working with QA engineers, you let a knowledgeable QA business handle everything.
Key characteristics OF QAaaS
QA's most noticeable quality is certainty. Confidence in your team's output, the development of your software, and your company's effectiveness. The QAaaS value bundle enabled all of this.
On-demand QA resources: Reduce the amount of time spent on specialist recruitment and interviews with QA resources. Providers of QA services have pre-screened professionals in their network.
Ample testing infrastructure: To produce outstanding outcomes, and unlock the flexible skill sets and technology of outsourced QA.
Scalability and Flexibility: pay for the precise testing services you demand while scaling your QA efforts up or down based on project requirements.
Strong expertise and domain knowledge: Benefit from specialised testing professionals with experience in a range of disciplines and testing methodologies for strong expertise and subject knowledge.
Cost-effectiveness: There is no need to spend money on employing and overseeing an internal QA staff. To manage all of your testing requirements, you can hire an outside QA organisation.
Reporting and analytics: With the thorough reports and analytics on test results provided by QAaaS providers, you can make data-driven decisions and build a strong knowledge foundation.
Focus on core business activities: Focus on your primary business operations and product development, and delegate the testing duties to qualified professionals.
Advanced quality: To improve your product, consider it from the perspective of outside experts.
These elements don't exist alone. All of the advantages will accrue to you if you choose to work with a reputable QA company.
QAaaS vs Traditional QA & Testing Services
In the current economic situation, QAaaS has evolved into not just a critical resource for enterprises and startups, but also a competitive advantage. Financing for ICT ventures is, to put it gently, under strain due to inflation, oil crises, geopolitical tensions, and (unfortunately) many other factors. So many people opt to forgo traditional (also known as in-house) QA in favour of QAaaS.
QA Testing Model 
Traditional QA: businesses have an internal QA staff in charge of organising, carrying out, and overseeing testing operations.
External service providers that specialise in particular aspects of software testing are part of QAaaS. These service providers provide on-demand access to resources and testing expertise.
Cost Structure
Traditional QA: entails fixed expenditures, such as infrastructure costs for the internal QA as well as personnel and benefits.
With QAaaS, businesses may pay for software testing services as they are required without incurring the costs associated with staffing a full-time QA crew.
Proficiency & Specialisation
Traditional QA: engineers might be familiar with testing in general, but they might not be as knowledgeable about all testing domains or all testing approaches.
With a wider variety of testing capabilities, QAaaS provides specialised testing people with knowledge in many different fields.
Flexibility and Scalability
According to the needs of the project, traditional QA scales the QA team up or down, which can be difficult and time-consuming.
Greater scalability is provided by QAaaS, enabling organisations to swiftly modify their testing teams in accordance with project requirements.
QA Automation Integration 
Traditional QA: Depending on the organization's testing strategy and skills, test automation may or may not be completely integrated into the QA process.
Testing automation technologies are incorporated into QAaaS as part of the service, improving testing accuracy and efficiency.
Focus & Core Competencies
Organisations using traditional QA may need to divide their focus between testing tasks and essential business operations.
By assigning the responsibility for testing to outside QA providers, QAaaS enables businesses to concentrate on their core skills and product development.
Because it improves customer experience (CX), firms now prefer to collaborate with outsourced QA suppliers. CX is also a top priority for businesses and their expansion. Contrary to traditional QA, which frequently makes use of best practices, QAaaS becomes the quality driver.
Conclusion
Companies must embrace innovation, efficiency, and high-quality products if they want to succeed in the fast-paced world of software development. Working with QAaaS providers accomplishes just that. You may maximise external QA teams' resources, improve development agility, and concentrate on providing clients with top-notch software utilising their skills. You can learn more by enrolling in the QA online training.