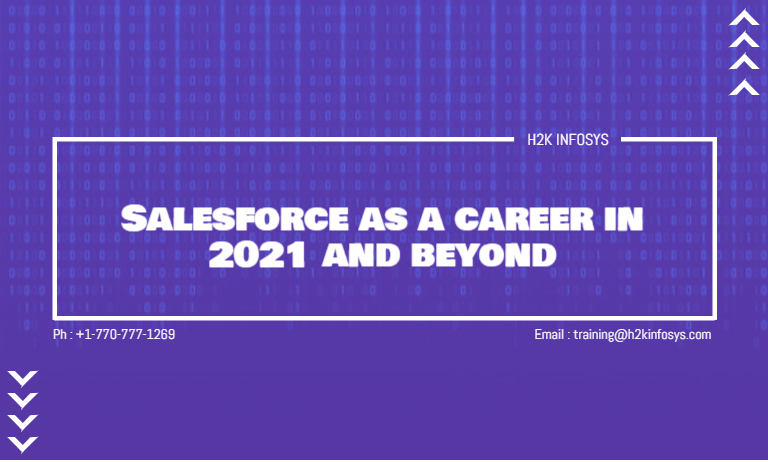 Salesforce is the world's leading customer relationship management (CRM) solution with a 19% share of the CRM market. Furthermore, as per the Forbes report, Salesforce increased its worldwide revenues by 23.2% in 2018. The above statistics clearly show that the demand for the Salesforce solution is increasing worldwide. Consequently, the job market is growing at the same rate. As per the IDC study guide, the job demand is set to create 3.3 million jobs in the Salesforce ecosystem by 2022. Among these, Salesforce administrator and Salesforce developer job roles are the most demanded ones. So, you may find high demand for Salesforce administration certification or Salesforce admin course at the organization level.
The other reason that Salesforce as a CRM solution is in high demand as nowadays, customers are getting more specific with demands whereas business is getting diversified. So, it is practically impossible for an organization to offer personalized services to its customers without using a CRM platform. Moreover, due to the pandemic, 2020 was a disaster, so now most organizations are trying to get back in the older forms by making most CRM platforms like Salesforce. As a result, both young and experienced IT professionals are rushing towards Salesforce online and offline training – be it any stream, whether Salesforce administrator training or developer training, demand is on a high rise.
Here are some of the reasons why Salesforce as a career is promising in 2021 and beyond:
Salesforce meets today's customer's demand
It is the era of customer preference and real-time communication. However, it is impossible to continue business by handling customer databases traditionally. Salesforce opens up the scope of advanced CRM functionalities and seamless automation. It enables you to store every single detail of customers and provide them with a personalized solution. Pursuing a Salesforce certification like Salesforce administration certification means an edge over your competitors.
In today's business scenario Salesforce has high relevance and application. So, it is obvious that you will get a high return on investment if you spend your time and money on Salesforce. Furthermore, any Salesforce training will solidify your position in the professional world if you are new to business automation. Similarly, having a certification in Salesforce is an added advantage for already working professionals from both the salary side and hands-on perspective.
Continuously innovative technology
If you watch Salesforce growth closely, then it is never standing still since the last two decades. This is the company which rolls out new features three times a year. As a result, it is always at the forefront of innovative trends and new advancements with the continuous evolution of its set of tools for developers. The main goal of Salesforce is to make its customer's life easier by incorporating the new technological trends.
As a Salesforce Developer, you solely focus on data and apps instead of making any concern on the underlying infrastructure. In addition, the single code base of Salesforce makes a developer's life easy.
Better Customer satisfaction
Salesforce CRM platform aims to serve customers in a better way. For example, with good training in Salesforce, it is easier for you to understand customer needs, likes, dislikes, and preferences before you reach them out. Also, Salesforce provides an automated lead management system that helps you to make loyal customers.
Salesforce certifications open up new doors
Any certification on a specific skill set measures and validates your efficiency. The same goes for Salesforce. If you are a Salesforce-certified person, then there is hardly any job that you cannot secure as per your expertise. However, Salesforce certification is very tricky, and it asks you in-depth knowledge on the subject matter. Training helps a lot in this context. Suppose you are planning to pursue Salesforce administration certification, then taking a Salesforce administration training will be handy to crack the exam. Here are the major categories of certifications that you can choose as per your current or aspiring role –
Salesforce administrator
Salesforce architect
Salesforce developer
Salesforce Marketer
Salesforce Consultant
Salesforce Designer
As mentioned in the beginning, Salesforce is the need of the hour. At the organization level, it is not the scale of operation of the industry they belong to, and it is the better prospect of the customer that organizations are looking for with a robust CRM platform like Salesforce. So, trained Salesforce professionals are in higher demand, and higher demands equate to a higher salary, which we have discussed in the introduction. So, the numbers of people willing to land in the Salesforce job are increasing with time. However, if you want to stand out from the clutter, it is always advisable to get trained and certified in Salesforce.
Final Verdict
If you look at the rate at which Salesforce adoption is increasing, and the platform is gaining its presence, it is safe to predict that Salesforce is here to stay. Business automation and CRM are not new trends in the market today. Every business is making the switch from traditional techniques to automation, and if you haven't, it is the right time you do so, too!
Learning Salesforce will help you learn new skills and give you a scope to keep bearing fruits in the years to come. So you can stay on the same page as your peers and be up to date with the technological advancements happening in the field before it is too late.
In 2021, if you want to grab the new opportunities and regain the lost confidence of the year 2020, then learning Salesforce will make you well-acquainted with one of the most dynamic CRM platforms. This versatile tool has helped organizations save time and money while it is highly efficient to deal with complicated customer databases.
Learning Salesforce is not rocket science. Be it a Sales force admin course or developer's one, you will get a number of training resources to choose from the market. However, if you wish to pursue Salesforce certification, always take one step at a time and select the best training path for you.