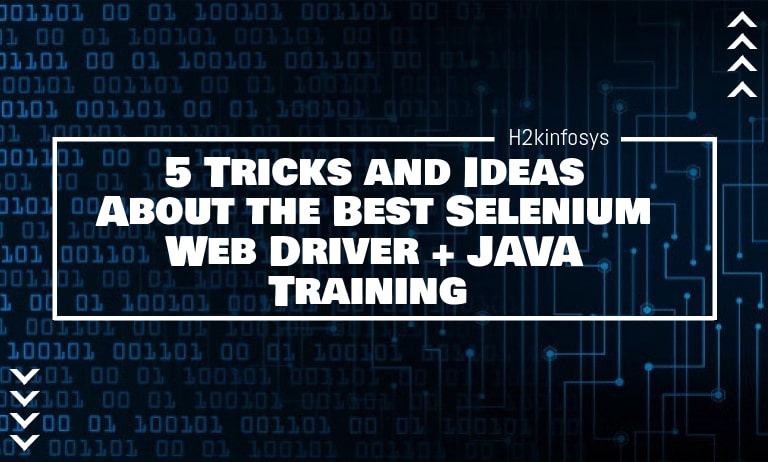 Sophistication is the order of the modern-day world. Many things now work with a click of a button. Robotics and automation are taking place in most of the organization. And of course, they bring a lot of benefits to the play. With the increasing digitalization and software development, automation tools such as Selenium are becoming the most demanding tools. You can learn it with a lot of available selenium online classroom trainings in the current day to master your skills. So, the demand for a talented selenium expert keeps on increasing.
The selenium web driver comes into the play when a developer wants to run an application test without a selenium server and remote and facilitate the testing process. The significant advantage is it is available at a significantly less cost. Of course, it is the needed thing to survive in the current market. Another best thing is anyone can do selenium web driver training online at their convenient time and place. So, let us see the five tips and ideas about Selenium web driver and java training. 
What is the Selenium web driver?
If you are looking to have a good command over the automation testing and related works, Selenium is a must. So, while learning Selenium, the common thing people hear is selenium web driver. It is the most vital component of the selenium tool suite. The new version of selenium 2.0 comes with a web driver API, and it helps to provide a concise and more straightforward interface.
It is introduced as a part of selenium version 2.0. In the previous version that is selenium version 1, it came with only RC, IDE, and Grid. In the v3, RC has been moved to the legacy package.
A programmer can develop test scripts using any of the supported programming languages within web drivers, and it can be run on any modern web browsers directly. Selenium web driver supports Java, C#, PHP, Perl, Ruby, and Python. Anyone can become a selenium professional by enrolling in the selenium webdriver training online and learn at their comfort. 

Top five tricks and Ideas
You can get the opportunity to work in your live project if you become a part of selenium web driver training. It helps to know more about the tools and how it works practically. It also makes them familiar with the common problems one can get while using the software and learn how to tackle them effectively.
When you start pursuing a career opportunity, you can put your live work experience or real-time projects you participated in to increase your resume value. In most of the selenium testing online courses, you will get the opportunity to get free access to the expert community. This feature becomes handy if you have doubts and need help in sharing and discussing your ideas. Additionally, you can get the chance to establish healthy communication with experts and get regular updates regarding career development and new job openings. 

The crucial study materials such as video recordings, daily notes are distributed after every session. This helps the trainees to learn things on their own without the help of anyone else. Along with this, institutes also offer the chat between the trainees to clear their doubts and share the ideas. To get most out of your enrolled selenium automation training online, you need to look out for these things.
The best thing about online training is that anyone can enroll in any online courses without any political boundary limitations. It allows interested candidates worldwide to enroll themselves in the best online training and get the teachings from the best in the industry.
The selenium online classroom trainings are the best course for all aspirants who want to begin automation tests or obtain automation testing jobs. The training is also very helpful for enhancing skill sets. If you learn advanced Java, it will do a world of good to improve your expertise in Selenium. It is the fast-growing sensation when it comes to RPA in big enterprises. So, it is the right time to start your career with a head start by learning the automation and related stuff.