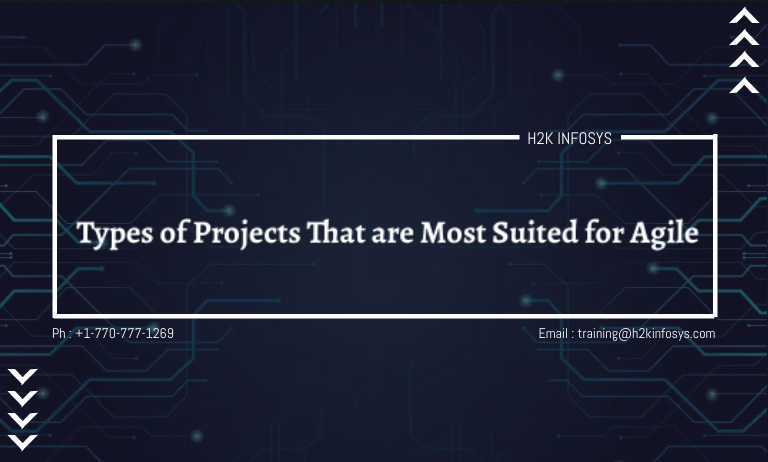 Agile methodologies are now applied for numerous projects because they are highly adaptable to changes in the market. The Agile approach is needed for building projects that are unique. Due to the complexity of this process, it is not advisable to use Agile for just any kind of project.
The burning question for most individuals with Agile online training and relevant Agile Project Management certification is – "what types of projects can I use Agile for?"
Agile is suitable for use on projects that have a level of urgency and complexity attached to it.
The agile approach will only be feasible for a project if the goals of the project are properly defined and the project deliverables can be released incrementally. The lessons from a relevant Agile training course point out how the Agile scope of work can make complex projects flexible.
So, to keep the intensity going on a project, a proper agile methodology approach is employed.

In this guide, we will share project ideas that you can use Agile for in this current age and time.
Types of projects you can use Agile for include;
Software Development Projects
Agile is needed when building both small and medium-sized software development projects. This approach can also be used for some big software development projects because of their complexity. No software development project is the same as the other. So, for every software project idea, you're setting up for a new adventure.
Since software projects are built to solve specific problems, there's a level of urgency attached to their execution. You will understand the concept of the Agile approach better when you enroll in a relevant Agile training course. But let's take a closer look at the advantages of applying Agile to software development projects. Some of the benefits it offers includes;
Embracing flexible incremental development process
Improving the technical aspect of the development process
Managing the risks associated with the development process
Aligning the approach to the software development life cycle
Oversees daily communication between the development teams
Increasing the chances of gaining commercial rewards at the end
Product Design Projects
You can apply the Agile methodology approach to specific product design projects. The word "specific" is used because Agile is not suitable for all product design projects. Some aspects of the product design process have to be considered i.e., planning and implementation.
Products are designed with end-user requirements in mind. So, an approach that will help the development team align the product development process with end-user requirements has to be put in place. Now, this is where Agile comes in. According to teachings from Agile training online, this approach improves communication between development teams and end-users.
Product design is one of the best projects you can use Agile for due to its complexity. It is also great for product design projects that have multiple variants of the core product involved.
Note: The elements of the Agile approach might not be suitable for product design projects that might experience late changes. This is because the late changes might impact the project result.

Personal Milestone Projects
People love celebrating milestones and lifetime achievements at different stages in their lives.
A personal milestone project includes graduation parties, wedding ceremonies, birthday events, and so on. While the approach to this project is different from that of software development and product design, it is still an essential project suitable for Agile. It will help spell out the main deliverables and functions that need to be developed during the iteration of the project.
If there are any changes to the project execution process, Agile will ensure the changes are deployed in parallel with the initial milestone project plan. This is very beneficial.
Agile is used for this type of project because;
A fixed date is set for when the event will take place
It has complex requirements like budget and event location
Planning the event carries novelty as it's a one-time project
Agile will work best for this project due to the set deadline and dynamic requirements involved.
Conclusion
Agile is used for complex projects that have a deadline. If at the end of each project iteration the elements of the products or services can not be released or deployed, Agile might not be needed. It will only be essential for projects that have planning and implementation clearly stated. You can get more project ideas suitable for Agile through Agile online training.
The principle of Agile is easy to understand if you have in-depth Agile training online. But the mode of practice can be quite difficult if you don't understand how to apply the approach. This is why it's necessary to register for an Agile training course that will improve your knowledge.