QA Tutorials
What is the role of Business Analysts in Quality Assurance?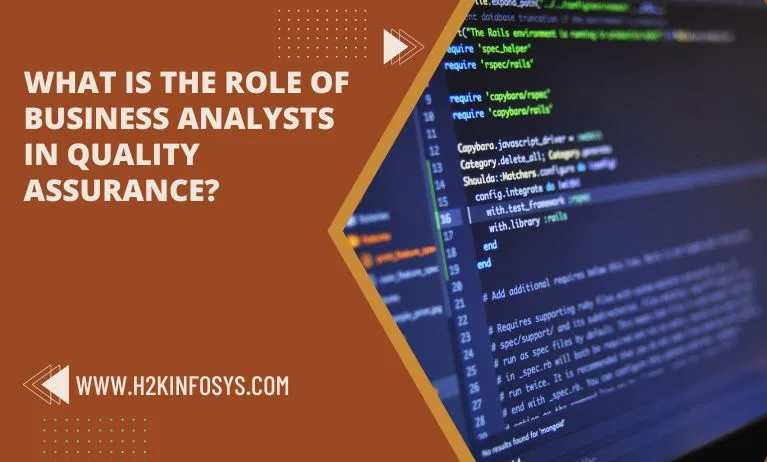 Even though QA business analysis is crucial for a company's growth in the market, people frequently conflate it with other analytical tasks such as market research, user experience (UX) testing, and data analysis. Given the hazy boundaries between the tasks and responsibilities that each of the aforementioned actions suggests, it is actually not surprising. Determining which quality assurance processes belong under the purview of a business analyst and which should continue to be handled by QA engineers and a team lead may appear difficult in the meantime. You can check out the online QA certification course to learn more about QA and business analysts.
Who is a QA Business Analyst?
The role of a QA Business Analyst in a product development team is to act as a liaison between an IT team and a business team. Typically, this expert:
evaluates the business domain;
evaluates strengths and weaknesses
Also,
The prospective business value is measured,
the business needs are described,
acceptability testing or beta testing is undertaken,
and new plans and initiatives are developed.
Here is a more concrete justification. Consider a scenario where a project has a product owner who is aware of the project's business value and objectives. Additionally, this person has the general specifications listed: software kind, essential features, and perhaps even a highlight.
However, it is unclear exactly how they want to move from point A, where they are right now, to point B, which is product release. Product owners frequently struggle with the technical aspects of execution. IT professionals, on the other hand, frequently put technical considerations before organisational goals. That's where a Business Analyst steps in to help both parties find common ground.
Business analysts employ data-driven insights to identify requirements and/or enhance areas to boost the amount of business value supplied. They provide the reports to the interested parties and consult with the IT team to balance the proposals that have been authorised with what is technically achievable. The process can also work in reverse: a BA specialist examines whether possible concepts are practical from a budgetary standpoint, fit with other functional and UX considerations, etc.
QA Business Analyst Roles and Responsibilities
It's not required for a business analyst to have technical training. A general comprehension of how a system functions will do just fine as long as they are able to collect and analyse business data and translate the findings into suggestions for change.

So what exactly does a business analyst do? The following tasks often fall under this professional's job and responsibilities:
Observe products and/or processes, talk to stakeholders and team members, use associated reports, and so on to gather information.
Analyse corporate processes to identify possibilities, determine areas that require change, and comprehend issues and their causes.
Find solutions that will improve the product's potential and performance on the market based on independent analysis.
Explain the concept to the stakeholders and explain the implementation plan.
To determine whether the idea can be implemented technically, discuss it with the development team.
Analyse the workable solutions in light of the available resources, deadlines, and other constraints.
Verify the business requirements to ensure that everyone working on the project is on the same page.
At this time, a BA specialist's job is over. A development team is given the duty of implementation. A Business Analyst can, however, also oversee the implementation.
Determine the actions or duties that must be taken to make the changes.
Make the development process more uniform so that everyone in the team follows the single, previously defined procedure.
Verify the anticipated outcome. If everything went according to plan, analysis of the same factors (business processes, customer happiness, etc.) following change implementation reveals favourable dynamics.
The duties of a business analyst are typically governed by the procedures and practices of the organisation. In other words, before beginning the collaboration, both sides should discuss the tasks and degree of participation.
The role of a Business Analyst in Testing
At any point during the testing process, QA Engineers can ask queries of a Business Analyst. A BA can serve as a consultant or advisor rather than actually taking part, as was already indicated.
Functional testing: A business analyst can take part in or take sole responsibility for this when creating specifications. As a result, QA engineers can clarify anything that is unclear and alert others to any logical flaws.
Regression testing: To ensure that all the business-critical features are covered, a BA specialist may choose which test cases to include in regression testing.
UX testing: Business analysts frequently provide guidance on how to enhance a certain feature to give more quality and value, therefore it makes sense for them to evaluate the implementation's outcome.
End-to-end testing: As with functional testing, a Business Analyst can collaborate with a testing team to develop a test plan, review and approve the plan, or, if necessary, provide explanations of the requirements.
User acceptance testing: Business analysts are likely to take part in user acceptability testing, which is used to confirm that software as a whole complies with business requirements. A software product is typically shown to actual users and stakeholders who decide whether to move on with the release (or not).
Beta testing: The responsibilities of a testing team do not include beta testing. It suggests that actual users (employees or a chosen subset of users from outside the company) are involved. A BA specialist might supervise or take part in the process, making remarks on potential improvements.
Conclusion
The role of a QA Business Analyst in the development process is crucial. One of the numerous reasons a firm can need to improve is low client satisfaction. A business analyst also takes the initiative to make changes in procedures that are inefficient, out-of-date systems, and changing technologies.
A BA expert offers advice on how to enhance a company's processes by helping to see them clearly, complete with all of their strengths and weaknesses. At the same time, they can view the wider picture and offer guidance on the precise actions to take to accomplish challenging business objectives.
Testing isn't always done directly by a business analyst. However, they can help a QA team better grasp business priorities and contribute to an effective testing approach. Because of this, organisations that outsource their software frequently add BA among the services they offer. So, if you believe your company has untapped potential or, conversely, is inefficient, consider adding a BA specialist to your team.
Check out the online QA training to learn more.