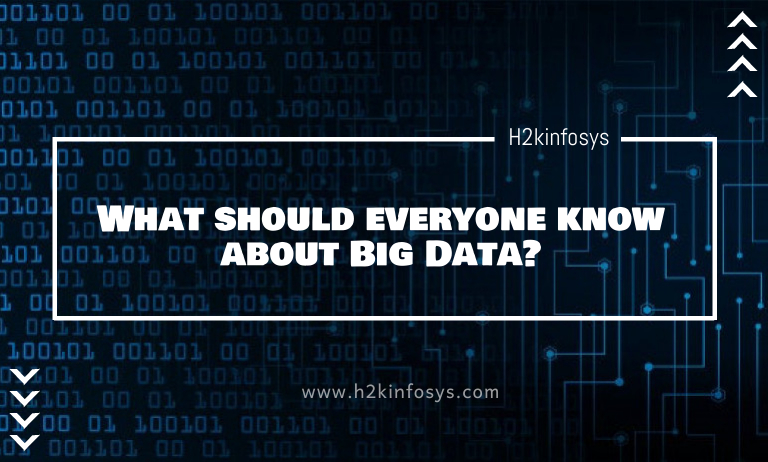 Big Data is getting more popular in the business world, and many companies are incorporating Big Data tools and techniques and getting the benefits out of it. However, many companies are yet to adopt this, but there is a gap between demand and supply. As a result, people are looking for the best big data online course and learn the most required skill. In this post, let us look at all the required details about Big Data.
What is Big Data?
Data is everything for a business. If they pay enough attention to their data, every business can get more actionable insights. But to get more reliable and real-time data, the traditional approaches won't do any good. And the sheer amount of data makes traditional methods inefficient. To handle and get meaningful insights, businesses need Big Data. So what is Big Data?
In a world where online transactions and interactions are growing exceptionally, these data become incredibly handy for businesses. These hold information such as data trends, customer habits, and many more. Now the data is getting generated from social media posts, website cookies, and other numerous ways. However, these data sets are highly unstructured and need a robust and reliable tool to analyze and get insights quickly. Big data refers to collecting, analyzing, and processing these data sets and deriving actionable insights. The process involves generating insights from all kinds of data, including structured and unstructured, and converting them for the businesses' benefit. Big Data helps to get real-time data and assist in forecasting future trends.
Who can benefit from Big Data?
The connection between the industries and between customers and businesses is becoming closer these days, and every organization understands the importance of Big Data. Now it is used in many sectors, including the healthcare sector, finance, the manufacturing industry, IT companies, transport, retail, marketing, etc. The data every business generating these days is enormous, and sheer this factor makes Big Data necessary for every business. Hence, it is not limited to any business, and every company can get benefits from Big Data tools and methods.
Big players using big Data
The use of Big Data is numerous, and businesses from all sectors are using and reaping valuable benefits from it. Big data's numerous benefits attract businesses, but IT professionals are also looking to take the opportunities available in the current IT industry. This is why we see huge enrolment in the best big data online course with certification course. In a world where data is generating rapidly and Big Data offers solutions to most problems, it is hard to find tech giants who do not use Big Data techniques. IBM, Oracle, SAS, SAP, Google, and many other companies are using Big Data in one or another way. Not only the big enterprises but also small companies and startups are using the Big Data tools to get an advantage over their competitors.
Is Big Data really saves money for your business?
One of the reasons why many industries are not using Big Data is because they are still skeptical about the benefits it brings to their business against their investment. Effective Big Data tools indeed require a considerable amount of investment upfront. But it benefits immensely in the long run. It is a one-time investment, and then it is all about getting the benefits from it. To quote an example, manufacturing companies are using these techniques and predicting their equipment's lifespan to replace them only when it is inevitable. Even when the machinery or equipment is still running in good conditions, companies can easily get a fair idea of replacing it. Besides, they give useful information about customers, market trends, and other critical insights. If you want to use the demand and get yourself placed in a great profession, enroll in the best Hadoop online training classes, and master your skills.
Security of Data using Big Data
Big Data involves the collection and storing of a massive amount of data. It consists of various confidential information of business and data of customers. Hence, securing the data is a critical part when it comes to Big Data management. And thankfully, it comes with the right tools to deal with all kinds of security threats.