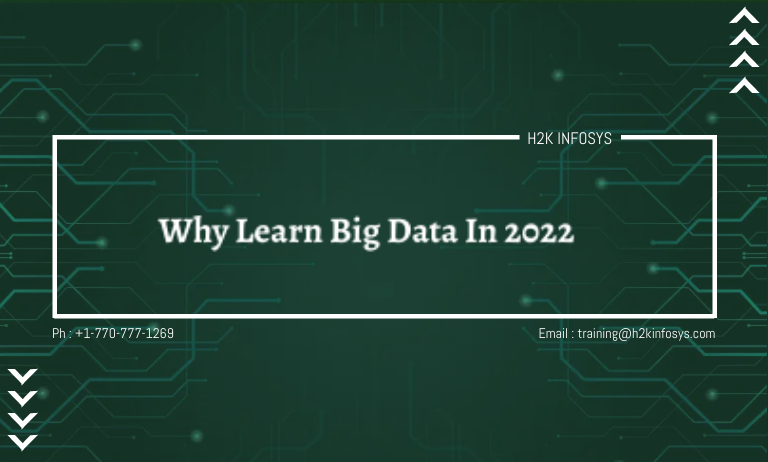 Big data and Cloud computing are the next big thing in the technology world. Virtually all technological advancements are hinged upon big data. Machine learning, for instance, that has become super popular in the last few years cannot hold water without big data. Same thing for proper data visualization, customer relationship management, and so on.
But why should you learn big data in 2022? This is the question we will answer in this article. Before we jump into it, let's understand what big data is.
What is Big Data?
Data can be classified as big data if it has high volume, velocity, and variety. What does this mean? It means that the data is too large, it changes frequently and it can come in different forms. When you have such data, all the traditional means of working with data falls flat. There are special tools such as Hadoop, Cassandra, HBase, etc for big data analysis. You can learn how to use these tools by joining a big data online training.
But if you are considering becoming a Big Data Analyst, here are some reasons why you should make that move in 2022.
What are the Perks of Learning Big Data
Big Data provides a Solid Foundation for AI
This is one of the reasons why you should study big data this year. As mentioned earlier, the world of technology is revolving around big data for operation as we speak it is the stepping stone for artificial intelligence. And Artificial Intelligence (AI) is one of the most desired aspects of specialization in the business world today. What most people don't realize is that Big Data plays a 'foundation' for organizations that want to start an AI project. Without data of some sort, you cannot develop AI systems. AI mostly builds on the same technologies and processing capabilities that are needed in Big Data organizations. Organizations that wish to start using AI, therefore, benefit greatly from creating a sound and structured Big Data environment first. Once this is established, AI techniques such as cognitive analysis can then be taken as the next step.

Studying Big Data will expand Your Horizons
Studying Big Data is so rewarding and (most times) fun of your investment time. The domain of Big Data and data analysis, in general, is full of puzzles to solve, and this will greatly enhance your analytical skills and reasoning. The major domains of Big Data include statistics and problem-solving skills. Even if you are not intending to build a career in Big Data, these skills are useful and highly practical on a day-to-day basis.
After spending three to six months studying Big Data, you will realize that you will begin to apply 'Big Data' techniques in your daily presentations or reports, as they provide a very solid foundation for discussion and decision making.
This is because, at the end of the day, data-driven decisions will always outweigh intuition-based decisions. So, I would advise you to take out a few minutes every day, and start studying the magnificent world of Big Data for your benefit.
Studying Big Data gives you a Competitive Advantage
Several studies have shown that data-driven decisions are more effective and efficient than human-based decisions. Big data allows companies to identify trends and identify patterns that can be harnessed for future benefits. You can help identify which customers are most likely to purchase products or optimize marketing campaigns by identifying which advertising strategies have the most return on investment. It is easy to see that organizations that "know" more than their competitors will outperform their competitors in the long run. One of the key business drivers behind Big Data is the ability to make data-driven decisions. Data-driven decision-making refers to the practice of making decisions based on data analysis rather than just intuition. Instead of making a decision based on experience, the decision will be based on the best possible scenario. With data-driven decision-making, it is possible to know "first" which products and services will be successful and provide an opportunity to be the first to market. To boost your chances of gaining more knowledge about Big Data, You can try some big data online training with that, your chances of getting into the world of big data will increase and if you don't intend to make it a career, if it is for your personal use then it is a win-win situation. Because it will be of great benefit to you either way.
Big Data Skills are in high Demand
According to the trends of big data in general, the application of skilled workers from big qualified data is growing rapidly. At this point in time, there is more demand than offer, which leads to people with bigger paychecks and desired skills. Moreso, several studies have shown that big investments in big data will increase throughout the year, and this fact cannot be overemphasized. Main platforms for job opportunities, such as LinkedIn, publish an increase in the number of companies looking for data analysts or data scientists. The demand for big data professionals with this particular skill rate increases while the distribution remains low. This creates excellent employment opportunities for the people of this area. As demand continues to grow, and offers remain short, big data professionals have more and their salaries have also increased substantially. In some countries, such as India, as represented today, data analysis professionals are paid an average of 50% more than their colleagues in other IT professions. To be on the safe side and gain more ground in your big data career I would recommend that you take some big data certification training to add to your portfolio, it will help you a lot. This trend is evident around the world, as more and more companies recognize how important these professionals are to their organizations.
In Conclusion
Big data is the way forward in the IT world right now and if you are wondering why you need to study big data, I hope you have been able to see enough reasons you need to acquire knowledge in big data this year 2022. There are so many online courses and certification training on big data on the internet. You can check them out for your benefit.