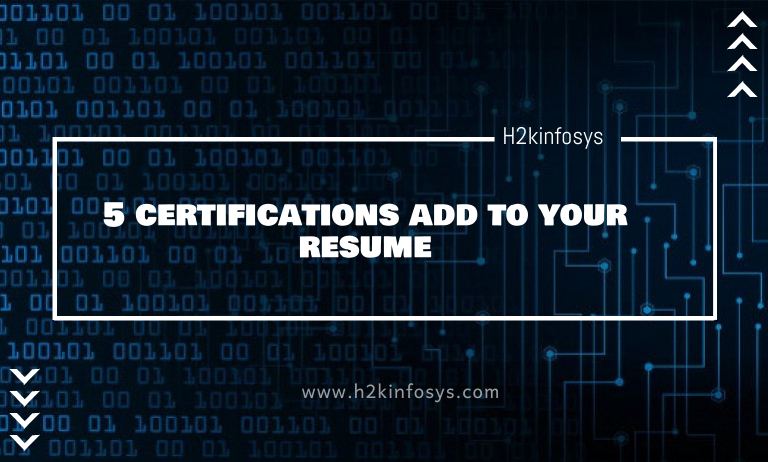 Are you searching for a job? Adding a list of certifications on your resume is a great way to bump up your credentials. It really helps you to be notified by your hiring managers. Certifications added to your resume will equip your career development where it acts as evidence of the experience and skills listed on your resume.
Don't have any certifications? There are several websites, organizations and companies that offer online certificate programs. So, if you want to give your resume an impressive boost and raise your value as a job candidate. Here are 5 certifications to add your resume that boosts your career.
#1 Python certification course:
Are you a complete beginner who is trying to step into the programming world? Then you can look for the Python online course, it is easy to learn a programming language where it comes with all the resources that are necessary to get high-end work done. By learning this programming language you can broaden your knowledge rather than being confined to a single language.
If you work in IT, then having Python certification is considered as the benchmark of knowledge and skill. Python is one of the most widely used programming languages.

Learn Python online to acquire proper skills and minimize the downtime when dealing with issues and solve different complex programs faster than non-certified peers. If you obtained the Python certification you will get a large opportunity to place in web development, machine learning, data science, game development, AI, and more. Python certification helps to bring accuracy and efficiency to a company that's why potential employers prefer to recruit certified Python professionals. So, Python certification would be your best bet to step into the coding world and you can expect a higher salary with more prestigious job positions.
#2 Quality Assurance Certification:
These days, quality assurance has become a mandate for every business to guarantee the quality of the final product to meet the customers' expectations. Quality assurance is a holistic approach to bring product quality. If you are taking up this training you will be assured to know about the quality requirements, tools and methods to be followed in the service sector or a product-oriented sector. Quality assurance certification helps to gain the knowledge to deliver high-quality products and the final products meet the company's quality standards. You can improve your skills and knowledge with this certification and can ensure that the final product observes the company's quality standards. This course helps you to gain experience and to expect higher promotions and growth in a company with remarkable salary revisions. You can expand your career aspects as a test engineer and can grab the best growth opportunities with a highly competitive salary.
#3 Tableau certification course:
Make your career fascinating by taking the Tableau online training. Tableau is one of the data visualization tools that have gained popularity from small to big companies. If you want to start a career in Business intelligence and Data Analytics then learn Tableau. The companies are generating a massive amount of data daily, so the organizations are willing to adapt tools like Tableau to process the vast data. This makes the rise in demand for Tableau professionals to maintain and analyze the data. Tableau online courses will broaden your knowledge and help the organization to convert the data into valuable information. As a professional, you can analyze data and make the required changes and improvements to address the drawbacks of business. If you get the Tableau certification you will have a high chance of getting opportunities from top MNC's for numerous job roles and can get a higher salary than their peers. You can pick the best professions which are listed below.
Tableau developer
Senior Tableau Developer
Data Analyst
Tableau Consultant
Software Engineer
Business Intelligence Developer
Business Intelligence Analyst
Business Intelligence Manager
Business Analyst
With the use of Tableau tools, any programming language can be easily integrated and manipulated. It helps to implement the reports that are gathered from the database. Tableau certification ensures you a secured career in the domain of BI and Data visualization. Enhance your career growth with the Tableau certification and secure a bright future.
#4 Selenium Certification course:
Selenium is one of the popular automation testing tools used to automate browsers and web applications. Selenium online course helps you gain in-depth knowledge of concepts such as web-driver, mobile testing, and selenium grid. Selenium is an open-source tool where it is the most preferred testing automation tool in the world. Software testing is a popular field and there is always a high demand for testers who can help them with their knowledge of their tools. So, if you learn selenium you can better expose your credentials with the experience that boosts your career growth. If you get the selenium certification you can drive into the popular job roles such as,
Automation test lead
Junior test engineer
Senior test engineer
Quality engineer
Test engineer
You can learn more skills and practical knowledge with selenium training. So, you will get better job opportunities and can switch to the IT field.
#5 Agile certification course:
Agile is a responsive approach to manage a project efficiently and achieve desired results on-time and within budget. Agile methodology can break a project into small chunks that helps the project team to deliver and react to changes when necessary. It is used in project management as well as in software development. This methodology has gained popularity in the way it benefits the organization. Learning an agile course helps you to keep in touch with the changing environment and still grow in the workplace. If you get agile certifications you can demonstrate your skills and can lead to a higher pay package of salary and advance in your career. So, enhance your career to the next level with the agile certification.
Benefits of earning a certification:
If you try to land a new job, then earning a certification can be extremely helpful to advance in your current position. Here are some benefits of obtaining a certification
Expand your knowledge and skills
Gain credibility
Gain a competitive advantage
Become a part of a new community
Increase earning potential
The bottom line:
In today's crowded job market, you can stand out to recruiters and employers in an effective way with these certifications. You can explore your credentials with these certifications, where it helps to prove your acquired competencies, developed skills and gained the knowledge required to perform certain job tasks and duties. Boost your resume with this certification and progress your career.