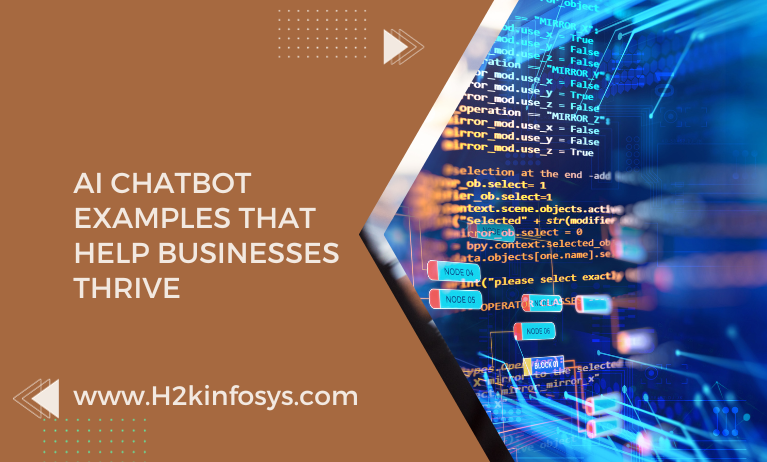 AI chatbots have been the talk of the tech and business worlds in recent years. AI chatbot success stories from both large and small businesses demonstrate effective consumer interactions. Customers are interacting with chatbots more and more as conversational AI develops. Data clearly indicates that the usage of bots is increasing, and this trend is predicted to continue.
To interpret client requests, chatbots powered by AI resemble written discussions or recorded voices. When used properly, this service facilitates communication between companies and their clients. On the other hand, merely putting a chatbot on a website can backfire. Chatbots that are insufficient or inefficient can irritate users.
These AI chatbot examples demonstrate the effectiveness of skillfully designed chatbots. They give examples of how chatbots are used in different industries. And they use AI to show the value of providing excellent customer service. To learn more, check out the online Artificial Intelligence training.
AI Chatbot Examples
1.Amazon Lex: Virtual Assistant AI Chatbot 
Everybody has heard of Amazon Alexa, the virtual assistant for smart homes. If you ask nicely (and maybe even if you don't), it can prepare grocery lists and sing you a tune.
But Lex is Alexa's relative, a commercial application. Amazon Lex is a fully managed artificial intelligence (AI) service that uses cutting-edge natural language models to design, develop, test, and implement conversational interfaces in applications, according to the chatbot overview.

With websites, messaging apps, and contact centre services like Amazon Connect, Amazon Lex assists you in creating, testing, and implementing chatbots and virtual assistants (like Facebook Messenger). Amazon Lex's usability is expanded to the design process by the automated chatbot designer. It provides a basic bot design with machine learning (ML), which you may then improve to expedite the start of conversational engagements.
2.Synchrony Bank Assistant: Simple Tasks Chatbot 
Cybersecurity regulations are dynamic. Log-in issues are among the most prevalent (and irksome) issues that a lot of internet users deal with. Clients frequently experience difficulty logging into their accounts.
Synchrony Bank is a fantastic illustration of chatbot assistance. Sydney the chatbot arrives on the scene following three unsuccessful attempts to log in. She assists the client in recovering their login username and changing the password in a matter of short steps. That makes calling customer service unnecessary. The customer can easily get into the account after the recovery process is complete.
3.Dominos: Facebook Ordering Messenger
One excellent illustration of a use case from the food business is Domino's Facebook Messenger chatbot. This menu-based chatbot's accessibility and ease of use are key factors in its success. The business's Facebook page offers the bot. Additionally, it enables clients to place orders or get in touch with customer support from any location. There aren't many options that the bot offers users. Additionally, the bot is capable of remembering the customer's past orders. This enhances the consumer experience and makes straightforward reorders possible.
4.H&M Chatbot: Fashion Help 
AI-powered technologies can potentially help the fashion and retail industries. One effective example of this approach in action is the H&M bot. The bot provides users with a range of resources based on their responses. Following that, shoppers get comprehensive directions for the following stages of their buying process.
5.Mya StepStone: AI Chatbot for Job Search 
Mya, which StepStone just purchased, is another example of an AI chatbot application. StepStone is an employment agency. In a statement from the company, they stated that "conversational AI, which is based on machine learning, will enable job seekers to find matching job opportunities even without actively searching for them." After discussing the candidate's qualifications, the technology makes recommendations for potential employment over text message, WhatsApp, or in-person chat.
6.Home Boutique: Real Estate AI Chatbot 
The increase in remote labour led to a sharp decline in domestic migration from urban centres. Buyers may now purchase from the comfort of their living rooms thanks to technological advancements. Real estate virtual tours are useful.
Virtual tours can be made easier by AI chatbots, which benefits real estate companies. Assigning this task to a chatbot allows agents to focus on other tasks. Before paying a visit in person, it enables clients to take their time during the tour and thoroughly examine the property.
A 360-degree perspective of the property is provided by a good AI chatbot. It gives the buyer many viewing alternatives and can assist in arranging for an in-person visit.
7.Siri, Alexa, and Google Assistant: Conversational AI Chatbots
A few instances of conversational AI are Alexa, Siri, and Google Assistant. These chatbots produce more organic responses because of their conversation programming, which is more human-like. Stated differently, these chatbot encounters are the most similar to having a conversation with a human.
These chatbots have accuracy and natural language capabilities thanks to machine learning technologies. In an interaction with a human, Siri or Alexa picks up on mistakes and grows from them. Computer programs examine information and trends to help the assistants make decisions. Automated learning occurs without human intervention. This enables them to grow into more capable beings.
8.JetBlue: Mobile Option and Helpful Directions
When a consumer needs assistance in any area, JetBlue's chatbot can provide it. Visitors to the contact page are redirected to a page with options for connecting by web chat or mobile. After that, it poses a series of queries to point users in the proper direction. The chat widget has a ton of options to make sure the user is directed to the correct area.
9.LiveHelpNow: AI Chatbot DIY
Our chatbots are useful marketing and customer care helpers that can be used in any industry. The Chatbot User Interface will assist admins in configuring the chatbot to its exact specifications, regardless of its intended purpose. The AI chatbot can facilitate desktop or SMS interactions with clients.
Tips for Creating a Successful Chatbot
It may take some experience to develop a conversation logic for a chatbot that is both useful and flows effortlessly for customers. A good place to start is by designing several distinct flows, testing them, and determining which ones perform the best.
Conclusion
Check out the Artificial Intelligence online course to learn more about AI Chatbots.