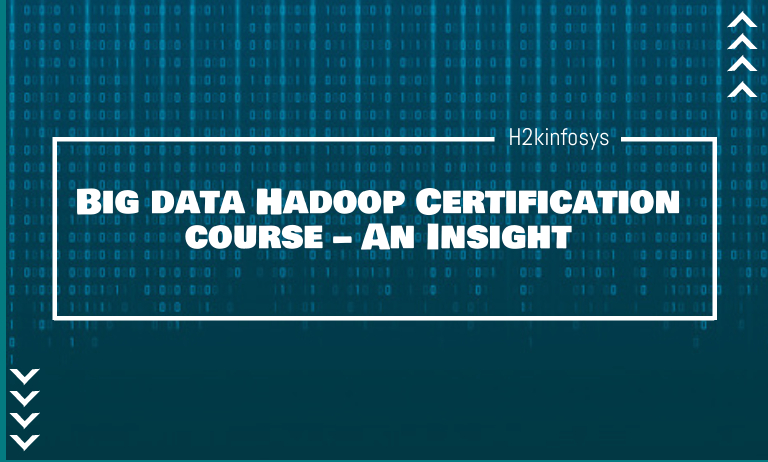 Big Data is the new sensation when it comes to data management in the Business Intelligence field. It helps immensely all kinds of businesses in managing the data and extracting useful insights from it. One cannot talk about Big Data without mentioning about Hadoop. The reason for this is numerous; due to this, the demand for Hadoop professionals is enormous. Hence, many people are looking to learn Hadoop. If you are one of them, you can select the best Big data Hadoop Certification course and get multiple benefits.
What can you expect from Hadoop Certification?
The best Big Data certification class lets you learn the Hadoop framework's core concepts and Hadoop ecosystems. It also helps you understand the Big Data tools and methodologies to equip yourself and succeed as a Hadoop professional. The big data online training and placement go hand in hand these days since the Big Data professionals' availability is less, and demand is more. It brings an understanding of various components of Hadoop and its ecosystem.
Most successful Hadoop courses are designed to provide you in-depth understandings of Big Data management using Spark and Hadoop. You can also get hands-on experience with the Hadoop system, and you can execute real-life problems and industry-based examples.
Features of Hadoop Certification Courses
In the online Hadoop classes, you can get the instructor-led courses, and the vast experience in this field provides numerous benefits for the learners. The best Hadoop courses cover all the primary Hadoop syllabus, including Hadoop's components, such as Hadoop HDFS, YARN, and MapReduce. It also comes with real-life projects with the application of Hive, Hadoop, and Big Data stack. The best thing in many certification courses is the unlimited and lifetime access for the learners. The self-paced videos cover the training on HBase, Pig, Hive, Apache Spark, HDFS, MapReduce, and YARN.
Eligibility for taking Big Data online courses
Big Data Hadoop courses are best suited and beneficial for Data Management, Analytics, and IT professionals looking to gather Hadoop's expertise and manage the enormous data sets of current-day businesses. Not only the above-provided people but also Project Managers, Software Developers, Architects, Business Intelligence Professionals, Senior IT professionals, Graduates, and aspiring data scientists to grow their career in Big Data Analytics.
Prerequisites to learn Big Data Hadoop Training
The aspirants who want to exploit the current day huge demand in the Big Data field by completing the Hadoop online training and Placement course, the minimum requirement is to have the basics of SQL and Core Java. Many people completed Core Java and SQL learning, but they lost touch due to the lack of practice. If you are one of them, many institutes provide a complimentary self-paced Java course to brush up on your knowledge and be ready to learn Big Data tools and core concepts.
Popular Options to learn in Online courses
The online Big Data courses cover the Hadoop course syllabus as per the need of every aspirant. Numerous institutes provide three common types of courses. The course fee for each type, of course, differs. If you are busy and want to learn at your own pace and time, the self-paced courses are the best choice for you. It also comes with less price when compared to the other types of courses. It comes with multiple videos covering all aspects of Big Data and Hadoop. The simulations and test papers also help you to prepare for completing the certification examination. Even though it is self-paced in the online courses, you can get 24×7 learning assistance.
If you want more help from the online courses, the complete boot camp helps achieve your goals. These courses come with all the features of a self-paced course, plus you can access online classes. It helps to get the clarification for all your doubts from the experts. The interactive courses make learning fun and effective. Of course, you need to pay a little more to enjoy all these benefits.
One of the popular courses nowadays is corporate training courses. Under this, a group of people can enroll and learn the skill. It is highly customizable, and you can choose the method of learning as per your group's requirement.