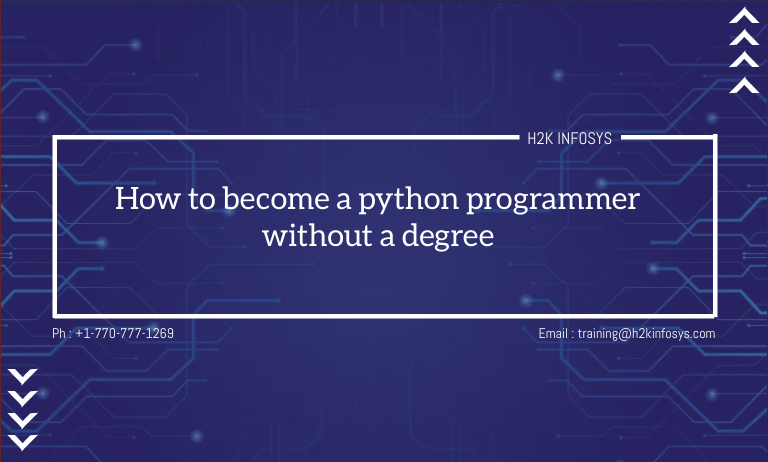 Python language has become one of the most popular in the world of programmers. Interestingly, many beginners jump in to learn Python because of its popularity and versatility. Like every other language learning or study, the general belief is based on the need for a degree as the most important criteria before emerging as an expert Python programmer. Is this really true?
Unlike this conception, there are lots of expert Python programmers without a degree. In this short article, you'll get to find out ways to get a full grasp of the Python language without a degree. Let's get started right away.
Online Classes and Courses
Taking an online class to learn Python Programming language is one of the easiest ways to get into the field without any prerequisite (degree). When you decide to learn python programming online, you get access to tons of materials and videos to give you a step-by-step guide as a beginner. Online courses have different areas of concentration and also come at varying prices. However, the best news here is that there are some with no prices at all. It all depends on your level of research and discovery. 
Bootcamps
Many prefer physical classes and gathering when it comes to learning. Attending boot camps is one of the ways to get direct access to mixing with the experts in the field. Most boot camps don't require a degree and you still have the opportunity to learn together with the degree holders. Python learning in groups can be so much fun and you get to enjoy all these through boot camps. Most boot camps are short, but always worth the cost and time spared.
Online Videos
While many Python developers had to take python online classes, you can decide to listen to and watch online videos for practice. There are tons of online materials on social media platforms and YouTube showing a detailed explanation of what the language is and how to perfectly code without hassle. Lots of self-taught programmers today started using this method and gradually graduated by enrolling in a python online course with placement for further studies. The perk here is that you can do all these without a degree.
Mentorship and Learning communities
Another way to learn Python programming online without a degree is through mentorship and by joining learning communities. Python is one of the most popular languages that have survived many generations, thus making the learning community filled with lots of experts today. Regardless of your knowledge of using the language, you should search for a learning community to join. This way, you get to interact with others on different platforms without spending a dime.
In cases where any problem comes up, your mentors in this field will rise to the rescue. Learning communities are one of the best ways to get recommendations for python online classes with placement.
Learning through others
One of the best ways to grow quickly as a Python developer is by learning from others. After attending Python online classes, you can continue by reading other people's codes. The major aim of this is to put yourself on a check and balance scheme. With this, you get to move with people in your knowledge level and learn better techniques from their works.
In an easier strain, you can form groups from your python online course with placement class to get your coding journey going. 
Read Books
Reading is one of the best habits to cultivate especially in your area of interest. It gets you familiar with the niche and exposes the solutions to potential problems easily. If you want to learn Python development without a degree, get books written by experts in this field and start reading. These writers can serve as your 'invisible mentors' giving you first-hand help as you continue in your pursuit. Some of the best Python libraries are SciPy, Keras, TensorFlow, etc. One of the advantages of taking Python online classes is the exposure you get to know these renowned authors and their works.
Start Small
You get to add more knowledge as you learn python programming online, so put this into practice. There are tons of internships you can take up, some are paid for while others are unpaid. Likewise, you can choose online platforms like Upwork, Fiverr, etc to sell your skills. The best way to become a master is through constant learning and practice. So, continue practising till you become an expert.
Conclusion
Reading through this article, you have seen some ways to learn python programming online and offline without a degree. If you're a beginner, try using some of these tips to help you get into the field easily even without formal education. Python learning is fun and you should get to enjoy every bit of the journey.
It's time to show what you've got. Keep coding!