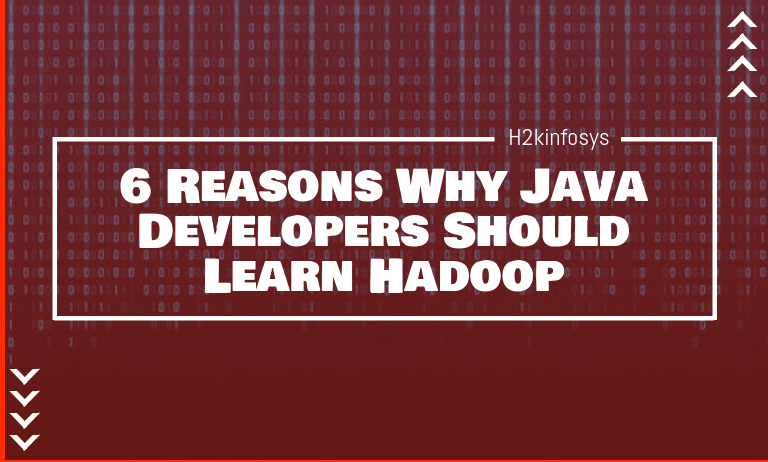 In the current world, big data management, automation, robotics is buzzing words. With the increasing data accumulation, big data management is gaining a lot of scope like never before. The tools and platforms available for programming keep updating, and it is a double-edged sword for developers. The reason is that upgraded techniques provide plenty of opportunities to become a great developer, and on the other hand, if you don't keep up with the pace at which the IT world is changing, it will become a big problem for you. For the same reason, if you know Java, it is the right time to learn Hadoop by choosing comprehensive big data courses for beginners.
Top Reason to Learn Hadoop being a Java Developer
Hadoop ecosystem is equipped with all the tools and components to handle the current day large volumes of the business. It is the cost-effective, safest, smartest, and quickest method to store, process, and manage the data. Not only this, there are plenty of other reasons to learn Hadoop and complete data analyst certification for the Java programmers.
1. Easy to learn
The first reason itself makes you enroll in big data analytics training. The reason is for a Java developer to learn Hadoop is a cakewalk. Hadoop also uses JavaScript. So, knowing the platform which developed with the programming language you are familiar with is a great advantage to have.
2. Get an edge over your competitors
The application of Java is everywhere, and the same reason you can find many developers competing with you for the same spot. Many recruiters see you as a member of a large crowd. Hence, if you want to stand out from the crowd, learning Hadoop helps a lot. The combination of Hadoop and Java certification gives you an edge over others, and you will get special treatment from the big companies with attractive salary packages.
3. Grow and go with the flow
As per the IDC report, the Big Data industry is growing swiftly, with 31.7% each year. With this much growth rate, it is no brainer to learn Hadoop and be ready to take the ample opportunity that lies ahead of you. Hadoop is used in the Big Data field to analyze IT log, Fraud detention, Call Center insights, analysis of social media, recruiting candidates, stock management, etc. In every aspect of the business, Big Data analytics plays a huge role. So, enrolling for the best big data analytics training and learning Hadoop is the right course of action for every Java developer.
4. Chance to move into more prominent domains
Indeed, there is enough scope in the Big Data field; however, it also provides the cushion to learn new skills such as Data Science, Artificial Intelligence, Machine Learning, and Sensor Web data. The market for these fields is also booming, and in the next four to five years, you can find the domination of these things in every aspect of the business. The knowledge of both Java and Hadoop will give you more chances of getting into the Big Data analysis dependent companies such as Facebook, Yahoo, IBM, Amazon, etc.
5. Performance improvement
The knowledge of the Hadoop system helps to work more efficiently since it assists you in dealing with extensive data sets. With the cool features of the Hadoop ecosystem, you can easily complete the big projects with better output. These features also increase your chance of getting a better appraisal rating since your combined language makes you stand out from the rest of the team members by making a huge difference.
6. Lucrative salary package
After mastering Java, if you switch to Hadoop, it will bring a lot of opportunity to your table. Many organizations are looking for developers who have the expertise of both Java and Big Data tools such as Hadoop. As per Indeed, a Big Data developer with Hadoop expertise can get a salary of $140,000 annually in the US. If you become a senior developer, you can expect over $400,000 per annum.
Many organizations are reaping the benefit of adapting Big Data techniques, and it paved the way for other small and medium-scale companies to use Big Data. Hence, there are numerous reasons to complete your data analyst certification.