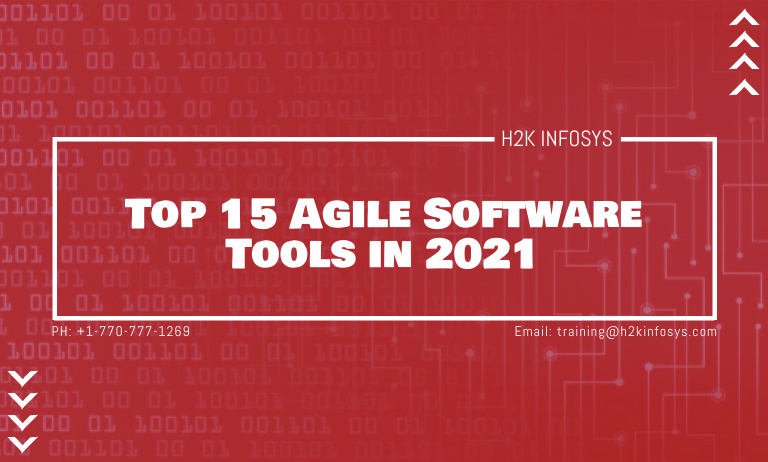 There is a need for efficient project management and utilizing the appropriate tools makes much of a difference. You don't have to go through the stress of trying to adjust your agile team's work into a system that is even not so effective, there are agile software tools that have been developed to fast track productivity in the agile workflow.
Various companies and agile teams have diverse requirements and this is why we have multiple agile software tools out there. Some of the tools are designed basically for the management of projects and teams via tracking numerous parameters.
Others are designed such that they can suit an individual agile team's work and schedule as well as provide flexibility of use. The major aim of most of these agile software tools is collective development with the use of a graphical control panel that makes it easy to carry out planning, along with execution and reporting. In this tutorial, we would cover the top 15 Agile Tools in 2021 and how to select the best agile training course. So, let's begin!
What is an agile software tool?
An agile software tool is a tool that backs agile methods and procedures like scrum, scrum ban, and various hybrid agile techniques. The software assists teams and project managers in proper management of budgets, resources, and project plans, file sharing, tracking progress, and meeting deadlines with effective collaboration.
The Top 15 Agile software tools in 2021
1. ProProfs Project
ProProfs Project is a software tool with built-in features which enables you to organize tasks, plan projects, generate reports, set deadlines, and create invoices and more.

This is a great tool for project managers that are faced with managing projects that are large and complex. The tool offers a wonderful user experience. The tool can be used by various companies regardless of their sizes or domains for efficient project management.
Features
Project preparation and tracking
Set priorities and time limits
.Generate perceptive analytics and reports with various teams.
Time-tracker and invoicing
Kanban boards and Gantt chart
2. GitHub Tool
This is a crude online project management software tool that enables project managers and software developers to effortlessly plan, organize, monitor and update their project tasks. The project is unambiguous and work deadlines are met. With the availability of online community support, this is a good tool for managing agile projects. It can be utilized by small-sized businesses.
Features
Ability to track bugs and issues
Ability to coordinate projects by status
Collaborate with various teams
Visualize project activities and create work priority.
3. Monday.com
Monday.com is an excellent tool for newbies in the present-day market. It is generally accredited by several organizations around the world for planning projects, dividing tasks, tracking progress and meeting project deadlines. It is a very good option for teams that consist of different domains and are working remotely because it makes collaboration easier. It is also ideal for simple projects.
Features
Easy task and resource management
scorecard tracking
Customizable task boards
Automated work process
Availability of Gantt charts
4. Agile Manager
Agile manager tool is excellent for combining teams by providing all-embracing real-time transparency into work progress and metrics. The agile manager provides a user-friendly experience for both freelancers and project managers through its drag and drops feature. There are a variety of personalized options which the project managers can choose from in the dashboard. Key performance indicators provide instant feedback for each milestone to decide the way forward. Although the tool lacks certain sophisticated features, it is ideal for basic usage.
Features
All-encompassing interface
Modern development analytics
Simple third-party integrations
Instantaneous task progress reports
In-built sprint closure
5. Agile Bench
An agile bench is a software tool that is hosted and deals mainly with task tracking and project management. The program begins as the stockpile of user stories. Once tasks are designated and completed by the teammates, an instinctive dashboard tracks the precedence of tasks and resources available to ensure efficient project management.
Features
Availability of a tracker for both time and tasks.
Open API for the integration of project information
Support for the incorporation of third-party apps
A perceptive dashboard for checking project progress
Prioritizing and even task division
6. Asana 
Asana is a wonderful cloud-based project management tool for handling project management functions. Asana comes with numerous features to help improve your team performance. Asana has separate board views, collaborative mechanisms and several integrations to envision the project and get it done efficiently.
Features
Separate board views for agile processes.
Set timelines and prioritization
Multiple tool integration
Envisage project schedules and provide reports
Effective collaboration to avoid a breakdown in communication.
7. Jira 
Jira is a management software development tool that is mainly used by agile teams. Jira provides effective services ranging from prioritizing and discussing teamwork in full context with complete visibility, creating user stories and issues, planning sprints, distributing tasks across agile software teams, amongst others. The free trial is free, but both the standard and premium levels offer more features. The standard level goes for $7 per month, while the premium level goes for $14 per month.
Features.
It has over 3000 apps integration tools.
It has a good workflow template that you and your agile team could work with.
Jira provides real-time updates and email notification on useful information.
It also has Multiple Kanban board features that you can use to track tasks.
8. Planbox
Planbox is a software company that provides agile management services. It brings innovation and collaboration wherever your location is. Planbox makes use of high ranking innovation management platforms to bring about virtual collaboration. It also provides consistent experiment and innovation that are cost-effective while also managing your portfolio and entire innovation pipeline. It has over 20 years of domain expertise and has engaged over 5 million participants over the years.
Features.
It provides targeted analytics and reporting.
It makes use of a customizable user interface design.
It provides a commenting option for easy collaboration.
It also provides innovative and systematic workflow management.
It includes graphs and charting options.
9. LeanKit
LeanKit is also a software company that provides visual work delivery tools enabling engineering and agile teams across all levels of an organization. You and your agile team can also sign up for the free trial. But to have access to more features, the single plan is the plan to use. It costs $20 per month for a user.
Features.
It has Kanban board templates that are out of the box.
It also has powerful reporting and analytics tools.
LeanKit provides support for business applications integrations.
It can be used to target email notifications.
It has a unique view of status and tasks in parallel tabs.
10. Axosoft.
Axosoft is an excellent choice for agile project management software. This is because it makes two product lines for software development. It is also useful in bug tracking, scrum, helping desk and also wiki software for development teams.
Features.
it provides idea management and resource management options.
It can be used to visualize progress with the card view option.
It has Kanban boards and Gantt charts.
It turns emails into support tickets.
It is an excellent tool for tracking time and expenses.
11. Active Collab
Active Collab makes real work happen because it is the project management software that allows you to have complete control over your work. Over the last decade, Active Collab has worked with over 50,000 teams.
Features.
Active Collab seamlessly adapts to your workflow.
It has an all-in-one calendar feature and also a team collaboration feature.
It can be used to time track reports.
It has excellent task filtering and email integration options.
12. Assembla
Assembla is one of the most secure software development platforms in the world today. This is because it ensures a secure DevOps lifecycle by selecting a software development platform. This platform will protect, monitor, and audit your company's most valuable assets.
Features.
It provides issue and task management.
It has easy life sharing options.
It is also a good tool for custom reporting and analytics.
It has time tracking and prioritization features.
It is also good for bug tracking and elimination.
13. MeisterTask
MeisterTask is regarded as one of the most intuitive collaboration and task management software tools on the internet. It can be used to effectively manage teams because it has an intuitive and beautiful task manager option.
Features.
It provides efficient collaboration tools.
It has a predefined checklist that uses automation.
It is good for time tracking and time management.
It supports integration with the use of various tools.
14. Pivotal Tracker.
Pivotal Tracker is one agile management software tool that is changing the way teams build software. It has proven to help teams to be successful in terms of project management. It provides you with agile software tools that can make you evolve and adapt, and also help your company to stay focused on the task at hand.
Features.
It provides automatic planning based on velocity
It also functions as a deadline monitoring and time tracking tool.
It provides analytical representation and multi-project workspaces on a single screen.
15. Kantree.
This is a fast and collaborative agile management software platform. It is good because it tracks action and time.
Features.
It provides detailed charts and reports.
It provides customizable features and options.
Conclusion.
This agile software tools are helpful for you, your agile team, and your organization to achieve better results in software development.