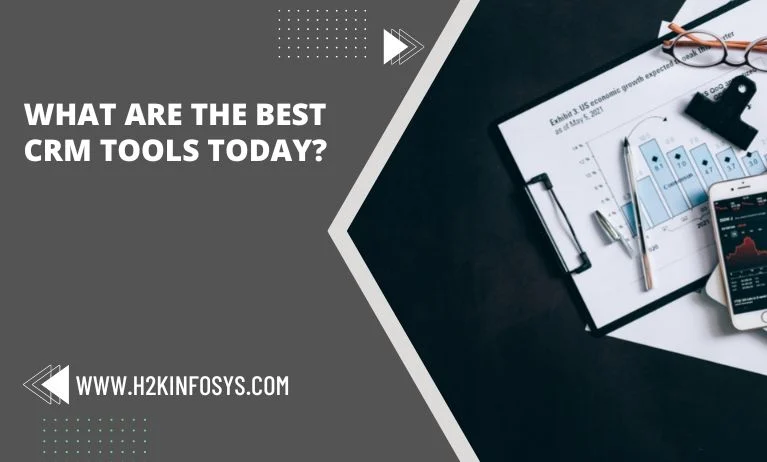 You can do so much more with customer relationship management (CRM) software tools than just keeping track of contacts. You can create crucial connections and promote greater customer-company synergy with the right system in place. You may record those crucial encounters using these top-rated CRM tools.
Even if you already have a CRM in place, it could be time to switch to a newer one that is more compatible with contemporary business practices. A proper CRM keeps a full audit trail of every encounter your staff has with each customer, going beyond simple contact monitoring. This can cover anything from the customer's first purchase through support calls and what they covered to notes from a meeting or call made by a regional sales representative.
A CRM system lets you track, analyse, and present this data when it's needed, often including integrations with other software systems. Here are some of the best CRM tools available in our world today.
1.Salesforce CRM.
One of the top cloud-based CRM tools/software in the globe, Salesforce CRM offers innovative CRM solutions that can be successfully used for all business requirements firms, from large enterprises to small start-ups.
Salesforce CRM is cloud-based, expandable, and incredibly user-friendly. provides a basis for expansion and updates and is customizable. supports integration and mobile.

Salesforce CRM offers a quick and clean setup, suggests new ways to assist, and aids in understanding consumer requirements. You can sell, serve, and market anything with only a single glance.
The price is Completely free as an open-source tool, but you have to pay $25 and it keeps increasing as per the requirements.
Here are some of its features:
It provides communities and markets for sales and leads.
It supports email integration and helps to run applications.
Salesforce assists in the forecasting and keeps the customer engaged all the time.
It provides chatter, analytics, and real-time visualisation.
Benefits:
You are given a personalised dashboard.
Software navigation is really easy and straightforward.
It has numerous social media features that raise awareness of it.
It is cloud-based and offers effective administration and business automation.
2.monday.com CRM
You may handle client information, interactions, and processes any way you like with this CRM software. All of the data will be safeguarded. You'll be able to collect leads online using a built-in contact form. Leads that were automatically gathered on other platforms can also be inserted.
There are four pricing tiers available on Monday.com: Basic ($17/month), Standard ($26/month), Pro ($39/month), and Enterprise (Get a quote). These costs are for two users and apply to annual billing. The product is available for a free trial.
Here are the Features:
Advanced Account Permissions for Sessions
It will enable 100000 tasks to be automated each month.
An audit log is made available.
Compliance with HIPAA
You can create and modify the dashboard using this CRM software to meet your needs for gathering insights.
Clear overviews of sales, procedures, performance, etc. will be provided.
You'll be able to automate routine tasks thanks to it.
It provides tools for automatically assigning new projects to teammates and setting up reminders and due date notifications.
Advantages:
Monday.com is a simple and comprehensive resource.
It is adaptable to your sales workflow.
It includes sophisticated search features.
Additionally, it can offer capabilities like time tracking, chart viewing, and private boards.
3.Zendesk CRM.
Zendesk CRM is a sales CRM intended to make the duties of salespeople in any firm ten times simpler. This integrated application streamlines daily sales duties, measures conversions, enables performance visibility and enhances sales pipeline management with the key objectives of deal close and customer happiness.
With Zendesk, a sales team has the convenience of carrying out numerous tasks quickly and easily from a single platform. Without breaking a sweat, sales executives may organise meetings.
Additionally, you can use the platform's mobile application to access all of its features while you're on the road, ensuring that your sales department receives the attention it needs even while you're on the move.
There are three pricing tiers for Zendesk. The monthly price for the "Sell Team" plan is $19 for each user. Both the Sell Professional and Sell Enterprise plans will cost $49 and $99 per user, respectively, per month. There is also a free trial period of 14 days.
Features:
Sales Prospecting Sales Reporting and Analytics
API Sales Email Intelligence and seamless integrations Native Dialer.
All emails pertaining to contacts should be entered into Sell right away. Every time a prospect reads or clicks on an email, you can receive push notifications in real-time.
Calls can be started with simply one click. Record and log all incoming and outgoing calls right away.
All tools and programs that your company now uses should be connected to Zendesk.
Create a targeted list of potential customers through several methods.
Analytical dashboards and reports with stunning visuals.
Pros:
several email templates to aid in the creation and storage of sales emails.
one dashboard for managing and observing all sales-related tasks.
Sequence emails and actions to automatically engage leads.
CRM for sales on mobile devices.
strong customer service.
4.Pipedrive CRM.
Pipedrive CRM is a highly well-liked CRM product designed for minimal input and maximal output. Making salesmen unstoppable is the main aim of Pipedrive. It is beneficial to set up your company so that you have a clear understanding of sales and can work more efficiently. All of the workflows can be improved with Pipedrive.
Pricing:
Minimum: $11.90 per user each month, payable every month
Advanced: $24.90 per user each month, invoiced every month
Professional: monthly billing at $49.90 per user.
Enterprise: monthly billing of $74.90 per user.
Features:
It integrates email well and has a strong sales pipeline.
It offers goal-setting, contact history, an API, and a mobile app.
It may be tailored and offers 24/7 assistance for multiple environments.
Data import and export, email tracking, and reports are all excellent.
Benefits:
It is client-friendly and features a straightforward UI.
It includes a variety of pipelines, customization options, and email app integration.
When it comes to modification and graphics, it is highly adaptable.
Conclusion
Even though they all have disadvantages, this CRM software is amongst the best available CRM in the world today. But I will recommend CRM as the one to go for.